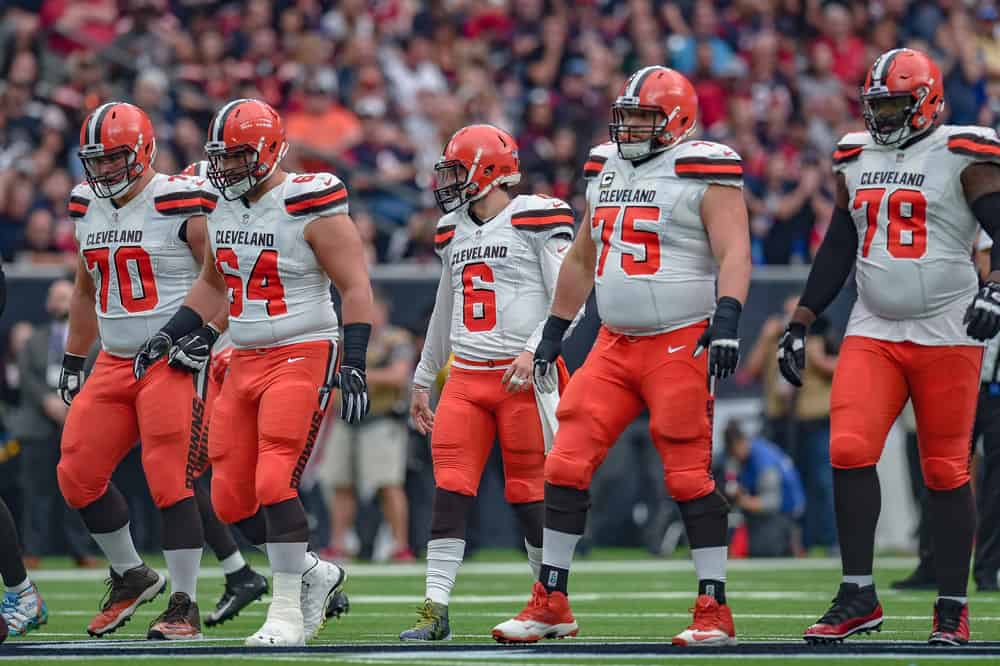 Reports of the Browns potentially letting Joe Schobert walk in free agency drew mixed reviews from Cleveland Browns' fans.
For every fan lamenting the loss of their defensive leader, there was another admitting his price was too high.
But, are the Browns saving the money for a bigger investment?
According to sources via Cleveland.com, that seems to be the case:
They're planning to make a big investment in the offensive line, sources say, and they're saving their pennies for that. It's also the reason that defensive end Olivier Vernon, the highest-paid player on the team at $15.25 million, will also likely be gone.

Schobert, a 2017 Pro Bowler, could attract about $10 million a year, and the Browns aren't prepared to pay him that much, the source said.
Andrew Berry and the Browns brain trust opted for caution in using their available salary funds.
With just under $62 million dollars in cap space, they can afford to spend.
But the Browns have other priorities and plans for the 2020 roster.
Among them has to be the rebuilding of their offensive line.
"We've talked a lot about being a QB-centered organization and certainly every year our priority is going to be make sure to build a strong position group that can keep Baker upright and give him the time ultimately to throw the ball," Berry told 92.3 The Fan.
That position group has been a strength of the Browns for years.
In 2018, Cleveland owned the second-highest ranked overall offensive line per Pro Football Focus.
But heading into 2020, Berry owns the 23rd best line from last season per PFF.
What Happened in 2019?
Former general manager John Dorsey had a knack for bringing talented players to his teams.
But he also had a reputation for ignoring some important areas, including the offensive line.
Dorsey can´t be blamed for failing to find another Joe Thomas after the perennial All-Pro retired.
Cleveland Browns Joe Thomas is the greatest player in NFL history never to reach the playoffs https://t.co/3Wfpn91o2h #browns

— cdotcombrowns (@cdotcombrowns) April 7, 2016
But he never came close to providing adequate coverage of Baker Mayfield´s blind spot.
Dorsey takes direct blame for breaking up the best interior line group in the NFL.
Trading Kevin Zeitler proved to be a mistake that looked bigger with every game Olivier Vernon spent on the sidelines.
JC Tretter came close to maintaining his PFF rating in 2019 and Bitonio was still the second-best lineman.
But the combination of Eric Kush and Wyatt Teller were below average, at best, in Zeitler´s spot.
Greg Robinson scored about the same as 2018 per PFF, but never offered the security Thomas provided.
Dorsey´s free-agent right tackle, Chris Hubbard, finished among the lowest-rated in the league.
John Dorsey hasn't had many misses in Cleveland, but paying Chris Hubbard starting offensive tackle money has been one of them.

— Ben Axelrod (@BenAxelrod) September 9, 2019
Penalties and pressures were abundant.
Only Baker Mayfield´s elusiveness kept the sack total from climbing.
What Might the Plan Be?
Andrew Berry and Kevin Stefanski have been close-lipped about their draft and free agency plans.
Other than stating they are open to anything, there have been no specifics.
Stefanski told Berry he needs athletic linemen.
"We want guys who can move, we want guys who are athletic to run wide zone," Berry said. "That doesn't preclude us to acquiring guys that have a little bit more power and snap at the line of scrimmage and at the point of attack, but certainly movement is a priority."
Berry mentioned the importance of depth at the position.
I don't want to alarm anyone but the Cleveland #Browns

(Wait for it)

Are formally interviewing offensive tackle prospects!

I'm just as surprised as you are.

— Pete Smith (@_PeteSmith_) February 26, 2020
He comes from a season spent with the Philadelphia Eagles whose backup right tackle is considered by some as a top-10 free agent tackle in 2020.
It would be easy to pursue the five best available offensive linemen.
But scheme fits and age matter, and ultimately, the players have to mesh as a unit.
Cleveland was hurt by the loss of Kevin Zeitler.
But many Giants fans are willing to let him return to Cleveland after an up-and-down season a year ago.
So… Free Agency or the Draft?
With an impressive roster of skill position players, the Browns can focus on their offensive line and defense.
What they do in free agency might shift their draft priorities.
But it is a safe bet the team drafts at least one of the premier tackle prospects in April.
Cleveland #Browns: Historic Offensive Tackle Class Performs Better Than Anticipatedhttps://t.co/dyHODSMoTj

— Pete Smith (@_PeteSmith_) February 29, 2020
There is enough depth at the position that the Browns could move back in a perfect scenario.
Rumors create multiple possibilities of who will fall to the tenth pick.
Should a premier defender like Isaiah Simmons fall to the Browns, one could argue the Browns should grab him.
One could also argue the Raiders should give their #12 and #19 picks to the Browns for Simmons.
Browns fans would forgive Andrew Berry if he landed Austin Jackson or Anthony Thomas with the #12 and added other picks.
If Browns trade back from No. 10, meet the offensive tackle they should target later: USC tackle Austin Jackson https://t.co/aCq4Itp14e if Grigson is not joining Browns until after draft will really give his best effort to advise on free agents &such.

— Nick (@asterwhite) February 27, 2020
Free agency offers some veteran options if the Browns opt to bring in some rookies who might need developing.
Tennessee´s Jack Conklin might take a discount or a prove-it contract after several seasons of injury.
He made it through an up-and-down 2019 without missing a game and will be two years post ACL surgery.
A return to his standout rookie form is possible.
Kelvin Beachum of the Jets is not a huge name among the free-agent left tackles.
Kelvin Beachum has been keeping Sam clean: just 3 pressures allowed over his past 4 games (no sacks or hits), in which the Jets are 4-0. None allowed against the Raiders pic.twitter.com/7D0WhyRvQm

— Michael Nania (@Michael_Nania) November 27, 2019
But the Jets were 7-2 in games both he and quarterback Sam Darnold started in 2019.
Cleveland could sign an "old man" and draft an eventual replacement, too.
Jason Peters (38), Andrew Whitworth (38), and Demar Dotson (34) are available.
Berry would do well to sign Detroit´s Graham Glasgow, too.
Glasgow is a versatile and effective guard and center, allowing one sack the past two seasons combined.
He would adequately replace Zeitler and serve as a backup center, too.
Or… Should Berry Break the Bank?
Saving money by not signing Joe Schobert and probably cutting Olivier Vernon gives Berry more possibilities.
But he still needs to replace Schobert and Vernon, as well as other defenders, before the 2020 season.
He could choose to pursue the top free-agent guard, Joe Thuney, along with the top right tackle Bryan Bulaga.
NFL free agents 2020: Joe Thuney, Brandon Scherff among guards to watch for Browns – National Football League News – https://t.co/O31ycBlk2m pic.twitter.com/DkfWu7PhIz

— NFL News (@CSNews2019) January 14, 2020
Or, he could take a chance on Jason Peters´ health at left tackle.
It would make the Browns offense fun to watch.
But with a stellar offensive line coach in Bill Callahan, athleticism and lateral abilities trump name recognition.
It is more likely Browns fans see a mix of serviceable free agents and two or more talented offensive lineman via the draft.
With needs at several defensive positions, the offensive line remains a priority.
But Andrews and Stefanski have other issues, too.