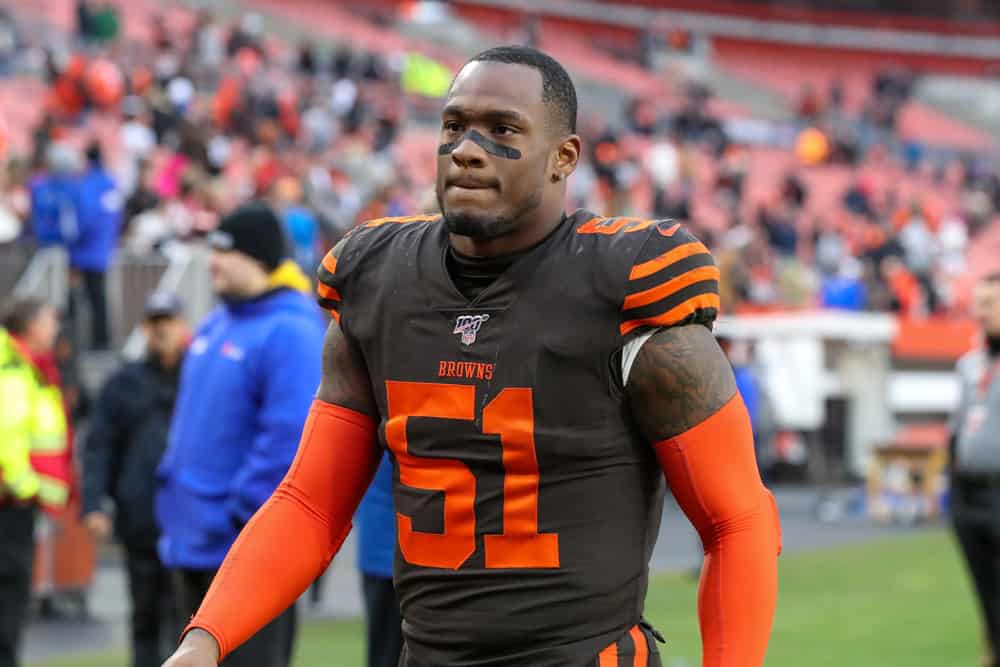 Following a loss to the Baltimore Ravens on Sunday, the Cleveland Browns dropped to 6-9 and secured themselves another losing season.
This will be their 19th losing season in 21 years since returning to the NFL in 1999. 
Rookie linebacker Mack Wilson is taking the disappointing season personally.
He delivered an apology to Browns fans on Twitter for some of the less than stellar play this season.
Sorry we couldn't get it done for you guys that was rooting for us through the bad and the good. We got 1 more game to finish. Just want to say I appreciate all of the fans from the bottom of my heart. ❤️ #LoveCleveland

— Mack Wilson (@5mackwilson1) December 22, 2019
Obviously the blame for 2019-2020 doesn't fall entirely on Wilson.
Far from it.
In fact, Wilson remains one of the few positives that can be taken away from this season.
Last week against the Cardinals, Mack was graded out the highest among Browns defenders according to Pro Football Focus. 
The #Browns highest-graded player* on defense vs. Arizona was Mack Wilson (90.4 defensive grade) which ranked 2nd among 81 Week 15 LBs with qualifying snaps. He allowed just a 41.7 passer rating, secured an INT and added three defensive stops

*min. 25 snaps

— PFF CLE Browns (@PFF_Browns) December 16, 2019
Wilson's interception was his first of his young career.
Browns fans know he has the ability to create turnovers as he showed us many times throughout the preseason.
Freddie Kitchens did get on Wilson's case for poor tackling following a preseason game against the Colts. 
Wilson was thrusted into the starting lineup in week three against the Los Angeles Rams. 
The regular starter at the position, Christian Kirksey, suffered another serious chest injury in week two against the Jets.
Kirksey has been out for the season since that injury.
Since starting in week three, Mack is yet to play less than 90% of defensive snaps for Cleveland. 
The rookie has been consistent in bringing down ball carriers, recording at least three total tackles per contest this season.
The "splash play" ability we saw in the preseason has not come to fruition yet, however. 
He has just one fumble recovery and one interception this year.
He also has just two quarterback hits via Pro Football Reference.
It's been an up and down year for the Browns linebacker core. 
Some weeks they look like a top tier unit, led by veteran Joe Schobert. 
Other weeks, however, they are completely MIA. 
These past two losses against the Cardinals and Ravens they have fallen into the latter.
The future is still bright for Wilson in Cleveland.
Maintaining a positive attitude and taking a losing season hard like he has bodes well for him moving forward.
That's a great way to win over fans and show the organization you are there for more than just a paycheck.
A big topic of discussion continues to be the contract situation of Joe Schobert. 
His contract expires at the end of this season and it is unclear whether or not the veteran linebacker will return next year. 
Regardless of John Dorsey's decision with Joe, Wilson's starting should be safe next season.
Kirksey is on a four year, $38 million contract through 2022. 
However, even if he returns, the Browns should not look to replace Wilson as a starter.
This decision obviously becomes easier if Schobert does not return, as Kirksey and Wilson would be the assumed starters in the Browns' usual two-linebacker set.
Defensive coordinator Steve Wilks should still not just hand the job back to Kirksey. 
He has been injury-prone the last two seasons, appearing in just nine total games.
Of course, potential coaching staff changes could mean a new defensive coordinator.
If the Browns were to return to a more traditional three-linebacker set, the trio of Schobert, Kirksey, and Wilson could all start. 
Regardless of additional personnel, Wilson's future in Cleveland continues to look promising and fans should expect to see him still getting heavy defensive snaps in 2020.