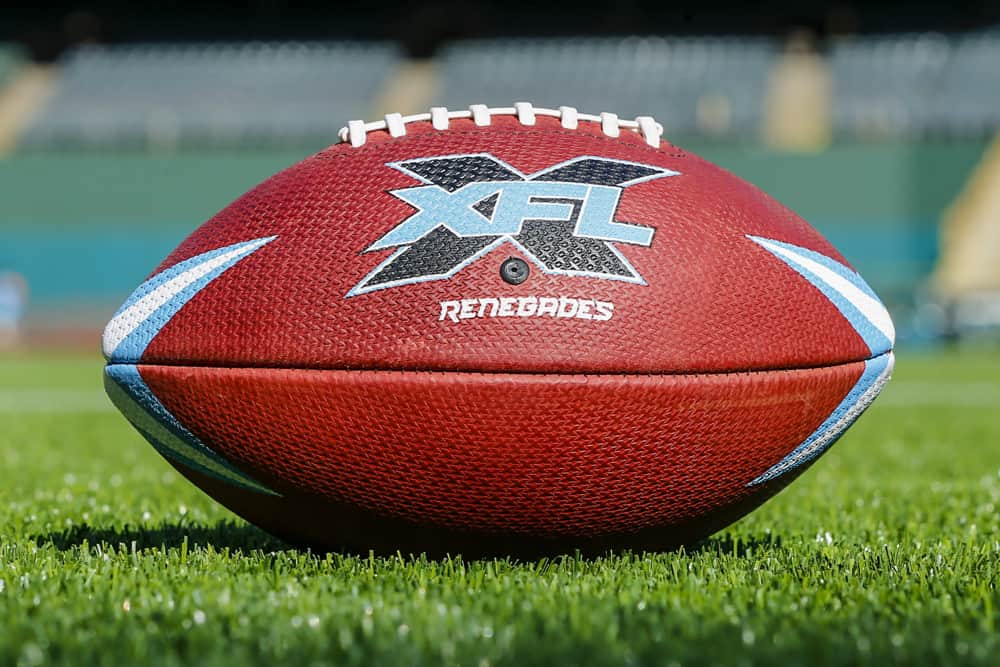 Cleveland Browns fans might recognize the names of some players in the XFL games this weekend.
But they'd have to be serious fans.
I love when these #XFL commentators are like "NFL fans will remember this guy! He played a series for the Raiders in 2013 before injuries forced him into a career in ad sales!"

— Adam Tod Brown (@adamtodbrown) February 9, 2020
The list might be more notable for who it does not include.
XFL Coaches Pass On Johnny Manziel and Trent Richardson In Draft https://t.co/5WeqLldgpI

— AFI (@AFIReview) December 21, 2019
No XFL team chose Johnny Manziel or Trent Richardson in their draft or free agency.
Both played for the short-lived Association of American Football (AAF).
The XFL's commissioner says his teams apparently feel the players they have are better than Manziel or Richardson.
Here is where the XFL's former Browns players play and how they did in Week 1.
1. Pepper Johnson, LB (1993-95)
No, the XFL isn't digging up old greats to play in their fledgling league.
But there are a couple of notable coaches on the sidelines.
XFL L.A. hires long-time NFL player/coach Pepper Johnson to serve as defensive coordinator/linebackers coach https://t.co/uiVm0tuSxf

— ProFootballTalk (@ProFootballTalk) June 1, 2019
Former Browns linebacker Pepper Johnson is the defensive coordinator for the Los Angeles Wildcats.
He doubles as the team's linebackers coach.
Johnson was on a pair of Browns playoff teams, losing twice in the AFC Championship.
Since hanging up the cleats, Johnson bounced around the league as a linebacker and defensive line coach.
This is his first coordinator job.
Unfortunately, the Wildcats got drubbed by the Houston Roughnecks, 37-17.
2. Dallas Renegades: Derron Smith, S (2017-18)
Free safety Derron Smith played in seven games of the Browns' 2017 season.
His only statistic was a fumble recovery.
Smith was a late cut in the 2018 preseason.
With the No. 1 overall pick in the Defensive Backfield #XFLDraft, the @XFLRenegades select SAF Derron Smith. pic.twitter.com/ofj2WnMQIQ

— XFL (@xfl2020) October 16, 2019
The XFL calls him one of, if not the best safety in their league.
He plays for the top-ranked Dallas Renegades.
They lost 17-9 Sunday and Smith's stats were limited to 4 assisted tackles.
Smith was almost joined by Montrel Meander, who was part of the last two Cleveland preseasons.
Meander was drafted by the Renegades but signed a reserve/futures contract with the Browns after the XFL draft.
3. DC Defenders: Elijah Campbell, CB (2019)
Elijah Campbell signed with the Browns as an undrafted free agent in 2019.
He did not make it out of training camp.
Campbell is a starting cornerback for the DC Defenders.
He recorded a tackle and two passes defended.
But it was his special teams play that people noticed.
🚨An ABSOLUTE game changer!!🚨

Elijah Campbell of the @XFLDefenders blocks a punt and scores to take the lead half way through the 2nd quarter!#XFL #XFL2020

— XFL WorldWide (@XFLWorldWide) February 8, 2020
He blocked a punt that was recovered for a Defenders touchdown.
Campbell lined up in the defensive backfield alongside Rahim Moore.
Moore made the Browns' final roster in 2017 only to be cut the next day.
In his XFL debut, Moore intercepted an extra-point attempt and tacked on 3 tackles and a pass defensed.
Linebacker Scooby Wright, a 7th-round Browns draft pick in 2016 is also a Defender.
Wright missed the Week 1 game with an injury.
DC's head coach is the 2016 Browns associate head coach and quarterback coach, Pep Hamilton.
Good luck today to Washington Defenders head coach and GM Pep Hamilton in his XFL debut. He's a fellow Howard University grad and former Cleveland Browns associate head coach, offensive coordinator and quarterback coach. pic.twitter.com/GifpPQNsgY

— D. Orlando Ledbetter (@DOrlandoAJC) February 8, 2020
4. Houston Roughnecks: Sammie Coates, WR (2017)
Houston has four former Browns on their roster.
Cleveland traded for Sammie Coates just before the 2017 regular season started.
He was fourth on Hue Jackson's depth chart in that winless season.
He is the most experienced receiver for the Houston Roughnecks.
Coates saw 9 targets, but could only haul in a pair of them for 26 yards Sunday.
XFL News: Former #Browns camp standout WR Blake Jackson has been assigned to the Houston Roughnecks.

Blake tells me he's hoping he gets another chance in the NFL before the XFL season.

— BrownsWave \: (@Brownswave) October 16, 2019
After getting signed as a rookie free agent in 2018, Blake Jackson was among the final cuts.
The Browns signed him to the practice squad before activating him for the final game.
He was waived-injured before the 2019 season started.
Jackson did not have any catches and suffered a horrible end zone drop for Houston this weekend.
The Roughneck's roster also includes Gabe Wright and Avery Gennesy.
Gennesy was in the Browns 2018 training camp and started at guard.
The Roughnecks' offensive line was described as "a wall" by game announcers.
Wright was credited with a tackle and a deflected pass in the Roughnecks' debut.
The defensive tackle bounced between the Browns practice squad and active roster in 2016.
5. LA Wildcats: Fred Lauina, OG (2018)
Cleveland drafted Fred Lauina in 2018 but he failed to make the final roster.
Lauina comes off a stint with the failed AAF to join the XFL's Wildcats.
Lauina expected to protect quarterback Josh Johnson, the well-traveled NFL veteran backup.
Johnson signed with the Browns for one game in 2012 when Colt McCoy and Brandon Weeden were hurt.
When third-string quarterback Thad Lewis got dinged, Johnson entered the game for one snap.
His lone play as a Cleveland Brown resulted in a sack/fumble.
Johnson missed the Wildcats' opener with an injury.
6. NY Guardians: D'Juan Hines (2018)
There are four former Browns playing in New York.
D'Juan Hines played 13 games on special teams for the Browns in 2018.
The team cut the linebacker in the offseason.
In his XFL debut, Hines tallied 7 tackles, 2 passes defensed and forced a fumble.
Best cornerback in the history of the AAF, Jamar Summers, with the scoop and score, after D'Juan Hines forces a Nick Truesdell fumble pic.twitter.com/VtUIgp21zu

— Arif Hasan, leap day enthusiast (@ArifHasanNFL) February 9, 2020
He also tipped a pass into the hands of a teammate to end the opening drive.
Browns fans might remember EJ Bibbs from the 7 games he played as an undrafted rookie in 2015.
Bibbs was primarily a blocking tight end and caught only one pass as a Brown.
He did not show up on the Guardians' stat sheet although he started the game.
Two undrafted rookies who didn't make the Browns' cut in 2019 are on the Guardians' roster, too.
Offensive lineman Brian Fineanganofo was part of a solid day for New York's line.
Defensive lineman Jarrell Owens was inactive.
7. Seattle Dragons: Kasen Williams, WR (2018)
Kasen Williams was one of three former Browns on Seattle's opening day roster.
He caught 9 passes for 84 yards without a score in 7 games for the Browns.
He is listed as the starting wide receiver for Seattle.
But he was not among the 9 different Dragons to catch a pass this weekend.
Tight end Connor Hamlett is the Dragons' fourth tight end.
He was also shut out Sunday.
In three games for the 2016 Browns, He caught one pass.
It was a 17-yard touchdown against the Patriots.
Channing Stribling was a UDFA defensive back in 2017.
He kicked around 5 practice squads and the AAF before making 3 tackles for Seattle this week.
8. St Louis Battlehawks: Matt McCants, OT (2016-17)
The St Louis Battlehawks drafted five former Browns.
Only two of them made the final roster, including Matt McCants.
Another former #Browns Matt McCants taken third in the @xfl2020 draft by the BattleHawks

— Josh Keatley (@JoshKeatley16) October 15, 2019
Cleveland signed McCants off waivers for one week in 2016 and again heading into the 2017 training camp.
He landed on the injured reserve with a preseason ankle injury before being released in October.
McCants' personal stats aren't available.
But the team gave up 9 tackles for a loss, including 2 sacks and a pair of quarterback hits.
Former Browns draft pick Trey Caldwell is also on the Battlehawks roster.
Injuries limited the cornerback to 2 games for the Browns.
He put up no stats for St Louis this week.
9. Tamba Bay Vipers: Antonio Calloway, WR (2018-19)
This is a bit of a tease since Antonio Calloway is on the injured reserve list entering the XFL season.
Former Browns WR Antonio Callaway Joins XFL https://t.co/sofMpalGBs pic.twitter.com/yHAK0EB9uu

— Pro Football Rumors (@pfrumors) January 16, 2020
The former Browns wide receiver was carted off the practice field with a lower leg injury on January 30.
It was a bit of a surprise the league took Calloway in since they have a "no legal issues" policy.
However, Calloway's problems with the NFL and the police centered around marijuana.
The XFL will not test players for marijuana, following the lead of the NBA.
Tampa Bay's head coach, Marc Trestman, hoped Calloway would be a premier player for them.
Trestman was the Browns quarterback coach in 1988, tutoring Bernie Kosar.
Cleveland promoted him to offensive coordinator before they hired head coach Bud Carson in 1989.
The two never hit it off and Trestman was fired after the Browns' third AFC Championship loss in 4 years.
Trestman has the most controversial XFL coaching decision of the opening weekend.
Marc Trestman just turned a two-possession game into a two-possession game. Don't tell me the XFL isn't real football.

— Jason B. Hirschhorn (@by_JBH) February 9, 2020
He kicked a field goal down by 17, setting off a social media rampage.
Tampa Bay also has a pair of Browns UDFAs on the roster.
Linebacker Anthony Stubbs (2018 UDFA) and cornerback Anthony Stubbs (2019 UDFA) had unremarkable XFL debuts.
Random XFL Thoughts
The XFL does not consider itself a developmental league.
However, it is reasonable to think some players could wind up back in the NFL.
At least five NFL scouts attended the Guardians-Vipers game in New Jersey.
Last Chance:XFL Attendance: 5 NFL scouts were in attendance along with 17,634 at the NY Guardians game https://t.co/fFvExj1B5s #NFL #NFLDraftNews pic.twitter.com/arBil645HL

— NFL Draft Diamonds (@DraftDiamonds) February 10, 2020
Cleveland's new leadership is coming together.
It is not likely they have an XFL scouting plan right now.
16 of the players named above were among 31 former Browns drafted by the XFL in October.
Antonio Calloway and Gabe Wright were undrafted free agents.
Three of the drafted former Browns are back in the NFL already.