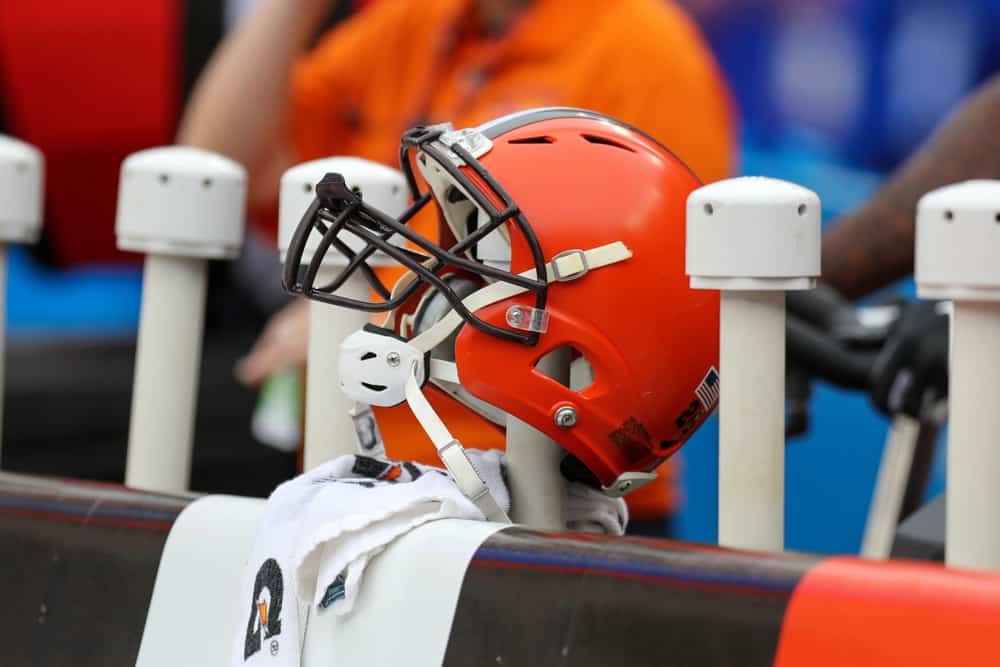 The Cleveland Browns were a massive disappointment in 2019.
Chalk that up as one of the biggest understatements in team history.
That was due to players all over the roster underperforming, in addition to a lack of proper coaching.
But the coaches have changed in 2020 and the pressure falls on the players to perform.
#Browns Odell Beckham Jr. has 'a good feeling' about Kevin Stefanski's plans for him and Jarvis Landry; 'More motivated now than ever' after playing hurt last year, he tells @ComplexSports https://t.co/jiYBnAdPUw

— Mary Kay Cabot (@MaryKayCabot) February 3, 2020
New leadership in the front office as well means that few on the roster are safe in the long-term.
Those who struggled in 2019, along with those who soon need a new contract, will face a critical 2020 season to prove they belong here for the foreseeable future.
Five players in particular stand out for their own individual reasons.
5. David Njoku
David Njoku had a weird 2019 season after a nice two-year stretch to start his career.
He only appeared in four games, hauling in five catches for 41 yards and a touchdown.
That should have been the line for a single game.
Not an entire season.
The lack of production was partially due to a brutal wrist injury he suffered on a questionable hit in Week 2.
But then Njoku was cleared from injury at the end of November, only for him to be in some sort of unknown clash with then head coach Freddie Kitchens.
Things got so tense Njoku wasn't even sure what his status would be if Kitchens had been retained.
It sounds like David Njoku doesn't want to stay in Cleveland, if Freddie Kitchens does https://t.co/7YtzcyerYs

— ProFootballTalk (@ProFootballTalk) December 28, 2019
The good news for Njoku is that a new group is in charge and that includes Andrew Berry, who was around when Njoku was drafted back in 2017.
2020 will be Njoku's fourth season and it remains to be seen if the Browns will pick up his fifth-year option.
Kitchens and John Dorsey being gone should mean Njoku has a good shot to have that option exercised.
The team declining it may lead Njoku to just move on without any negotiation with the Browns after the season.
2019 was a wash for the young tight end.
But he did play in all 32 games of his first two seasons, combining for 88 receptions for 125 yards and eight touchdowns.
Njoku has the prototypical size and speed to succeed in the NFL.
He showed flashes of success with Baker Mayfield in 2018 before the issues in 2019.
A solid year from Njoku should mean he gets another contract in Cleveland.
4. Olivier Vernon
Olivier Vernon did not come to the Browns for cheap.
Offensive lineman Kevin Zeitler was sent to the New York Giants in exchange for the Pro Bowl defensive end.
Then the Browns had offensive line troubles in 2019 and Vernon struggled on the defensive side of the ball when he was healthy.
The veteran appeared in 10 games, recording 3.5 sacks and only 26 total tackles.
Those numbers were not the expectation given how much he made.
Vernon made over $15 million and he is set to earn $15.5 million in 2020.
But it is important to note that Vernon could be cut without counting against the salary cap at all.
So before the season even begins, the 2020 offseason is a critical time for Vernon.
The front office needs to decide if he is worth the money.
However, things are more complicated considered he was gotten in exchange for Zeitler.
Though this front office did not make that trade.
Vernon is a free agent after the season and the Browns have the cap space to easily retain him in 2020.
That should work in his favor as he looks to bounce back from the least productive season of his entire career.
Snap Count Review: Olivier Vernon tackles old role in season finale

📋 » https://t.co/Cc6pkrl540 pic.twitter.com/9rDqMStAC1

— Cleveland Browns (@Browns) December 30, 2019
Vernon made the Pro Bowl in 2018 so his injuries could be cited as the main reason for his decline.
He did only appear in 10 total games.
The entire team regressed and the new year could be seen as a fresh start for Vernon.
There is no need to shed major salary as the mega extensions aren't due for another year or so.
The Browns will be hoping Vernon gets back to his normal production of averaging around 7-8 sacks per year and playing in every single game.
3. Kareem Hunt
Kareem Hunt is a restricted free agent this offseason.
Yet the questions surrounding him have nothing to do with his talent.
It is all about his character and whether he can finally avoid trouble for once after so many incidents.
He is unfortunately drawing up comparisons to Josh Gordon.
Yet the Browns have indicated Hunt will be retained for the 2020 season.
Having the talent he possesses certainly helps his cause to get another chance.
New Browns' GM Andrew Berry on RB Kareem Hunt: "We have communicated our expectations for him moving forward. We want guys who are going to be smart, tough and accountable, on and off the field. Kareem understands that, and we are looking forward to him meshing with our culture."

— Adam Schefter (@AdamSchefter) February 5, 2020
Yet the young running back is always one incident away from being let go.
If we assume that won't happen, Hunt figures to be a major part of the offense in 2020 with a new system in place.
He broke out as a star in 2017 when he led the NFL in rushing with 1,327 yards.
That was good enough for him to make the Pro Bowl and he seemed to be the next big thing in the NFL.
Then came the video of him assaulting a woman in Cleveland and Hunt was released by the Kansas City Chiefs during the 2018 season.
The Browns gave him a chance, though Hunt was suspended for the first half of the 2019 season.
When he ultimately returned it was tough to get a gauge on how he could be used effectively because of Kitchens' mismanagement of the offense.
Hunt finished the season with only 179 rushing yards on 43 attempts in eight games.
He also added 37 receptions for 285 yards.
The entire offense was a disaster under Kitchens and the running backs were affected the most.
There was a lack of common sense with who to have on the field in certain situations, and Hunt did not get nearly enough action running the ball.
Kevin Stefanski now has an entire offseason to figure out Hunt's role, assuming the team doesn't change its message and get rid of the running back.
2. Odell Beckham Jr.
The Browns are not giving up on Odell Beckham Jr. after just one season in town.
That is good news and a nice change from regime changes of the past.
Though it is important to note that Beckham does not have a dead cap figure beyond the 2020 season.
That means his performance this upcoming season will determine whether or not the team will keep him aboard for the future in 2021 and beyond.
Beckham had a rough year in 2019 after he came with so much hype in the offseason.
He did eclipse 1,000 yards with 1,035 on the year, but it was easily one of the more forgettable 1,000-yard seasons in Browns history.
Beckham also added four touchdowns in his 16 games played.
One fair excuse for the star receiver is that he was dealing with injuries throughout the entire year.
He also missed a lot of the offseason workouts that would have gone a long way in helping the entire offense.
From Super Bowl Live: The #Browns want to move forward with WR Odell Beckham Jr, but how present he is this offseason and for OTAs may go a long way in determining that. pic.twitter.com/RMfekoLrQX

— Ian Rapoport (@RapSheet) January 31, 2020
Beckham being present this offseason would help Stefanski's transition and can allow Beckham and Mayfield to actually build some chemistry while running the offense.
No matter who is to blame, the 2019 offense lacked cohesion and Beckham and Mayfield were rarely on the same page.
His 74 receptions on a whopping 133 targets tells that story.
Beckham's future with the Browns isn't the only thing on the line in 2020.
His entire reputation around the league is on the line as another bad year filled with unnecessary distractions could hurt his future earning power if the Browns ended up cutting him before his contract is up in 2023.
The three-time Pro Bowler has not been elite since the 2016 season.
From 2014-2016, Beckham finished with at least 1,300 yards and 10 touchdowns in each season.
From 2017-2019, he has a combined 13 touchdowns and has played in a total of 32 games.
.@God_Son80 on his friend and teammate Odell Beckham Jr.:

"He's a great person, a true competitor, he loves his family and loves playing this game. When we see a healthier, more settled in Odell Beckham, you can expect the things that we've always seen from him." pic.twitter.com/VNnVDC82Oh

— UNDISPUTED (@undisputed) January 29, 2020
The key for Beckham is to get healthy for the 2020 season.
He was visibly limited in his mobility last year and was still able to make some highlight-reel catches.
Yet fans don't know how much of the problem was Beckham and how much of it was Kitchens and/or Mayfield.
Beckham got plenty of targets.
Yet some were forced, which could be the play-calling, and others were missed badly on by Mayfield.
Getting Stefanski in the mix changes one aspect of the problem.
The quarterback position is now in focus as Beckham tries to prove he can still be a superstar if given the chance.
1. Baker Mayfield
Baker Mayfield was brought in by Dorsey to be the franchise quarterback for well over a decade.
He thrived under the Kitchens offense in 2018.
Then the regression hit in 2019 and Mayfield looked like a whole different player.
It only made seeing him in Progressive commercials that much more painful when they aired following one of his 21 interceptions on the year.
Mayfield played in all 16 games, throwing for 3,827 yards, 22 touchdowns and the 21 interceptions.
He also took 40 sacks and drove fans crazy by his constant rollouts to the right side of the field.
Two brutal stats for Baker Mayfield: among qualifying passers, he is now last in the NFL in both completion percentage (58.7%) and TD/INT rate (0.58).

— Jake Trotter (@Jake_Trotter) November 4, 2019
A combination of factors hurt Mayfield's development in his second season.
The offense line was depleted, the play-calling had no flow or consistency, his receivers were injured, and the list goes on.
Those are not excuses, but just facts that contributed to his struggles.
All of the blame does not go elsewhere.
Though once again, Kitchens was a disaster and Stefanski comes in with experience in properly running an offense.
Mayfield is in a weird spot in 2020 that is similar to what Mitchell Trubisky experienced in 2019.
The quarterback is entering his third season as the starter.
That means the team will have to make a decision on his fifth-year option a year from now.
A bad year could realistically see the Browns draft another quarterback high in the 2021 NFL Draft and start the process all over again.
Or a veteran could be brought in to provide an actual challenge to Mayfield on the depth chart.
A No. 1 overall quarterback like Mayfield gets those first three years to prove himself.
Those that succeed, like Patrick Mahomes, set themselves up for mega-deals that will make them a fortune.
Those that don't, like Trubisky, face an uncertain fourth year and teams begin considering replacements.
Excluding Josh Rosen (for obvious reasons), the order in which these QBs were selected in the 2018 1st round is arguably exactly inverse to the expectation for a major contract extension next spring.

Baker Mayfield (#1)
Sam Darnold (#2)
Josh Allen (#7)
Lamar Jackson (#32)

— Spotrac (@spotrac) December 20, 2019
The question of whether or not to offer Mayfield an extension in a few years is a franchise-changing decision.
The entire makeup of the roster would have to accommodate such a large contract.
This is a situation seen all over the league and a huge contract for a bad or just below average quarterback can derail a team's chances to compete for a Super Bowl.
We all know Mayfield will be the starter in 2020.
And barring a total collapse, he should open the year as the starter in 2021.
But his future beyond that is unknown and his performance this year under Stefanski will determine both his future in Cleveland and his potential to earn well over $100 million.
A Big Year For All 53
The Browns don't often stick to the intended plan.
Berry and Stefanski can enter 2020 saying there won't be any major changes.
But Browns fans are too wise to blindly believe such words.
Another bad year from the entire team could lead to sweeping changes on the roster.
That includes both star players and those near the bottom of the depth chart.
2019 was supposed to be the year.
Until it wasn't.
Expectations have been tempered a bit in 2020 but there is once again too much talent to accept another losing season.
The coaching staff should at least be safe for a few years.
New #Browns GM Andrew Berry describes the philosophy the front office will utilize. pic.twitter.com/0ho8WU3jgt

— FOX Sports Cleveland (@FOXSportsCLE) February 5, 2020
Hopefully that is not a naive thought.
But football coaches and front office members love to bring in their own guys.
2020 will be an audition for everyone.
Mayfield headlines those with something to prove and is someone with plenty of money on the line.
Beckham already got his big contract, but he doesn't want to be cut loose and lose out on his potential earnings.
Hunt is looking to salvage his once promising career, Vernon wants to prove he is still elite, and Njoku wants to forget 2019 happened.
All of this pressure will hopefully lead to some better play and an elusive winning season for a Browns franchise needing a reason for fans to keep the hope alive.