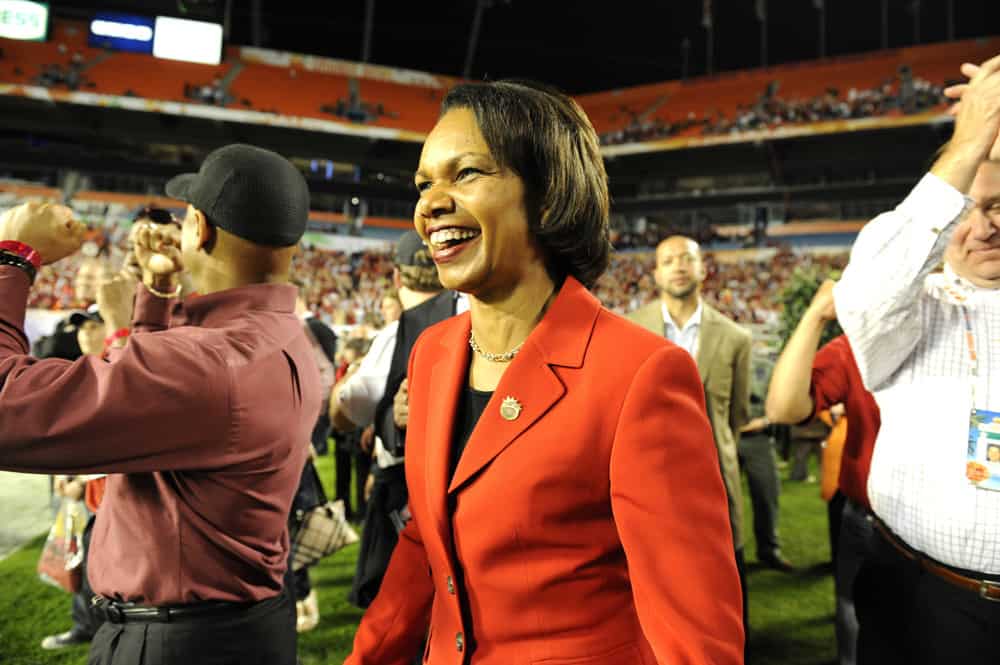 ESPN NFL Insider Adam Schefter clarified Thursday why he reported in November 2018 the Cleveland Browns wanted to consider hiring former Secretary of State Condoleezza Rice for their head coaching job.
Schefter told the story of the previous regime's dysfunction in an appearance on Barstool Sports "Pardon My Take."
"There's been enough change in the organization that I feel like it's okay to now tell this story," Schefter said.
"Pardon My Take" hosts Daniel "Big Cat" Katz and PFT Commenter have jokingly accused Schefter of making up the report that the Browns wanted to consider Rice for head coach after they fired Hue Jackson in October 2018.
"That week, the Browns fire Hue Jackson," Schefter said. "They have a press conference in which their general manager at the time John Dorsey is quoted as saying, 'we're going to look under every rock and turn over every stone to get the best candidate, even if it's a woman.'"
Later that week, Schefter said he called someone in the Browns' front office "directly involved" with the head-coaching search.
Schefter then asked that person if there was a specific woman the Browns wanted to interview to become their head coach.
"They say, 'yes, Condoleezza Rice,' and I said, 'Am I allowed to report that?'" Schefter said. "And they said, 'let me think about that.' And that afternoon, the Browns called me back, and said, 'yes, you can report that.'"
Schefter did not reveal who specifically he talked to and did not say if the person still works for the Browns.
Ahead of that Sunday's games, the person called Schefter to see if he would report the Browns wanted to interview Rice for the position.
"On Saturday, the person who told me, called me and said, 'You're using that tomorrow, right?' And I said, 'Yeah.'" Schefter said in the interview. "He said, 'that's going to be great. [I] can't wait to see the reaction.' I said, 'great.'"
Schefter reported Nov. 18, 2018, the Browns wanted to talk to Rice as a candidate for their head-coaching position.
"An hour later, the Browns release a statement, 'we've never talked about Condoleezza Rice,'" Schefter said.
Browns interested in interviewing Condoleezza Rice for head coaching job, source tells ESPN.https://t.co/cgxCUgbF8j

— Adam Schefter (@AdamSchefter) November 18, 2018
Statement from #Browns on Condoleezza Rice: pic.twitter.com/x8rFHxWwKH

— Joe Reedy (@joereedy) November 18, 2018
Schefter said "the internet kind of broke" after his report.
"People were like 'What are they doing?'" Schefter said. "And, no, they just wanted to get ideas. Like, that's all it was. It wasn't like they're hiring Condoleezza…

"Condoleezza Rice was a person that they had interest in talking to, getting her perspective. And you know what? In the world we live in, that's probably wise. Could she have been any worse than what they've done? No."
Rice has never coached football before.
The Browns have the longest active playoff drought in the NFL, having failed to reach the postseason since 2002.
Later in the interview, PFT Commenter called the accusation that Schefter made up the report about the Browns' interest in Rice "preposterous."
"Do you think I would have made…where would that have come from?" Schefter said.
Schefter said he asked the unnamed person involved the team's head-coaching search if he or she was willing to have the Rice information go public.
"Again, we discussed it. And I said, 'If you're uncomfortable, let me know,'" Schefter said. "And they go, 'No, we're good.'"
The Browns decided to replace interim head coach Gregg Williams with Freddie Kitchens, who the team fired after going 6-10 in 2019.
Kevin Stefanski is set to become the team's 18th head coach in 2020.
The team also fired Dorsey at the end of the 2019 season, replacing him with Andrew Berry.