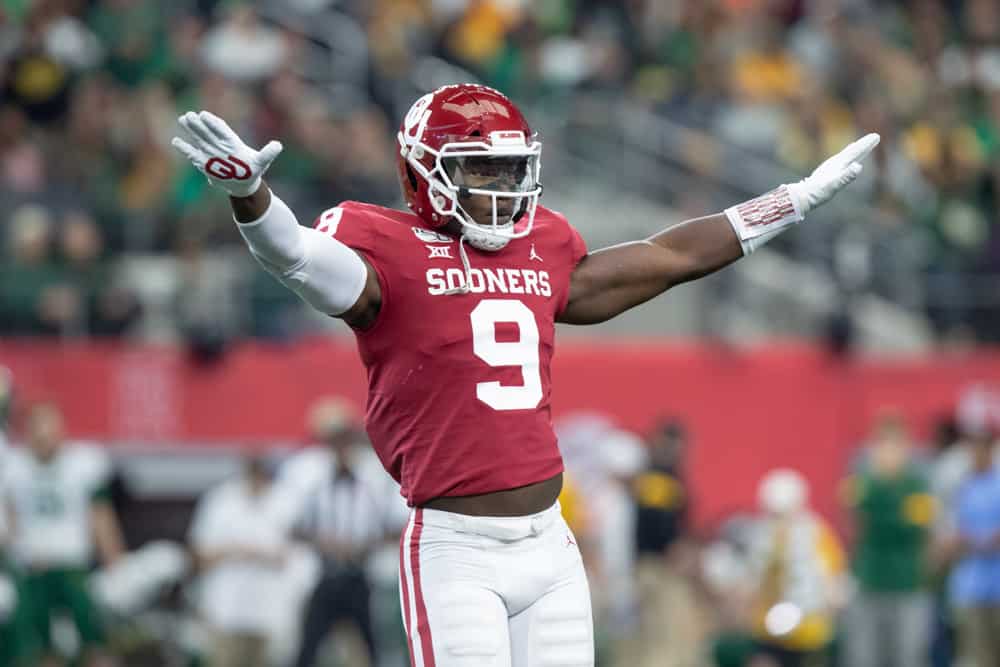 A position of relative strength in 2019, the Cleveland Browns linebacking core may be shaken up this off-season.
After a solid season, Joe Schobert's contract is up and, so far, the team has not extended him.
Christian Kirksey is owed nearly $10 million next season, will the Haslams' continue to pay him All-Pro dollars?
Mack Wilson played fairly well as a rookie, but struggled at times to get a handle on the pro game.
New defensive coordinator Joe Woods recently announced that he would stay with the 4-3 defense.
In other words, he'll need at least three capable athletes to hold the fort.
Here is a look at the top eight linebackers in the 2020 NFL Draft.
Note: This list includes both inside and outside linebackers. Also, this list is for informational purposes only and is not intended for ranking.
Isaiah Simmons is about to destroy the NFL combine.

Definition of versatility. pic.twitter.com/wUSnKaENH0

— B/R Gridiron (@brgridiron) February 27, 2020

Simmons has fast become most scouts favorite linebacking prospect.
At 6'4" and 230 pounds, he is a near complete package in coverage and against the run.
Because of his length, Simmons can take away passing lanes as well as shut down ball carriers.
His versatility is exceptional as he can play nearly every one of the "back seven" positions.
Simmons has great speed and can close on a tackle in an instant.
His first step is off the charts and he quickly can overwhelm any opponent.
He will attack the football, tracking it down through blocks or the open field.
He reads the offensive tackles well to get a feel for where the play is going.
Simmons anticipates well and is usually one of the first to arrive. His tackle radius is impressive.
If he gets his hands on an opponent, it's over.
Simmons disguises himself well enough to break up a play or get to the quarterback.
In 2019, he had no less than seven sacks along with eight passes defended.
This shows on film as his footwork and change of direction are smooth.
Scouts have to work to find deficiencies in Simmons' game.
They do note that his strengths are on the outside and in coverage instead of inside.
He also struggles with zone coverage anticipation.
Despite these few flaws, scouts see Simmons as a weak side or nickel linebacker or even strong safety in the pros.
Look for Simmons to be the first linebacker off the board in the draft.
— 💀RN4L💀 (@Raider4life70) January 18, 2020
At 6'2", 234 pounds, Murray is a healthy mix of fast and explosive power.
Due to three years of playing experience for the Sooners, Murray has a good football IQ.
He is fairly quick to diagnose plays and, when he does, he delivers.
Murray does a good job of slipping blocks and taking hard angles to the ball.
He aggressively goes after the ball carrier and has striking power and good grip strength when tackling.
Whether backpedaling or in a straight line, Murray has great speed to close the distance.
Scouts note he has a large tackle radius and his extra gear helps him get to tackles others may miss.
On film, his compact frame shows fluid hips and good lower body strength at the point of attack.
He has the ability, within reason, to fairly cover a number three receiver or tight end.
Scouts do see a few flaws in Murray's game.
For instance, occasionally he will make big misses when tackling because of his aggressiveness.
Murray has a tendency to tackle high and will lose leverage when doing so.
He can also struggle to disengage blocks against larger linemen and will sometimes hesitate to engage a bit too long.
Murray was not asked to cover receivers often.
Due to his limited range, he should not be counted on to be a coverage 'backer in the pros.
Overall, scouts see Murray as a Mike (middle) or SAM (strong side) linebacker in the NFL.
— Giants (@2020NYGIANTS) February 22, 2020
In a word, Baun can be described as a disruptor.
This is evident even before watching film.
In 2019, Baun had 76 total tackles, 12.5 sacks, two forced fumbles, an interception and a touchdown.
His motor is off the charts and he puts his nose into every play.
On film, Baun can be found anticipating the ball and making big plays.
He is frequently at the point of attack before most of the defense.
As noted in his 2019 stats, Baun can get after the quarterback and drop into coverage.
Baun was used in coverage outside the hashes, spying the slot receiver or squatting in the flat.
Even with a 6'3", 240-pound frame, he has enough flexibility to fight off blocks and make plays.
Baun has a good tackle radius, quick feet, and takes smart angles to the ball.
On film, Baun has an array of pass rush moves.
One can see him using a speed rush, inside swim, ripping through or dipping a shoulder to elude an opponent.
On the flip side, scouts believe Baun could have better upper body strength as he can struggle with larger opponents.
Also, he can lose track of the against misdirection plays, specifically RPOs.
On the injury front, Baun broke his left foot in both 2017 and 2018.
In short, scouts see Baun as a day two pick who plays outside in the pros.
With development, they can see him eventually playing the SAM position at the next level.
Ohio State LB Malik Harrison (@Leek_39) Highlights

Harrison is a hard hitter who makes plays all over the field. He'll make a tackle behind the line of scrimmage one play & then will drop back into coverage next play to defend a pass

Full Video 🎥: https://t.co/Re1uwU8JOM pic.twitter.com/HL6a5eCsy2

— JustBombsProductions (@JBP_Official) January 22, 2020
Harrison played in the shadow of teammate Chase Young, but he more than held up his own.
Harrison has really developed into a versatile, dependable defender.
As a former high school quarterback, he has a good feel for the game and anticipates plays well.
Harrison plays fast and, when running "downhill," can lower the boom.
His hand strength is positive, if he gets a hold of you, you're going down.
His 6'3", 246-pound frame make him tough to move.
He will use his size to unload into blockers and stop a play immediately.
Harrison has plus hand placement and can use leverage against a larger opponent.
He is fast and he can frequently be found shooting gaps to take out ball carriers.
In pass defense, Harrison has good length to close throwing windows.
He can also be found covering short zone areas with confidence.
Despite his increased production, scouts do see some red flags.
For starters, he is not the most fluid or flexible athlete.
He does not have the ability to cover deep in passing situations.
Also, he does not have great lateral speed or quickness leading to misreads and missed tackles.
Harrison has a good track record on special teams.
Look for him to continue on special teams as well as a Mike or SAM 'backer in the pros.
Jordyn Brooks – Texas Tech.

2019 stats: 108 tackles, 20 TKFL, 3 sacks, 1 FF.

Watch how quick he is off the snap, his sideline to sideline speed is elite. In the last clip, he fights through a hold and still makes the play.

Getting him in the 2nd would be an A+ for the #Packers pic.twitter.com/OIpr5E6T5a

— Eli Berkovits (@BookOfEli_NFL) February 25, 2020
Brooks is a heavy hitter with four years of playing experience for the Red Raiders.
Each year of his career has shown improvement in his game and his ability as a linebacker.
In 2019 alone, Brooks had 108 total tackles, three sacks, one forced fumble, and two fumble recoveries.
Brooks does his best when he reacts to the ball rather than anticipate a play.
He has a fairly quick first step which can negate his lack of anticipation.
Brooks flies all over the field and is consistent in pursuit.
His compact 6'1", 245-pound frame makes him difficult to block and he will deliver huge hits.
He is adept at shooting gaps and arriving at plays before they have a chance to develop.
Brooks has good sideline to sideline ability and quickness to slip by defenders.
He has quick feet and fluid change of direction for someone his size.
In coverage, Brooks could be seen "spying" quarterbacks or defending over the slot receiver.
Brooks can struggle when having to shed blockers and won't always be able to hold his gap responsibility.
Also, scouts say his angles in lateral pursuit are suspect and is sometimes guilty of over-running a play.
His coverage skills are limited to short spaces as he is more of a "hash defender."
Brooks projects as a WILL (weak side) linebacker in the pros where his short-area quickness will thrive.
Patrick Queen, LB, #LSU:

• High levels of play violence (++)
• Quick trigger to fill gaps
• Sees/Reads plays from a mile away
• Fluid mover in coverage
• Easy sideline-to-sideline speed (+)
• 1-yr. starter/Best days are ahead
pic.twitter.com/SH8lcqdtGa

— Jordan Reid (@JReidNFL) February 21, 2020
After limited playing time in 2017 and 2018, Queen burst onto the scene in 2019.
He is a fairly instinctive athlete with good football knowledge.
He has the proverbial "high motor" and can frequently be found at the point of attack.
Queen can diagnose a play quickly and is usually one of the first to arrive.
He is a heavy hitter with a fast-initial step and short burst speed.
It is evident that his flexibility allows him to effectively maneuver straight-line and laterally.
He will take on blockers and has the ability to slip a block to get to the football.
At 6'1, 227 pounds, Queen's length aids him in both shedding blocks and making a play on the ball.
In the passing game, Queen can more than hold his own.
In some game clips, he can be spotted 30 or more yards downfield in pursuit of a play.
He appears to play coverage best in zone.
He uses his peripheral vision to trick quarterbacks into throwing in his area.
He has plus anticipation and a feel for the passing lanes.
Scouts note that his lean build does not lend itself to functional power.
In other words, he can be pushed around on occasion.
Also, he can tackle too high and needs to get better at finishing his tackles consistently.
Queen has only one full season as a regular starter.
This lack of overall experience makes it hard to judge how he will perform in the NFL.
However, pro personnel believe they have seen enough of Queen to assess his skills.
They envision him as either a weak side or middle linebacker at the next level.
His versatility will allow him to be a three-down 'backer.
That skill set will pique the interest of numerous teams come April.
@JohnathanAbram1 https://t.co/pVR4YyKLsShttps://t.co/xzSVp4Ftry

— Ian H (@IanH707) February 23, 2020
If there is one number that accurately conveys Weaver's ability as a linebacker it is 181.
That is the total overall tackles Weaver had in 2019 as a starter for the Golden Bears.
In 2018, he had 155 total tackles.
Quite simply, 336 tackles over two years clearly shows that Weaver gets to the ball.
A lot. With a 6'2, 234-pound frame, Weaver brings a solid mass to the position.
He is effective working in gaps and has the strength to fight off blockers.
He has a great tackle radius and can flat get after the ball with a head of steam.
Weaver is not a heavy hitter when tackling, but he is sure handed and wraps up well.
Four years of playing experience show as he diagnoses plays quickly and takes good angles to the ball.
When watching film of Weaver, it is very clear that he never takes a play off.
He is a leader that plays the game the "right" way and can be counted on for game-changing plays.
Despite the high number of tackles, however, there are holes in Weaver's game.
What is also evident from watching film is his lack of explosiveness.
His first step is not strong which can lead to blockers getting to him quickly.
Weaver is not great in lateral quickness and he lacks coverage skills.
Scouts see Weaver as a two-down linebacker in the NFL.
Expect to see him come off the board in the later rounds of the draft.
— HerbertSzn (@ChargersBoom) February 5, 2020
Dye was a four-year starter and team leader for the Ducks.
A long, lean athlete at 6'4", 225 pounds, his length adds another dimension to his game.
Dye's long arms give him a huge tackle radius.
He will also more than adequately stack blockers with his reach.
His hands provide explosive power to shed blocks and he can use his strength to disengage.
Dye has smooth hip motion and rotation.
This characteristic allows him to keep his shoulders square or drop quickly in coverage.
He has quick feet that help him change direction on a dime.
Film shows him cutting straight upfield or rotating to move laterally with ease.
Dye can accelerate quickly and drop the hammer on a ball carrier.
Zone coverage is more his speed.
His hands are well above average, especially in coverage.
Dye actually intercepted a pass against Utah with a cast covering his entire right hand.
Despite the plus skill set, Dye does need work in some game aspects.
For starters, he appears to struggle with reading and reacting to some blocking schemes.
Occasionally, at the point of attack, he can get overpowered by physical offensive linemen.
He doesn't always look to shoot the gap to make a play, seeming to prefer "cleaning up" a play than engaging.
In coverage, he is not adept in man to man.
Scouts envision Dye as a weakside linebacker and special teams player in the NFL.