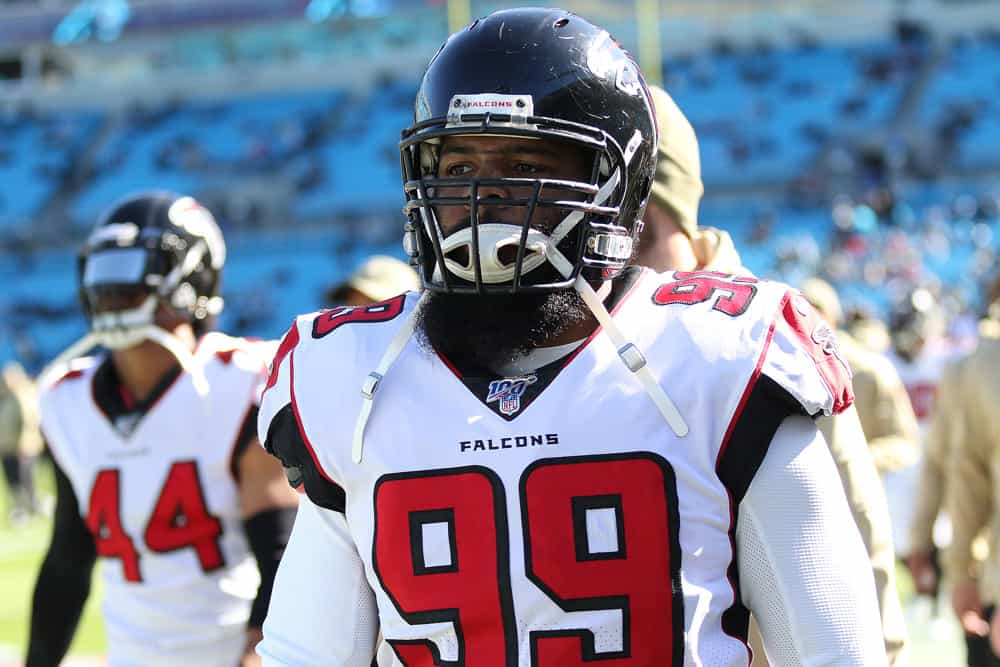 One area the Cleveland Browns didn't need to add this offseason was defensive end.
The organization has one of the best pass rushers in the league in Myles Garrett.
Then on the other side they have former Pro Bowl right end Olivier Vernon.
Vernon is coming off an injury-plagued 2019 campaign, but is still a force in the NFL.
Recently, Vernon renegotiated his contract to make him more affordable for Cleveland.
The Browns and DE Olivier Vernon have agreed to a renegotiated contract, per source. Vernon, previously due $15.25M non-guaranteed, gets $11M guaranteed through a $7M signing bonus, $3.75M base salary and a $250K workout bonus, plus $2M more available via incentives.

— Field Yates (@FieldYates) July 7, 2020
Both Vernon and Garrett are ready to prove themselves after being limited last season.
The Browns went out and added some quality veteran insurance in case either of those players miss time again in 2020.
They signed 32-year-old defensive end Adrian Clayborn to a two-year deal worth $6 million this offseason.
At first glance, adding Clayborn doesn't seem like a big deal, but he could be a solid contributor for Cleveland.
Why Add Clayborn?
At this point in his career, Clayborn is not a starter, but is able to help as a rotational player.
Clayborn has not been a full-time starting defensive end since the 2013 season with the Tampa Bay Buccaneers.
However, Clayborn has been able to help as a rotational player over the years.
Most recently, Clayborn finished with 18 tackles, four tackles for loss, and four sacks through 15 games (one start) with the Atlanta Falcons last season.
He'll be a quality insurance piece in case Garrett or Vernon miss time at any point in the season.
The Browns can feel comfortable for someone like Clayborn taking over compared to a player with much less experience.
The nine-year veteran is perfectly fine with his role as a rotational player and performs well when he gets his chance on the field.
Pro Football Focus' Ben Lindsay has Clayborn listed as fifth in pass-rush win rate at 21.1 percent last season.
Clayborn is a player that knows his role and can be productive when he's called upon.
Expectations for Clayborn
Hopefully, the Browns won't need Clayborn to do much with Garrett and Vernon back on the field.
Throughout his career, Clayborn has 196 tackles, 52 tackles for loss, and 36.5 sacks through 110 games.
He is not someone that is going to make the Pro Bowl, but can still be helpful to Cleveland.
Chad Thomas will be the other backup defensive end alongside Clayborn.
He recorded 26 tackles, six tackles for loss, and four sacks through 16 games (eight starts) for Cleveland last season.
Thomas made strides last season, but is still learning and making adjustments to his game.
Clayborn is the better option between the two and will likely be called upon more often.
The expectations for Clayborn are fairly low since it's unlikely he records another six-sack game like he did in 2017.
Adrian Clayborn, you are a MONSTER.

A franchise-record SIX sacks in one game! pic.twitter.com/YlBIrNmCYh

— Atlanta Falcons (@AtlantaFalcons) November 13, 2017
He was tremendous that game and took advantage of the Dallas Cowboys backup tackle Chaz Green.
Although, it goes to show how much damage Clayborn can do on the field.
He won't be a starter, but finished with 9.5 sacks with the Falcons as a rotational player in 2017.
Granted, six of those nine sacks were in one game, but he is still a productive player.
Clayborn is a Super Bowl champion and can bring a winning culture and veteran presence to the Browns locker room.
It's a low-risk signing for Cleveland that could end up being a big move for the team.