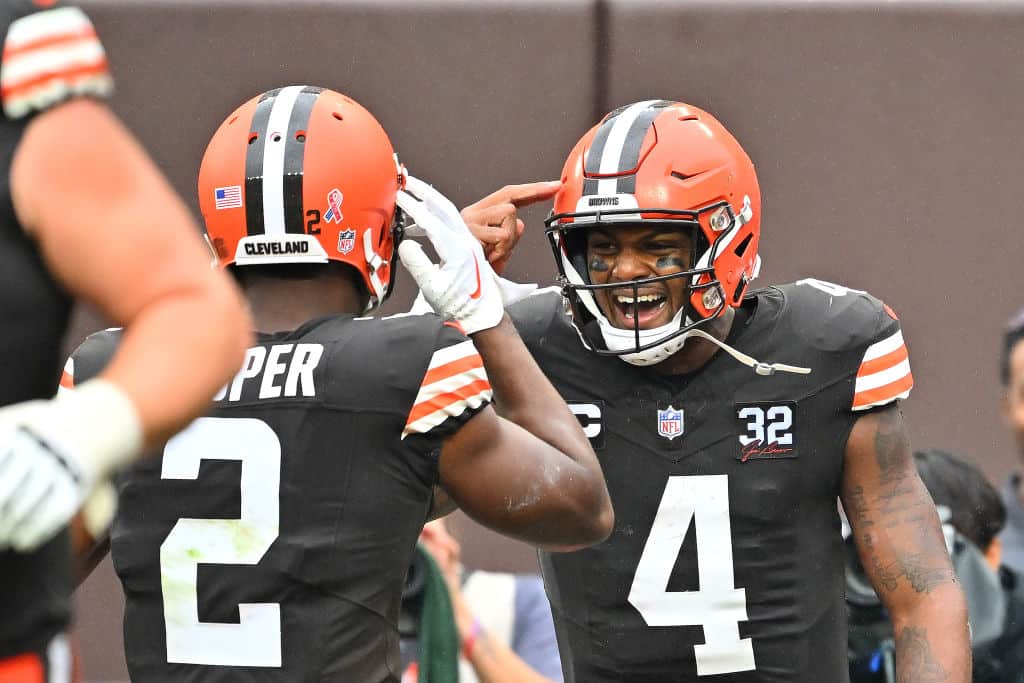 Lots of things don't appear quite right in the Cleveland Browns offense so far.
But when one player holds the key to its success, that player receives the most thorough analysis.
And so it is that Deshaun Watson is getting brutalized for his performance through two games.
But at least one player redirects any Watson critiques to how his own effort can help, as highlighted by Scott Petrak.
#Browns WR Amari Cooper says he and everyone can do more to help Deshaun Watson pic.twitter.com/Yc4tA7OXpp

— Scott Petrak ct (@ScottPetrak) September 21, 2023
When Amari Cooper was asked about Watson's struggles to date, Cooper adeptly avoided piling on his quarterback.
Instead, Cooper told reporters he looks at it as a time to reflect on what he (Cooper) can do to help Watson.
"As a wide receiver, I just view it like… the more open I can get, the easier it is for Deshaun."
Cooper and Watson connected seven times on 10 targets Monday night, and David Bell caught all three of his targets.
But Elijah Moore, Marquise Goodwin, and Donovan Peoples-Jones caught just four of 15 targets.
Everybody struggles sometimes, and Watson is not the only good quarterback struggling early in the season.
But fans are not seeing the new Watson-esque offense that Kevin Stefanski promised so far.
Moore is supposed to be a key, operating as a Swiss Army knife to keep defenses on their heels.
Deshaun Watson: "Sooner or later, it's going to click…" #Browns pic.twitter.com/4FVokNXEiq

— Jake Trotter (@Jake_Trotter) September 21, 2023
But only about half of Moore's targets have been deemed catchable by analysts.
Likewise, Watson has yet to connect with Goodwin on any deep passes this year.
And both receivers are getting open for those targets, raising more eyebrows about Watson's efficiency.
Of course, one good game can turn things around, but Watson and Browns fans need that game to happen soon.