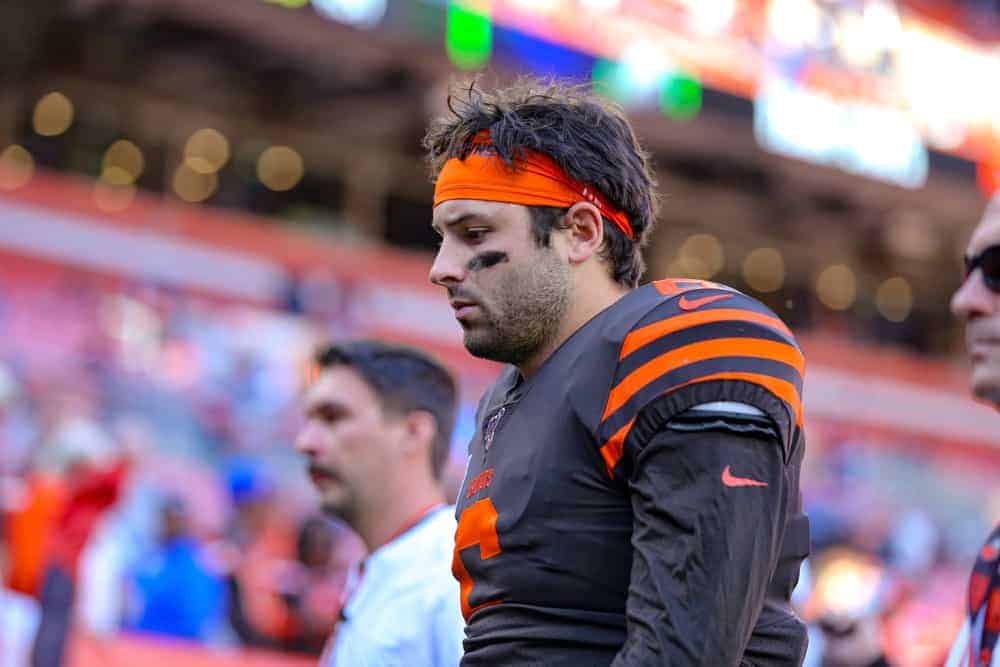 It doesn't take a rocket scientist to see that quarterback Baker Mayfield had a rough 2019 campaign.
He obviously has not lived up to the expectations of being a No.1 overall pick, but it's not time to give up yet.
The 25-year-old stormed into the league and set the rookie record with 27 touchdowns in 2018.
However, after last season, the word bust has been tossed around with Mayfield's name.
FS1's Speak for Yourself host Emmanuel Acho had some interesting comments to say about Mayfield heading into the 2020 season.
Acho's Concerns
Acho is a former sixth-round pick of the Browns, but his professional career only lasted 20 games.
He mentioned that he enjoyed what he saw from Mayfield during his years in college and his first season in the league.
However, after what he saw in 2019, Acho believes that Mayfield could be in trouble.
"If you are not worried Baker is going to a bust, you are lying to yourself," Acho said.
The former first overall pick has not lived up to expectations, but neither have plenty of other players.
Sometimes it takes a player a couple of seasons to adjust and grow at the professional level.
To be honest, it's not all of Mayfield's fault, so maybe the 2019 season was a fluke.
The 2019 Season
Some of the blame does fall on Mayfield's shoulders, but not all of it.
Former head coach Freddie Kitchens is arguably one of the worst head coaches in the history of the Browns.
Everything he did was horrendous including his offensive play-calling and decision making.
Browns wide receiver Jarvis Landry said that the play-calling under Kitchens was questionable, at best, and the game plan was never apparent.
Last season, Mayfield was sacked 40 times, which is quite an increase from the 25 sacks during his rookie year.
The Browns offensive line was terrible and left Mayfield under pressure all game long.
It was a situation that almost no quarterback in the league could succeed with considering the circumstances.
Can Mayfield Turn It Around?
Things are looking up in Cleveland with Kevin Stefanski being hired as the new head coach.
Stefanski believes that Mayfield can turn it around despite the rough 2019 campaign.
"We've outlined some things that we're going to help him with schematically and maybe technique-wise. But it's never a one-man show. Baker knows that. Our team knows that. says Stefanski.
Mayfield has been working hard this offseason to prepare for his important third year in the league.
well alright then let's start the season folks pic.twitter.com/wCdt14GT8u

— Jordan Zirm (@clevezirm) July 22, 2020
He has been working with his teammates throughout the offseason and looks more explosive than he did a year ago.
Everyone knows this is a huge year for Mayfield, but it's not time to write him off yet.
Mayfield needs a chance to rebound with a head coach that actually knows what he's doing.
He should have more success with Stefanski's zone-blocking scheme in 2020.
A scheme that focuses more on play-action and running the ball on offense.
Cleveland also has an improved offensive line, so hopefully he'll have more time to look through his options and make the correct decision.
Mayfield should not be called a bust yet, but if he regresses again in 2020 then it might be time to revisit this conversation.