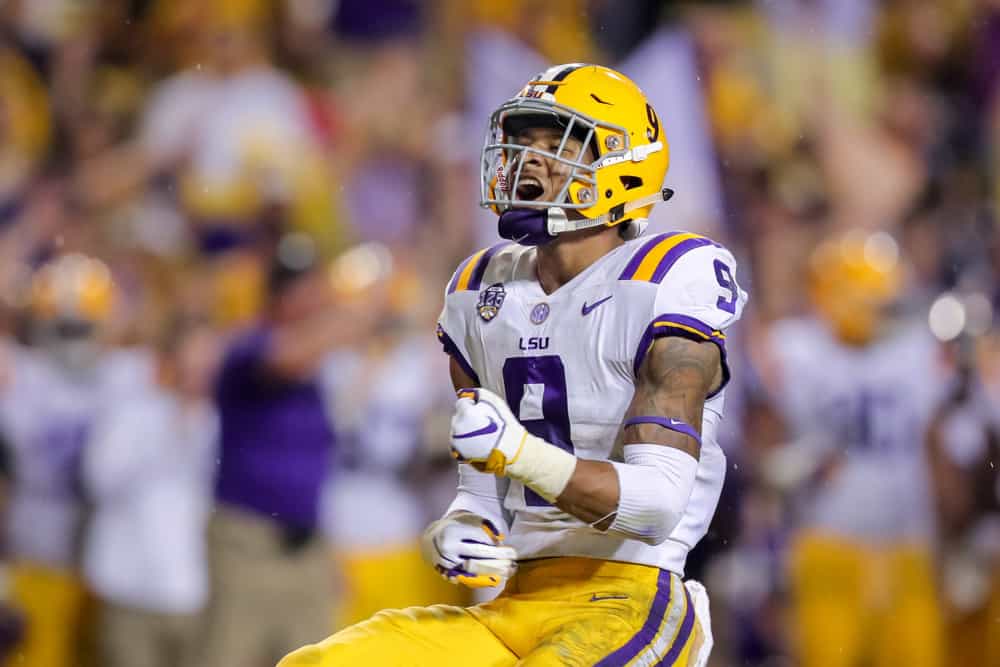 Previously in our 2020 Training Camp DB Preview, we looked at some of the more prolific names at the top of the depth chart at the cornerback position.
Here, we'll look towards the safety position, an area of this team that has plenty of youth and excitement.

Grant Delpit
The first name many fans look at with the safeties is rookie Grant Delpit.
The LSU product recorded two tackles for loss in 2019 and was taken 44th overall by the Browns in the NFL Draft this past April.
One thing LSU guys tend to have in common is an abundance of confidence, and Delpit certainly has that.
The Browns defense got a big time upgrade with Grant Delpit 👊🏽 pic.twitter.com/p6lCEcpiVQ

— Everything Cleveland (@EverythingCLE_) May 12, 2020
Delpit is very aggressive in the defensive backfield, constantly flying around looking to make the big play.
He has great ball skills and excels in combating receivers for jump-balls without picking up DPI's.
That's not always easy to do with the way the passing game is officiated these days.
His aggressiveness can get him into trouble at times, particularly in zone coverage.
Ourlads.com currently has him listed as the starting free safety heading into 2020-2021.
However, look for newly acquired Andrew Sendejo to give him a run for his money through camp.

Andrew Sendejo
Sendejo is one of the few veterans on a fairly young roster.
The 32-year old entered the league as a Dallas Cowboy in 2010, and Cleveland will be his fifth destination since becoming a pro.
While social media did not seem too kind to Sendejo when the Browns signed him this past offseason, PFF shines a better light on the veteran safety.
Andrew Sendejo season grades:

2017: 80.9
2018: 69.7
2019: 71.3 pic.twitter.com/cwKrcv7o0i

— PFF (@PFF) March 20, 2020
The bulk of Sendejo doubters harp on his poor play with the Philadelphia Eagles.
He simply never made much of an impact with them and committed some silly penalties during his time there.
However, he impressed many last season during a postseason match up with the Saints.
Sendejo played nickel corner, a position he did not play, and held his own against Drew Brees and company.
Thinking about how the Vikings went into the playoffs without any healthy nickelbacks and had to play Andrew Sendejo in the slot against Drew Brees and somehow it worked pic.twitter.com/CeRIIgbseV

— Nick Olson (@NickOlsonNFL) July 18, 2020
As mentioned, he will compete with Delpit for the starting free safety position.
The Damarious Randall experiment ended in ugly fashion, and the Browns are hoping to find a solution this training camp.

Karl Joseph
The likely leader of the strong safeties will be Karl Joseph.
Joseph was a first-round draft pick back in 2016 who's spent that last few seasons out in Oakland with the Raiders.
Joseph finished his Oakland career strongly, as PFF had him as the highest-rated Raider by the end of 2018.
He was off to a great start in 2019 as well before his season was ended by a foot injury.
Unfortunately, it was on a play that helped Oakland secure a win over the Chargers.
Joseph was also especially effective when in the box and not just sitting over top.
Perfect timing and blows up the play pic.twitter.com/XtuHo4TQpG

— Sam Penix (@Sam_Penix) July 18, 2020
Behind Joseph will be J.T. Hassell, who will not serve as much of a threat to Joseph's starting spot.

J.T. Hassell
Hassell enters his second season with the Browns after signing as an undrafted free agent in 2019.
He appeared in just four games during his rookie campaign and recorded seven tackles.
Teams will gladly take any sort of regular-season contribution from an undrafted free agent, especially one that started the year on the practice squad.
Still, his role will be a similar one to last year.
The talent drop off at strong safety after Hassell is a large one.
Again, don't expect Hassell to steal Joseph's starting spot from him.
However, he should see himself on the field for a decent amount of defensive snaps.
Special teams is another area where Hassell will get his playing time, as he led the Browns in special teams tackles last preseason.
Check back for part three of the 2020 Browns defensive backs preview