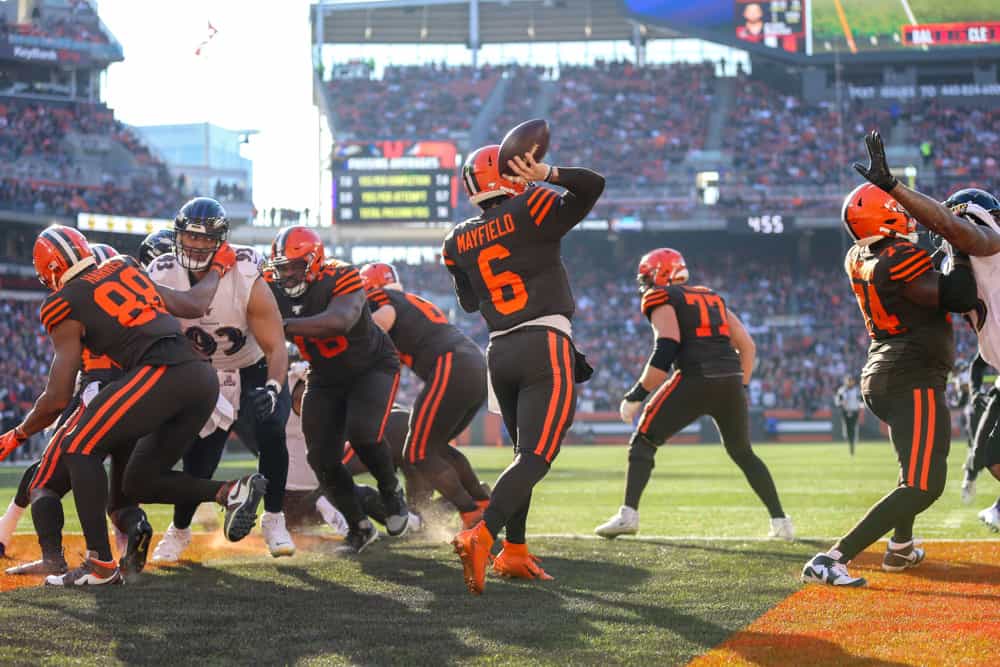 Sports Illustrated's Albert Breer appeared on the Bull & Fox Podcast today to talk about NFL training camps.
He also shared his theory that the Cleveland Browns will be among the most active on the waiver wire (along with the Carolina Panthers).
Here's a brief recap.
1. Waiver wire will get busy soon.
Breer believes the Browns will soon be active on the waiver wire.
He cites two reasons for this:
This is a new coach and new front office so they are not tied to the roster.
They didn't draft the majority of them.
Of course, the injury situation makes it a necessity for the Browns also.
LB Mack Wilson's return is uncertain, and the timetable for CB Kevin Johnson's return from a lacerated liver is unknown.
Prior to OL Melvin Ingram settling his contract dispute with the Chargers, Breer predicted he could potentially be the headliner on the waiver wire.
2. COVID-19 training camps are ho-hum.
Breer has visited a few teams' camps and believes there is not the buzz circulating them as in other years.
He attributes part of that to a lack of fan access.
Breer believes the NFL should be taking note of the malaise and trying to do more to create fan excitement.
3. Baker Mayfield is off to a slow start.
The guys on the podcast said this was hearsay so they asked Breer his thoughts.
It also is counter to the highlight reel seen on social media.
Baker Mayfield-Odell Beckham Jr. connections never get old.

Video Courtesy of the Cleveland #Browns. pic.twitter.com/AEPtuWQR6H

— Camryn Justice (@camijustice) August 16, 2020
Breer believes offenses are definitely behind defenses in their progression, especially this year.
Defensive linemen can work independently in the offseason and put it together quickly as a unit.
Whereas offensive linemen need more time working together to be in sync.
Breer cited an example from Eagles training camp this week where all first-team players were on the field, but Wentz found himself in a 3rd and 28 situation quickly.
He doesn't know how or what the coaches will do to get offenses caught up, but he sees it as a league-wide problem.
Browns Training Camp Notes – Thursday
Friday was a rest day at Browns training camp.
Judging from the injuries this week, that is a good thing.
Thursday's practice marked the return of Myles Garrett.
Garrett is returning from a tweaked hamstring and is easing in with individual drills and not involved in on the field reps yet.
While Nick Chubb is in the building, he is not on the field because of the concussion.
Kareem Hunt has been getting extra reps and appears to have found the speed and form of 2017 thus far.
Nick Chubb should be back soon, but boy is Kareem Hunt looking good too. The latest, on @nflnetwork. #Browns pic.twitter.com/pNRmhQeMbi

— Aditi Kinkhabwala (@AKinkhabwala) August 21, 2020
Hunt has developed a kinship with Chubb and hates that his work is coming at the expense of his teammate.
He said that he and Chubb worked out together in the offseason and push each other to be better.
Hunt told reporters on Thursday:
"We just have to learn how to take care of our guys. We do not ever want one of our players getting hurt. I made sure to check on Nick, and I am glad he is doing well. Hopefully, we have him back out there soon. He is a big part of this team."
Hopefully, week 2 has more excitement and less injuries for the Browns.