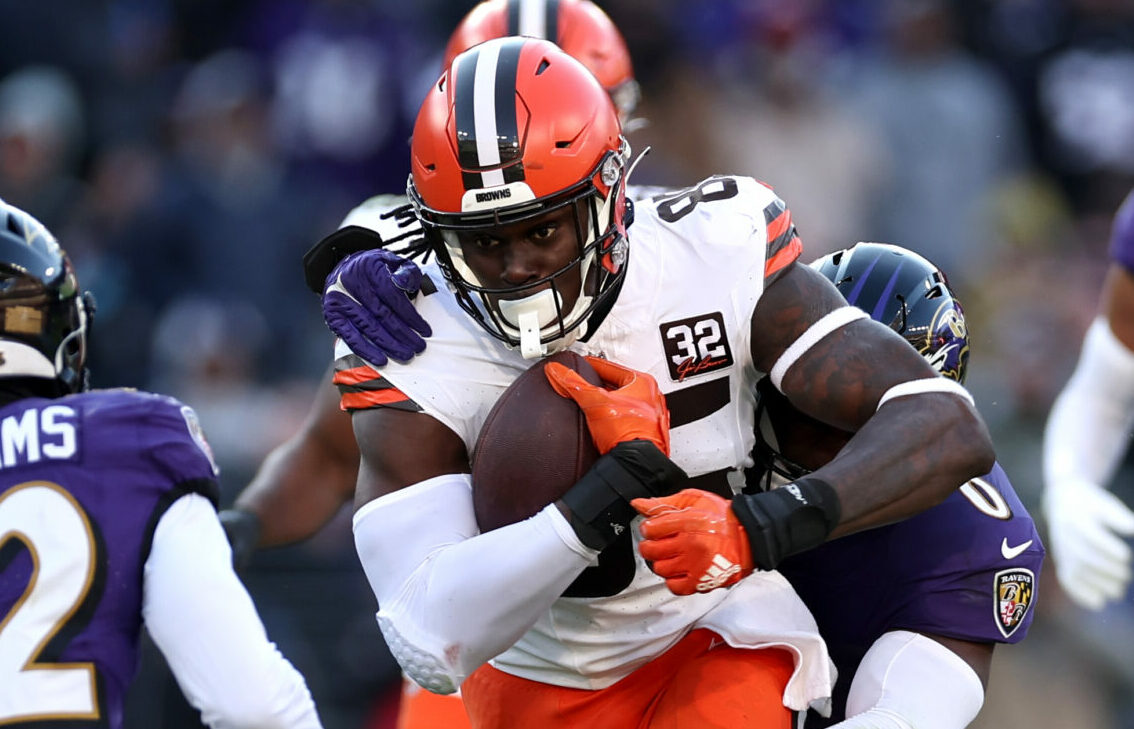 "Good Morning Football", the NFL Network's morning show, runs a regular segment called "Angry Runs," and this week, the Cleveland Browns were given a big compliment from the presenter, Kyle Brandt.
Brandt told the GMFB audience that Cleveland had "about 50" nominations this week.
But he went on to call Browns tight end David Njoku's 23-yard run through a Baltimore Ravens cornerback the "angry run of the week."
GIVE THE CHIEF HIS SCEPTER!! 😡@David_Njoku80 is your Week 10 Angry Runs winner! pic.twitter.com/MtfkQGUVwq

— Cleveland Browns (@Browns) November 14, 2023
On the play, Njoku treats Geno Stone like a tackling sled, practically carrying the defender 13 yards downfield.
Several other Ravens get a hand on Njoku, but they slide off as if they want nothing to do with tackling him.
Stone finally gets tangled between Njoku's feet to end the play, but the tight end got one more insult in by tossing the corner off himself and jumping back up with a scowl.
And the play was not the most impressive nor the most important catch and run from Njoku.
That occurred about five minutes earlier on a 3rd-and-11 play that kept the previous touchdown drive alive.
Njoku took a pass across the middle from Cleveland quarterback Watson short of the first down.
There was contact three yards short of the distance needed to convert.
This time, Njoku managed to fight his way through a trio of larger defenders for 11 yards and an inch.
His stretch through the middle of the would-be tacklers made the difference.
Njoku bounced back from an ugly first-quarter drop to catch six passes for 58 yards, and his late-game toughness and determination epitomized the overall Browns effort.