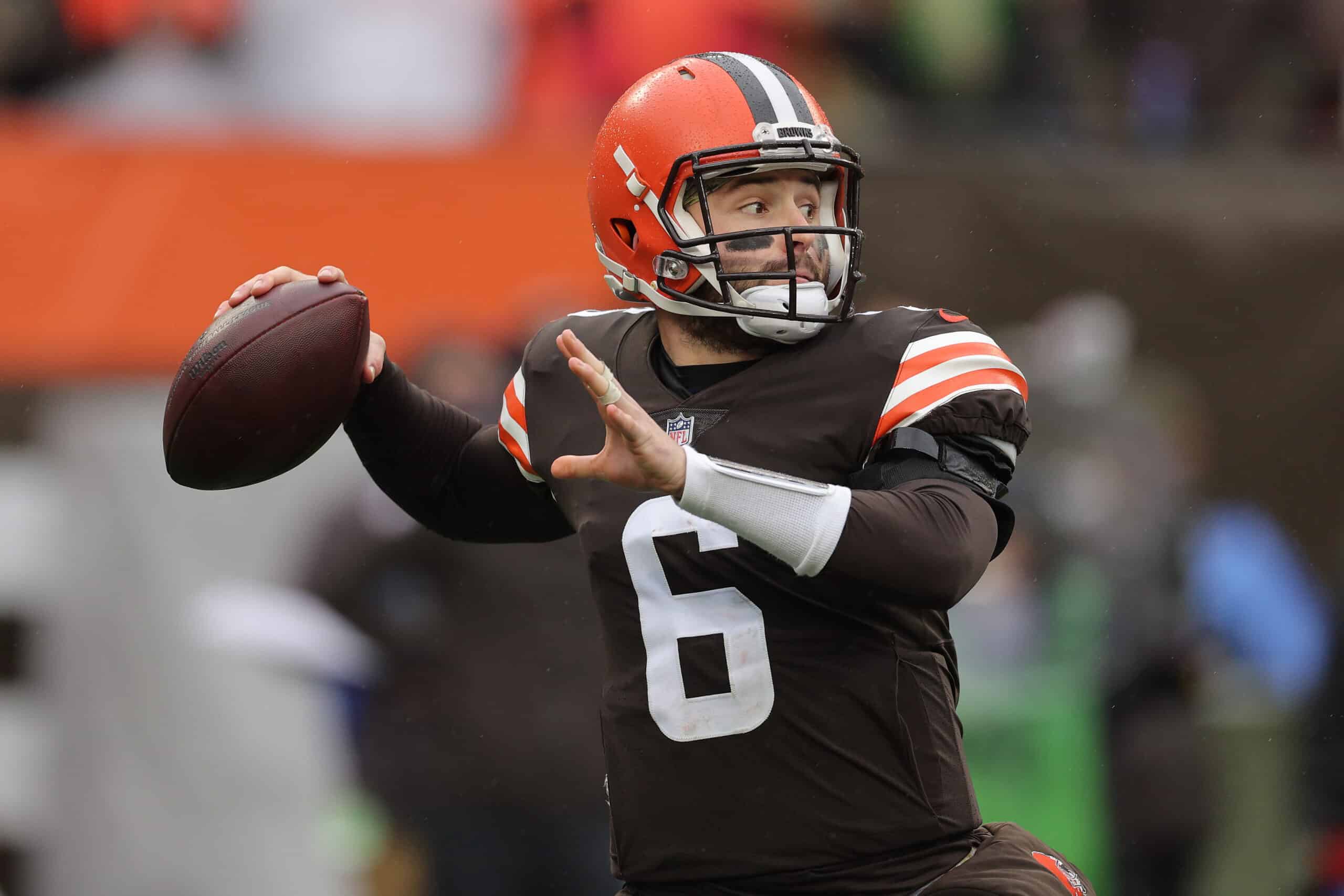 Baker Mayfield is still a Cleveland Brown and the market for the former starter is evaporating.
Andrew Berry is probably at a tipping point, strategically thinking.
Does he dump Mayfield at a loss, paying a chunk of salary and accepting a mid-to-late-round draft pick?
Or does he roll the dice that an urgent need will develop somewhere that elicits a better price?
One thing that seems certain is the Browns will not recover any of their expended first-round picks in a Mayfield deal.
But there is one NFL analyst who made a bold, if slightly incredulous claim about Mayfield this week.
FoxSports-1's Nick Wright claims one-third of the league should call the Browns about acquiring Mayfield.
10 teams that should be calling about Baker Mayfield, according to @getnickwright:
1. Giants
2. Steelers
3. Colts
4. Seahawks
5. Lions
6. Saints
7. Panthers
8. Dolphins
9. Commanders
10. Patriots

"Baker would be an upgrade for 1/3 of the league." pic.twitter.com/rYuIPXffQv

— First Things First (@FTFonFS1) March 21, 2022

And he insists all those teams would upgrade their passing game with the former first overall draft selection.
Math Is Not Wright's Thing 
Wright presented his case on FS1's First Things First morning show.
And he immediately offered disclaimers about two teams he said would upgrade their situation with Mayfield.
There is also some simple math as he only listed 10 teams to begin with, less than a third of the NFL roster.
Wright acknowledged the Patriots, his #10 team, "probably" like Mac Jones too much to deal for Mayfield.
#Patriots QB Mac Jones is outplaying #Browns QB Baker Mayfield by a mile. Baker looks like the rookie, and Jones the seasoned veteran.

— Daryl Ruiter (@RuiterWrongFAN) November 14, 2021
And his argument that New England wanted Mayfield in the 2018 draft is moot with Josh McDaniels gone.
It is unclear what metrics Wright used to determine who is an upgrade on whom.
There are statistical debates to be had about several of his choices.
But he also did not take any rebuilding plans, cap matters, or intangibles into consideration.
Discounting the Bottom 5 Teams 
After the Patriots, Wright's 9th team was also immediately discounted.
The Washington Commanders just traded for Carson Wentz and seem committed to one season, at least.
He then went on the name the Miami Dolphins, who haven't stopped claiming their faith in Tua Tagovailoa.
Miami also signed Teddy Bridgewater as an insurance policy, and by all reports, are settled for the 2022 season.
The Panthers are not interested in Baker Mayfield, per @DNewtonespn pic.twitter.com/uql7UZIyJc

— B/R Gridiron (@brgridiron) March 22, 2022
Carolina flat out rejected Mayfield as they pay Sam Darnold the same 5th-year option guarantee.
Mayfield is an upgrade on Darnold, but Carolina sounds like they will draft their future and ride out 2022.
New Orleans was listed at number 6, written in before the signing of Jameis Winston earlier this week.
Wright made the case for Mayfield ahead of Taysom Hill, but Winston showed he can lead the team last year.
Wright's Top 5 Not Much Better 
Wright thinks Mayfield is an upgrade over Jared Goff, something that will spark debates from both camps.
But Detroit has a lot of money tied up in their quarterback and will get no relief as part of a Mayfield deal.
Seattle came in at number 4, and that might be the most likely destination for Mayfield.
Money comes into play here, though, as Seattle is not willing to add Mayfield's salary in the middle of a rebuild.
ESPN's Get Up discussing the best fit for Baker Mayfield:

– Tim Hasselbeck says he'll likely have to be a backup.

– Diana Russini says she doesn't think Seattle wants to pay Baker's salary or trade draft picks for him. Says it's possible Baker sits out in an attempt to get cut.

— Ben Axelrod (@BenAxelrod) March 22, 2022
Indianapolis came in third, probably due to timing as Matt Ryan has since touched down in Indy.
Mitch Trubisky got no love from Wright as he listed Pittsburgh's quarterback situation as second-worst in the NFL.
But Trubisky's stats are superior to Mayfield's and he brings more athleticism and leadership, too.
Daniel Jones earned the top spot, but the Giants are in salary cap hell and will not deal for Mayfield.
What's Wrong With Mayfield? 
Some of the little things Cleveland Browns fans found endearing about Baker Mayfield are working against him now.
It's kind of like when you break up with someone and realize how annoying their laugh was and you kind of like the quiet.
Mayfield's declarations of self-motivation and control of his destiny come off as obstinate.
His interactions with Hue Jackson, Freddie Kitchens, and even Kevin Stefanski won't endear him to other coaches.
Report: #Browns initially wanted a 1st round pick in exchange for Baker Mayfield, per @AlbertBreer

— JPA Football  (@jpafootball) March 23, 2022
And to be sure, the rapid shifting of the Watson situation hurt the Browns' selling position.
Too many quarterbacks and too much quarterback payroll puts the seller at a negotiating disadvantage.
With San Francisco claiming to have a viable offer for Jimmy Garoppolo, Mayfield is the last QB on the trade market.
And Nick Wright might be the only NFL analyst who thinks suitors should be clamoring for his services.