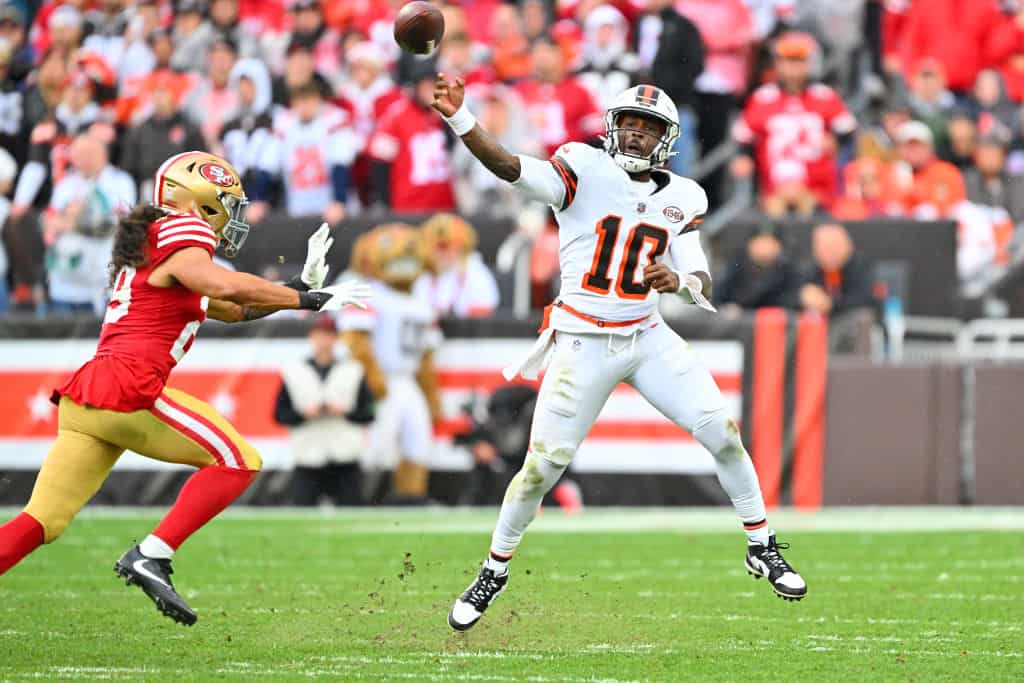 P.J. Walker enjoyed a successful Cleveland Browns debut last week in an exciting upset victory.
He bounced back from a bad turnover to direct a pair of drives that completed a late comeback.
But he was still off the unofficial depth chart released by the Browns for Week 7.
Just in case that caused any doubts, Browns insider Brad Stainbrook cleared things up.
Source: #Browns QB P.J. Walker, who started for Deshaun Watson against the 49ers, is expected to continue taking second team reps in practice. If Watson doesn't return to practice, it'll be Walker getting the first team reps. pic.twitter.com/nX7oetITko

— Brad Stainbrook (@StainbrookNFL) October 18, 2023
Stainbrook updated fans on the team's intention to give Walker the QB2 reps ahead of Dorian Thompson-Robinson.
And if Deshaun Watson cannot return to practice, the Week 6 starter will step back into the QB1 role.
Last week, Walker and Thompson-Robinson worked side by side in most of the practices.
But the more experienced Walker got the nod after DTR's shaky NFL debut.
Walker's Week 6 effort keeps his career record on the winning side at 5-3.
But his performance isn't going to put him into Pro Bowl contention.
The veteran was composed and in control throughout.
And he bounced back from two interceptions without any apparent panic or distraction.
PJ Walker's 27-yard pass to Amari Cooper had a completion probability of 9.0%, the most improbable completion of the 2023 season.

🔸 Air Distance: 40.4 yds
🔸 Target Separation: 0.8 yds
🔸 Sideline Distance: 1.0 yds

Powered by @awscloud pic.twitter.com/ukI3W4NoJr

— Next Gen Stats (@NextGenStats) October 15, 2023
He showed a little zip on some short passes and released the ball quickly and decisively.
But most of his deep throws were high-arching rainbows.
Cleveland has some great contested-ball receivers, and Amari Cooper came down with a couple of them.
But those are lower-percentage passes that highlight the need for the stronger-armed Watson.