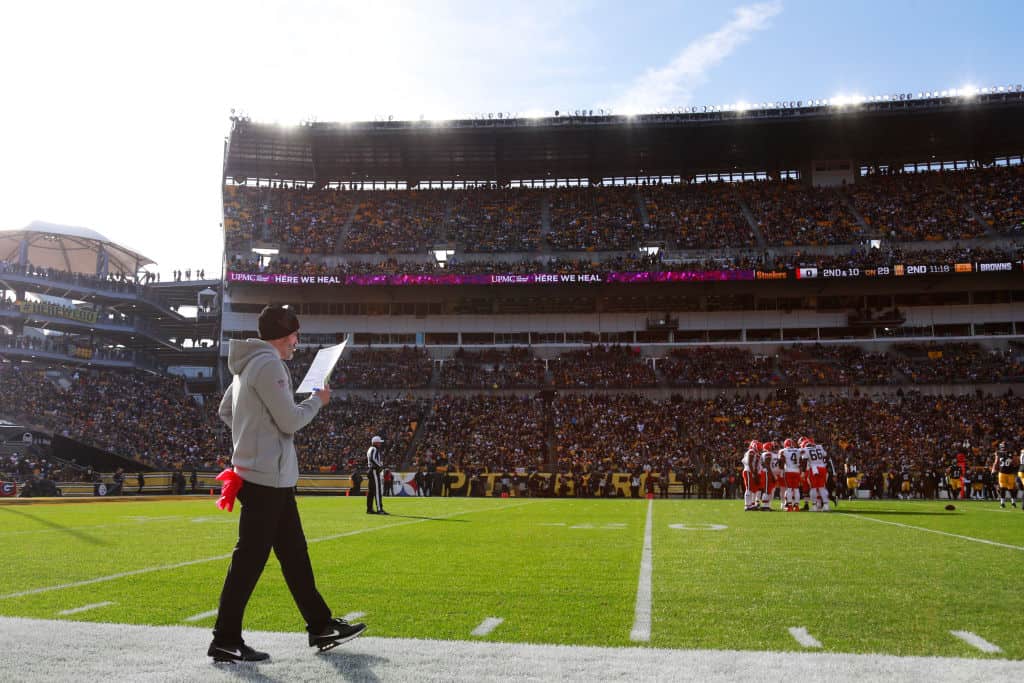 Could Elijah Moore become the Cleveland Browns' top fantasy performer?
I don't think so.
A guy named Nick Chubb likely has that locked up.
But one Browns analyst sees it as a possibility.
In this interview today on ESPN Cleveland, Tony Grossi talked about how productive he believes Elijah Moore will be for Cleveland's offense this season.
"I think he could be the No. 1 fantasy offensive player for the Browns, ahead of Cooper even," – @TonyGrossi on Elijah Moore's potential production in the Browns offense. pic.twitter.com/DWTdTQaxl5

— ESPN Cleveland (@ESPNCleveland) August 8, 2023
"Do Anything" Player
Head coach Kevin Stefanski already loves the versatility that Moore brings to the offense.
#Browns Kevin Stefanski on the versatility of Elijah Moore and the benefits that will be for the offense. pic.twitter.com/ScbizSULQm

— Fred Greetham (@FredGreetham9) July 24, 2023
Whether it's outside, inside, or in the backfield, Moore can play just about anywhere.
That's what Grossi speaks to immediately in the clip above.
"They're using him in so many different spots… inside, outside, in the backfield, come around for a jet-sweep handoff, they're not wasting time if they're not planning to use him that way".
To Grossi's point, coaching doesn't have Moore in all these positions for fun.
The Browns want to see what they have in Elijah. They are quickly finding out what that is.
Favorite Over Cooper?
Grossi follows by saying he believes Moore could become a more productive fantasy player than Cooper.
Of course, fantasy football stats don't indicate player superiority in any way.
It can give you an idea of how often an offense targets one of their playmakers though.
Especially in PPR (point-per-reception) leagues, guys who make a bunch of catches, even if not for big yardage, rack up points.
Given the variety of roles Moore can play, he'll be on the field often.
Naturally, that allows for more chances to get the ball. Grossi says from what he's seen so far, Moore is already stockpiling receptions.
"Cooper's had kind of a quiet camp… it seems like Watson, at least when they're all on the field, is concentrating on Moore a little more, delivering to Moore more than Cooper."
Again, he's not saying Moore is the better receiver.
He may not be a better fantasy player, either.
Cooper ended last season as the eighth best fantasy receiver according to Fantasy Pros.
But, Moore certainly has a chance to become very productive with Cleveland's offense this season.