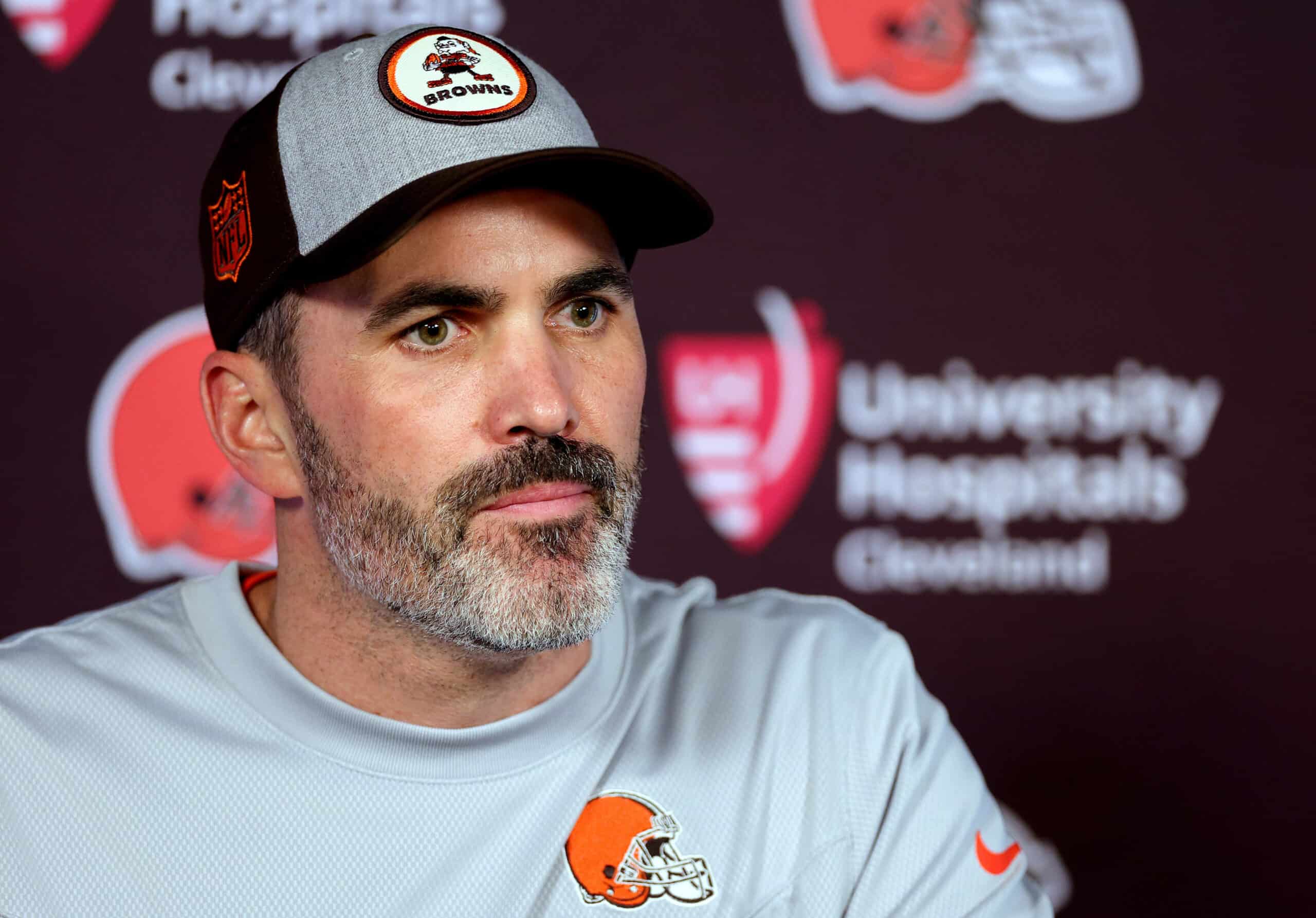 Every NFL coach, no matter how successful they are, knows the worst can happen at any time.
And some, like Cleveland Browns head coach Kevin Stefanski, might feel more pressure than others this year.
Following up a playoff appearance and Coach of the Year honors with 2 losing seasons was not in the script.
That first-year tease of success only adds to the angst of Browns fans (and owners) starved for another championship.
But Stefanski claims pressure is always part of the job, as he explained to Sports Illustrated's Matt Verderame:
Browns coach Kevin Stefanski has a 26–24 record through three seasons, and he's the only coach with a winning record since the franchise was reintroduced in 1999.

Still, he knows he needs to win in 2023, writes @MattVerderame https://t.co/snRdxJvDjY

— Sports Illustrated (@SInow) August 7, 2023
"I can tell you every coach, every player, we feel pressure (when we) walk into any building, every day. We want to be great; we want to win games. That's really where the focus is for us."
Cleveland's analytical head coach avoided answering the actual question.
And if he feels pressure to make the playoffs, or more, he won't share that willingly.
But Stefanski is arguably set up as well as he can be, and another losing season could end his Cleveland tenure.
With a legitimate franchise quarterback and a stable of top-notch skills players, his offense should take off.
And adding top-notch coaches to manage the defense and special teams shows a sense of urgency not seen recently.
Should Stefanski Be On The Hot Seat? 
There are a few ways an NFL head coach can get himself fired besides losing too many games.
One of them is to come up short of expectations related to the strength of his roster or other factors.
And when your GM keeps "winning the offseason" only to watch another losing season, it's a problem.
To that end, this is the first season Andrew Berry is not high on the list of best offseason GMs.
But it is also the first season Cleveland has a top player at the most important NFL position.
Kevin Stefanski isn't letting outside pressure get to him. pic.twitter.com/NUPxWItkk6

— ESPN Cleveland (@ESPNCleveland) May 30, 2023
Baker Mayfield and Jacoby Brissett didn't prompt many Browns fans to make Super Bowl plans.
But Cleveland expects a vintage effort from Deshaun Watson this year- a franchise quarterback effort.
Most Hall of Fame-bound coaches are tied to a particular franchise quarterback.
And without their star passer, many had losing records, unlike Stefanski's 34-32 mark to date.
Whether he admits it or not, Kevin Stefanski should feel extra pressure to win this year.