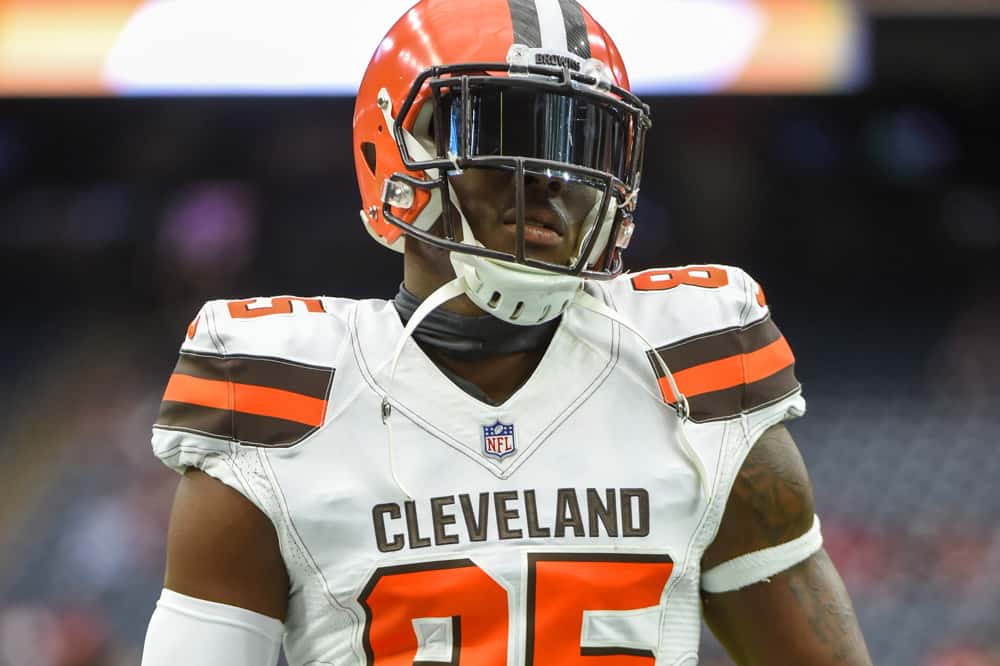 The Cleveland Browns are off to their hottest start in a very long time.
Finally, the city of Cleveland has a football team they can believe in.
The Browns are 4-1 right now, but ESPN writer Bill Barnwell says they could improve by trading tight end David Njoku.
Heres what Barnwell wrote:
"The Browns desperately need help at safety, so much so that Cleveland fans have literally started a petition for the team to move on from Andrew Sendejo. The problem is that there aren't many safeties available on the trade market, and the Browns don't match up well with most of the teams who might have one available, including the Buccaneers with Mike Edwards."

"Moore was a promising free safety prospect coming out of Southern Miss, but the 2018 third-rounder hasn't been able to crack the 49ers' lineup and has played only 7% of the defensive snaps in 2020. The Browns would be in line to give Moore a shot. In return, the 49ers would get Njoku, who is about to hit free agency and would step into the Jordan Reed role as San Francisco's second tight end. This is a relatively minor move, but both sides might benefit from looking at the other team's disappointing draftee."
Bill has the #49ers trading Tarvarius Moore to the Browns for David Njoku, and trading Dante Pettis and 5th-round pick to Washington for Ryan Kerrigan.

Sign. Me. Up. https://t.co/ypxkkUuXtt

— Nick Newman (@NinerNick_22) October 15, 2020
Cleveland does need help in the secondary, but Njoku is a valuable asset.
Sadly, injuries have derailed him over the last few seasons, but it's unclear if the Browns are ready to give up on Njoku.
Time To Trade Njoku?
Barnwell suggests that the Browns trade Njoku in exchange for safety Tarvarius Moore.
The former third-round pick has spent each of the last three seasons with the San Francisco 49ers.

Moore hasn't exactly put up impressive numbers, but he's been playing in a limited role.
However, the Browns could use an upgrade at safety after watching Andrew Sendejo play over the last few weeks.
Honestly, any safety sounds like a better option than Sendejo right now.

Although, it's unknown if the Browns are ready to give up on Njoku.
The 24-year-old tight end has been limited to two games this season due to injuries.
He played well during the season opener, but sadly the Browns haven't been able see much from him since that game.
Head coach Kevin Stefanski uses an offensive scheme that should be a benefit to Njoku, but we'll see if he's around long enough to actually take advantage of it.
A Fair Deal
This season, Njoku has four receptions for 56 yards and one touchdown through two games.
The Browns really haven't seen enough of him to know whether or not he's on the verge of a breakout campaign.
Rookie tight end Harrison Bryant has looked decent early on this season.
He has recorded seven receptions for 59 yards and one touchdown through five games.
Bryant hasn't been a huge part of their offense, so it doesn't seem like the Browns are ready to give up on Njoku.
During the offseason, the Browns decided to keep Njoku despite his trade request.
It might be too early to move the young tight end, but anything could happen for the right deal.
Barnwell is on the right path, but Moore for Njoku straight up doesn't get it done.
The Browns do need help at safety, but Moore doesn't have a ton of experience under his belt.
Hopefully, rookie Grant Delpit will be ready to take over the starting safety spot next season.
He won't play this year due to an injury he suffered during training camp.
Which means, the Browns don't need a long term solution at safety right now.
Moore would likely be a backup in Cleveland as early as next season.
In order to get this deal done, the 49ers would have to offer more for Njoku.
The Browns would need to receive some draft pick compensation along with Moore if they want to pull Njoku away from Cleveland.
Njoku is great insurance for Cleveland and they shouldn't trade him away unless the deal benefits the Browns.