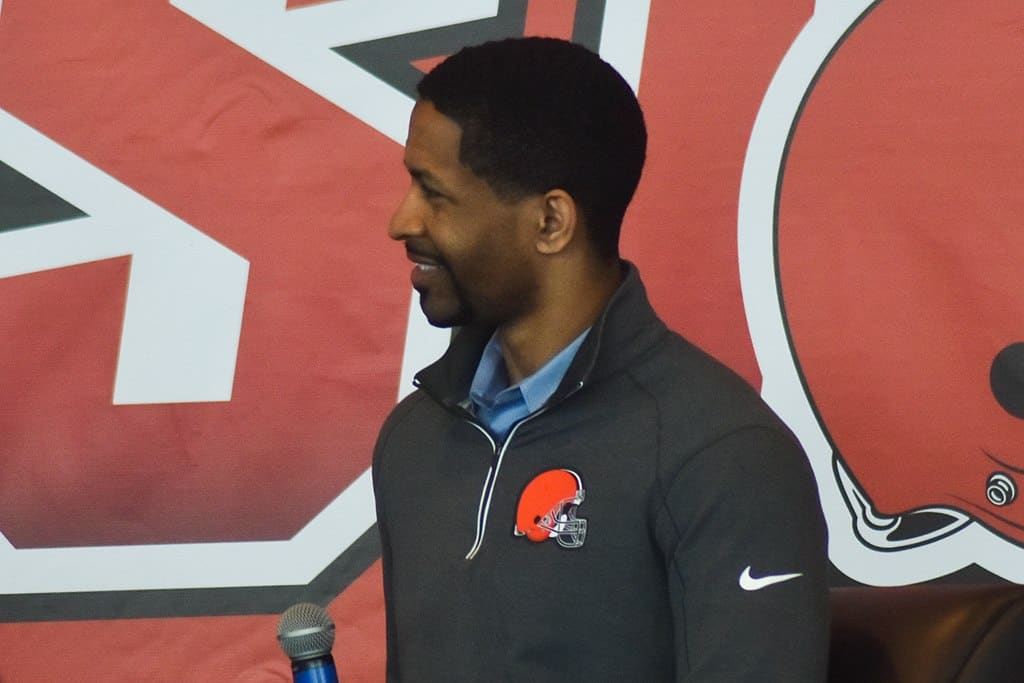 We all know that you do not need to be a Harvard graduate to know running back Nick Chubb's value to the Cleveland Browns.
However, Browns GM Andrew Berry is a Harvard graduate, and he was recently asked about Chubb.
"I think you all know the affinity that we have for him both as a player and as a person. We do have a number of players who are extension-eligible, which Nick is one. And that's something that we'll sort through as we go through the offseason. But certainly we like Nick — the player and the person. And all those big decisions are things that we have to figure out in the overall big picture as we navigate the next several months."
Andrew Berry is a master at speaking eloquently without sharing many details.
Nick Chubb's Statistics
Nick Chubb's 12 TDs in 2020 were the most by a Brown since Leroy Kelly scored 16 in 1968.

Chubb achieved this while playing only 12 games and splitting the backfield.

Imagine thinking there's a better running back in the NFL. pic.twitter.com/Jdu00Rli4O

— Nick Karns (@karnsies817) March 1, 2021
In his three seasons, Chubb has 3,557 yards rushing and 28 touchdowns.
Chubb also has 552 receiving yards and 2 receiving touchdowns.
He has played in 44 regular season games.
Chubb added 145 rushing yards and 1 receiving touchdown in the 2020 playoffs.
Nick Chubb's Current Contract
Chubb enters the 4th and final year of his $7.3 million contract.
Sportrac estimates that Chubb's market value is approximately $12.1 million per year so a $48.4 million contract is a definite possibility.
The number is derived from looking at the recent contracts of Chubb's peers: Derrick Henry of the Tennessee Titans, Joe Mixon of the Cincinnati Bengals, Melvin Gordon of the Denver Broncos, and Dalvin Cook of the Minnesota Vikings.
For his part, Nick Chubb does not like to talk about his contract situation.
Back in January after the Browns were eliminated from the playoffs, Chubb surprised no one when asked to address his contract situation.
"I am just still thinking about yesterday and not really looking forward to that stuff right now. Just continuing to work. It will pay off for me eventually and we will see."
What This Means
Nothing is new with the Cleveland Browns front office.
They have a lot of difficult decisions to make regarding free agents and contract extensions.
Nick Chubb is just one of the most pertinent; Baker Mayfield's is also a priority.
The Browns are in a favorable position financially with the most carryover cap dollars of any NFL team.
A look at the salary cap carryover for 2021: pic.twitter.com/Q5JELBem2u

— NFLPA (@NFLPA) February 19, 2021
How they decide to use the carryover, the timing of the extensions, and which free agents are retained all remain to be seen.
Rest assured, we know the Browns will not let Nick Chubb walk.
NFL Draft
On top of all of these decisions is the homework to be done leading up to the NFL Draft scheduled for April 29 – May 1 in Cleveland.
With no NFL Combine this year, there is more behind-the-scenes film watching and interaction.
The Browns are projected to have four draft picks in the first three rounds of the 2021 NFL Draft.
Those picks are as follows:
1st round (26th overall)
2nd round (59th overall)
3rd round (89th overall)
3rd round (91st overall)
Stay tuned as the Browns offseason kicks into high gear when NFL free agent signings begin on March 17 at 4 pm EST.