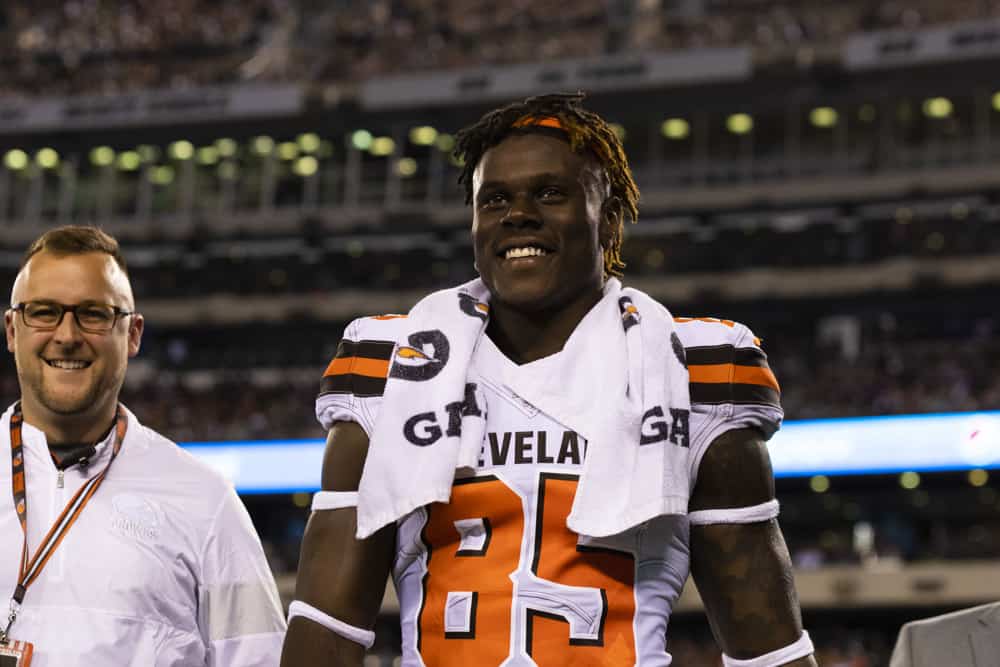 Former Minnesota Vikings tight end Kyle Rudolph is on record as liking the idea of a Kevin Stefanski reunion.
Current Cleveland Browns tight end David Njoku… well, nobody knows what he thinks about playing for Stefanski.
But his cryptic social media posts indicate there is, at least, some angst at the thought of staying in Berea.
So the logical question presents itself.
Vikings are releasing Kyle Rudolph pic.twitter.com/vMgytZE0Wq

— B/R Gridiron (@brgridiron) March 2, 2021
Should Andrew Berry release Njoku and replace him with an accomplished veteran who wants to be with the team?
There are those who believe the answer is an emphatic and obvious "yes."
Why would you not get rid of a negative or disruptive presence for a happier and proven player?
But there are other considerations in play.
Berry is quick to repeat his goal of making the Browns a better football team with every move he makes.
Would Kyle Rudolph be a better option than David Njoku on the field?
After all, it is not often a 2-time Pro Bowler says they want to help the Cleveland Browns win football games.
What Do the Browns Have in Njoku? 
Like every other NFL player, David Njoku dreams of a Super Bowl and a big-money contract.
Sometimes, it is difficult to see which has priority over the other.
Njoku is due to make just over $6 million on his fifth-year option in 2021.
It is unlikely the team will let him play out that contract without an extension offer.
But Njoku and his agent know that the third tight end position doesn't warrant a big raise in 2022.
When Cleveland added Austin Hooper and Harrison Bryant last year, Njoku asked out.
Berry did not acquiesce to his demand, and Stefanski found limited use for him in the offense.
David Njoku touchdown celebrations FTW. pic.twitter.com/58XbWHytuk

— WaitingForNextYear (@WFNYCLE) September 24, 2017
To Njoku's credit, he developed into an above-average blocker and made some big catches for the Browns.
Baker Mayfield does not hesitate to throw his way when Njoku runs passing routes.
So, the Browns have a young and improving tight end with much talent entering his fifth season.
Realizing tight ends often take several years to develop, and how he lost one season to injury, Berry can reasonably expect Njoku to break out.
And the Browns have the first crack at extending him.
What Would the Browns Have in Kyle Rudolph? 
Kyle Rudolph wrapped up 10 seasons in Minnesota in a similarly-limited role.
Minnesota added two young, talented tight ends on the roster who competed for Kirk Cousins' attention.
Rudolph was asked to renegotiate his 4-year, $36 million contract to help the team in 2021.
He told reporters he was worth every dollar of the $7.65 million he was due.
His assertion is Minnesota did not use him to his maximum potential but that choice did not lower his value.
% of catchable passes dropped since 2017:
🔹 Kyle Rudolph – 1.0
🔹 Larry Fitzgerald – 2.1
🔹 Allen Robinson – 2.2
🔹 Antonio Brown – 2.2pic.twitter.com/7Nt7qa5ATv

— PFF (@PFF) March 2, 2021
Rudolph is not the fastest receiver and relies more on position and strength to catch passes.
He almost perfected the leaping, athletic, corner-of-the-end-zone touchdown pass.
The affable tight end says he became a better blocker because he had to.
But he is still not much better than average in that regard.
He brings veteran savvy, an end zone threat, and a potential 1-B (or 1-C) option at tight end.
There will always be questions as to whether he is happy in that role behind Hooper and possibly Bryant.
With two Alpha wide receivers and a run-heavy offense to boot, is he just another cog?
Should the Browns Replace Njoku With Rudolph? 
Whether or not Berry would be wise to sign Rudolph depends on a few factors.
The big question is salary, specifically: will Rudolph come in under Njoku's price of $6 million?
It makes little sense to pay more money to a slower and older tight end with similar pass-catching prowess.
The second question is can Stefanski and Berry appease David Njoku?
#Browns Kevin Stefanski on TE David Njoku sounding like he's not sure he wants to be here pic.twitter.com/6h7s6vLlYp

— Mary Kay Cabot (@MaryKayCabot) March 2, 2021
By all accounts, Njoku worked hard despite his trade demands, and the results were seen on the field.
Signing Njoku to an extension as he enters what is often a tight end's prime is not a bad idea.
But Njoku might not be willing to stay in Cleveland, which makes his release or trade inevitable.
The third question is whether Rudolph is the best option for the Browns.
Trading Njoku would likely bring draft picks, but maybe there is another good tight end on the block?
New York is listening to offers for Evan Engram, for example.
Younger free agents who could sign for less money include Robert Tonyan, Richard Rogers, and Jonnu Smith.
All in all, IF David Njoku won't sign an extension, and IF Rudolph takes a considerable pay cut, and IF Berry can't find a better blocking and receiving talent at a better cost…
Then the Browns would do well to pick up a willing and able Kyle Rudolph for a couple of seasons.