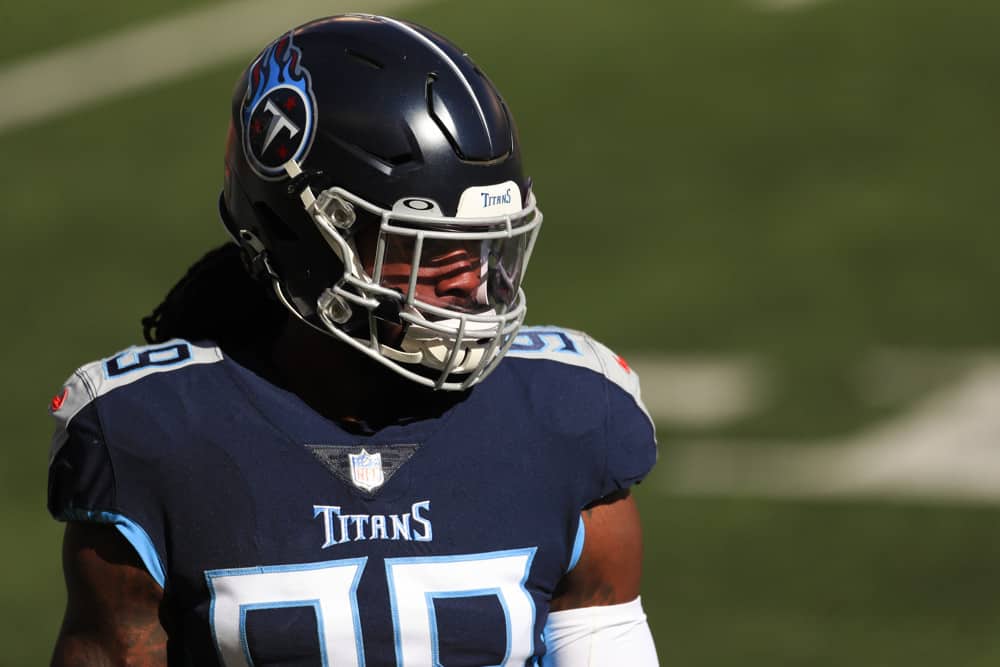 When one thinks of a word to describe new Cleveland Brown Jadeveon Clowney, "relentless" would be an accurate descriptor.
Perhaps this play from his days as a South Carolina Gamecock helped spark this relentless persona.
It's NEVER a bad time to remember when Jadeveon Clowney destroyed this Michigan running back when he was at @GamecockFB 🔥🔥

(h/t @football_tweets / @espn)pic.twitter.com/qV2vjxjOnJ

— 247Sports (@247Sports) April 14, 2021
Having that description as a defensive end (or any position for that matter) is not a bad thing.
In fact, it's exactly what you want if you're general manager Andrew Berry.
Berry, after flexing his financial muscles and signing Clowney, verbalized his affection for his new edge rusher's style of play.
#Browns Jadeveon Clowney said he liked Andrew Berry's approach to get him to Cleveland: "This dude is very relentless."

— Camryn Justice (@camijustice) April 14, 2021
And, apparently, that unrelenting attitude works both ways.
As relentless as Clowney is, there was no stopping Berry from getting this deal done, according to Jadeveon.
#Browns DE Jadeveon Clowney says GM Andrew Berry was "relentless" in trying to sign him for 2 years.

— Scott Petrak ct (@ScottPetrak) April 14, 2021
Menacing "Clown"
I'd like to think that Andrew Berry describes Clowney the same way that J. Jonah Jameson talks about Spider-Man.
He's a menace!
In a release on Wednesday per Cleveland.com, Berry outlined the facets of Clowney's game that should have fans excited.
"He's one of the more disruptive players in the game and we think he's going to add an element of ruggedness along our defensive line and will pair nicely with many of the guys we have on the roster already. The other thing we love about Jadeveon is his versatility, his ability to play all across the front and impact the game regardless of his alignment."
Opposing Quarterbacks Beware
Despite declining sack numbers for Clowney in recent years, being disruptive is still a strong suit for him.
The new duo of himself and Myles Garrett will pose an elite pass-rush for opposing offenses to have to deal with.
Highest pass rush win rates since 2018:
1 Robert Quinn: 28%
2. T.J. Watt: 27%
3. Myles Garrett: 26%
4. Aaron Donald: 26%
5. Jadeveon Clowney: 25%
Via @NextGenStats @ESPNStatsInfo

— Jake Trotter (@Jake_Trotter) April 14, 2021
Jadeveon's sack decline hasn't been entirely on him either.
He's seen consistent double teams over the course of his career, an issue he will no longer worry about as much with Garrett next to him.
Highest double team rate when pass rushing as an edge, 2018-2020.

Michael Bennett 30%
Za'Darius Smith 29%
Jadeveon Clowney 28%

(ESPN / Next Gen Stats)

— Seth Walder (@SethWalder) April 14, 2021
Garrett, Clowney, and Takk McKinley (acquired earlier this offseason) were all first-round selections and will all be in the edge rotation for the Browns this season.
"We certainly love the physical gifts but the other thing we love is how hard all three of these guys play", said Andrew Berry. "You really have to be relentless to be an effective defensive lineman in the NFL and that's a trait we think all three individuals have."
Much Needed Aggression
Browns fans might have a hard time picking out an Olivier Vernon play that stands out in their mind.
He's a talented individual, but never provided the "punch" many hoped he would on the defensive front.
Clowney is a guy who, even on his worst day, will be in your face and aggressive.
Finding a consistent threat for Garrett to pass rush with has been talked about to no end.
Finally, after bringing in Clowney, those conversations should be able to come to an end.
With Jadeveon now aboard, the Browns defense continues to form its identity.
They are a tough, physical group that will be looking to apply constant pressure throughout the season.
To steal a word from Andrew Berry, the defense will be relentless.