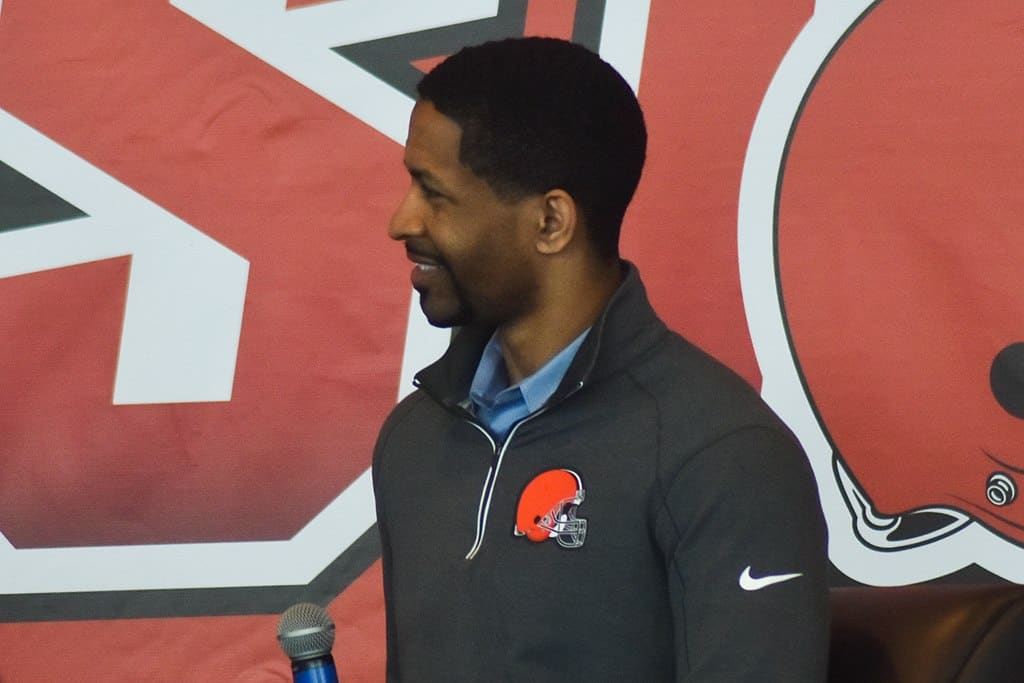 Cleveland Browns general manager Andrew Berry, 34, is a strategist both at work and at home.
We know that he spends his waking and working hours assembling the best possible Browns roster without breaking the bank.
Now we have heard from his wife Brittan about what he likes to do at home.
A fan asked about Berry's hobbies, and Brittan responded calling him a "board game nerd."
He's a huge board game nerd. We played Dominion last night. He loves Settlers of Catan, 7 Wonders. We played the Game of Thrones board game before actually watching the shows.
He wins all strategy games 98% of the time, so we have to throw in things like The Resistance. pic.twitter.com/a1sZJMPhyv

— Brittan Berry (@brittanberry) July 13, 2021
Berry's board game prowess goes well past Monopoly.
Brittan mentions Dominion, Settlers of Catan, and 7 Wonders to name a few.
These are intense games that require a lot of thinking and strategy.
Berry's way of decompressing at home sounds a lot like his day job.
Brittan says he wins most of the time which is not surprising.
What We Know About Andrew Berry
He is all business the majority of the time and keeps his personal life close to the cuff.
Andrew: Suddenly people were all wishing me Happy Birthday. How do people even know it's my birthday?

Me: 👀👀👀

🤷🏽‍♀️ https://t.co/zkU7OsSO3w

— Brittan Berry (@brittanberry) March 31, 2021
Thankfully his wife Brittan shares some of their personal life.
Our first was born 9.10.17 — opening game for the Browns.
We chuckled and said there was really only one day that would logistically be worse to have a baby…
AND HERE WE ARE. 🤦🏽‍♀️🤷🏽‍♀️

4.29.21 — first pick of the draft!
🐶👊🏽
Forever a Browns fan. pic.twitter.com/3x5CctaY4d

— Brittan Berry (@brittanberry) May 3, 2021
Berry earned both his bachelor's and master's degrees from Harvard University.
The bachelor's degree is in economics while the master's is in computer science.
He talked about how his love for computer science and how he believed those skills were transferrable to real world problems.
"In my computer science courses, I really liked how I would learn programming and algorithmic thinking and then produce something that even my peers thought was cool. It isn't just a paper—I was building robots to play games or developing a neural network to recognize digits for a post office. There's a certain logic and organization that comes from solving problems in this realm that can be more broadly applied to problems you tackle in the real world, even ones that are not computer science related."
Berry loved football from an early age, and he continued playing at Harvard.
He played cornerback and started as a freshman.
Berry has a twin brother, Adam, who also attended an Ivy League school, Princeton, and played wide receiver.
Their personalities are similar.
"We're both so competitive against each other, whether it's football, basketball, or even just monopoly."
Berry's Offseason
Berry's desire to build things, solve problems, and compete serve him well as the GM of the Cleveland Browns.
The draft picks and free agent signings he orchestrated during the 2021 offseason put the Browns in the most competitive position they have been in years.
Berry will soon have less time for board games as Browns games will be underway.
Browns training camp opens on July 27.