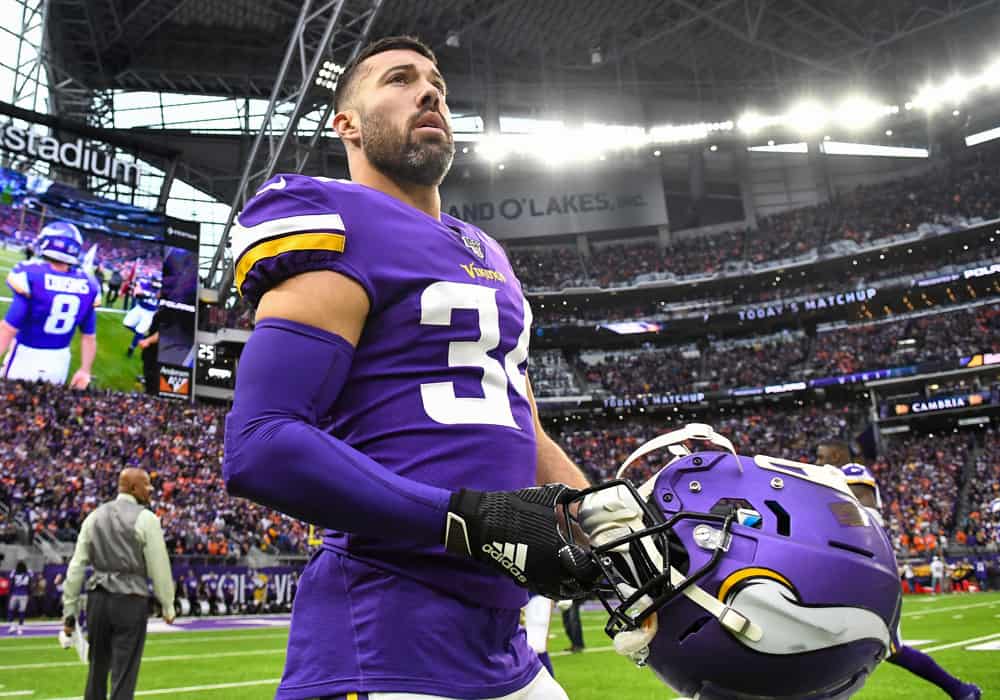 The Cleveland Browns continued to work on the secondary when they added Andrew Sendejo.
Sendejo, 32, agreed to a one-year contract worth $2.25 million.
#Browns are signing S Andrew Sendejo, source says. It's a one-year, $2.25 million deal.

— Mike Garafolo (@MikeGarafolo) March 20, 2020

He finished 2019 with 45 tackles, 1 sack, 9 tackles for loss, 3 interceptions, and 4 passes defended.
Here are 3 to know about Andrew Sendejo:
1. He started his career in the UFL
Andrew Sendejo was not drafted in 2010, but was invited to the Tampa Bay Buccaneers rookie camp.
He also tried out with the New Orleans Saints, but didn't make any team.
He then signed a contract with the Sacramento Mountain Lions of the UFL.
After brief stops with the Jets and Cowboys, he signed with the Vikings in 2011.
Sendejo spent 2011-2018 with the Vikings.
He also started 40 games from 2014-2017.
Sendejo was the team's primary strong safety from 2015 through 2017.
He then signed a one-year contract in 2019 with the Philadelphia Eagles.
2. His coverage skills have recently improved
According to Pro Football Focus, Sendejo has seen a major improvement recently in his coverage skills.
Sendejo has a coverage grade of 89.7 over the last three years and made 16 plays on the ball (six interceptions and 10 forced incompletions) while allowing just 3 TDs. Veteran FS in the fold for the #Browns https://t.co/NDpTMT5XRY

— PFF CLE Browns (@PFF_Browns) March 20, 2020
With a coverage grade of 89.7, this puts Sendejo between Pro Bowl and elite level PFF grading.
Sendejo also played nickel corner for the first time last season.
Compare that to his first 5 seasons in the league when his coverage grade was 48.4 for that stretch.
Receivers caught 67 percent of their passes against him over that time span.
He also gave up 7 touchdowns during that time.
3. He is physical
Browns defensive coordinator Joe Woods is looking for tough and physical defenders for his scheme.
He is getting that with Sendejo.
Sendejo has been fined 3 times in his career for helmet-to-helmet hits.
In fact, he wore a hat that read "Make Football Violent Again," during a Vikings training camp in 2018,
Andrew Sendejo possibly sending a message to the NFL with his hat. Said he has been wearing for a while but that it still applies. #VikingsCamp pic.twitter.com/Q1aYwURvZx

— Tanner Peterson (@24tanner) August 3, 2018
Sendejo was also suspended for a week in 2017 for a hit on Ravens wide receiver Mike Wallace.
Wallace had his helmet knocked off during the hit and did not return to the game.
Wallace was put in concussion protocol.