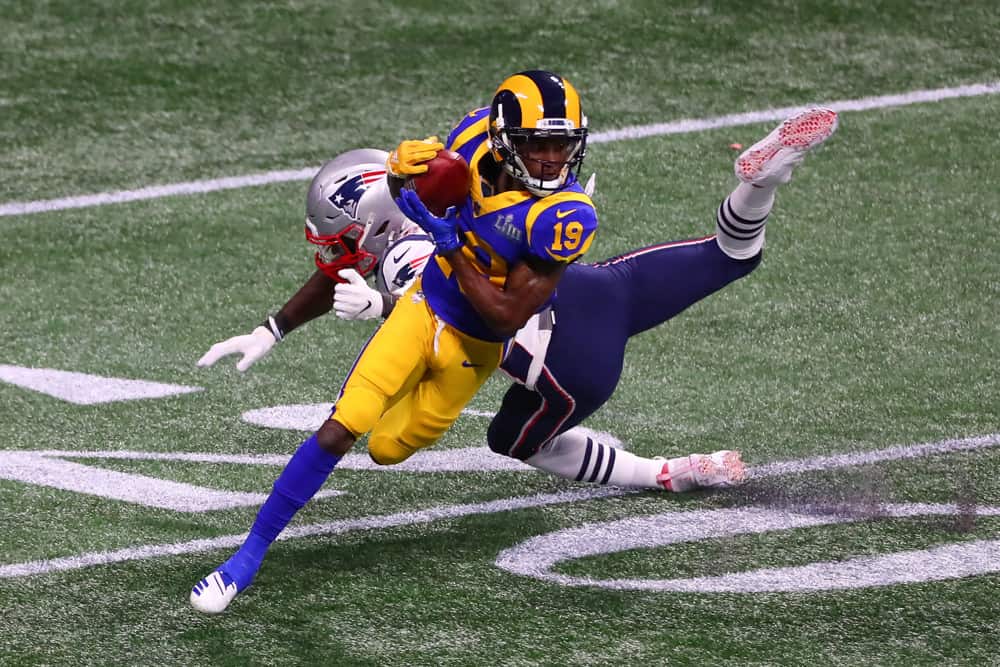 The Cleveland Browns signed JoJo Natson to a one-year deal this week.
That may elicit a collective "Who?" from Browns' fans.
Natson comes to Cleveland as a wide receiver who primarily focuses on returning kicks and punts.
The #Browns are signing WR and returner JoJo Natson to a 1-year, $1M deal, source said. He spent the last two years with the #Rams.

— Ian Rapoport (@RapSheet) March 19, 2020
He went undrafted in 2017, but was able to sign with the Indianapolis Colts and begin a career that is still going at the age of 26.
There are a few interesting facts to know about Natson as he joins the Browns and hopefully ends up being a difference-maker on special teams.
1. JoJo Natson Played at Akron
Natson began his college career at Utah State where he played from 2012-2014.
He was then dismissed from the program and sat out a year before finishing up his career with the Akron Zips in 2016.
I like the JoJo Natson pickup by the Browns. Good return man. And, more importantly, an Akron Zip.

— Dan Kadar (@MockingTheDraft) March 19, 2020
Natson made a name for himself while at Akron.
He had two punt return touchdowns and averaged 16.3 yards per return.
As a receiver he had 837 yards and 10 touchdowns.
That final season at Akron is what saved his career and ultimately earned him a chance in the NFL.
2. JoJo Natson Has Zero Career Touchdowns
This may be a bit alarming for Browns fans.
Natson has zero career NFL touchdowns.
In fact, he only has two career receptions and those came back in 2017 with the New York Jets.
However, he does have 35 career kick returns and 61 career punt returns.
His career-best punt return in 60 yards, but it still did not end with him dancing in the end zone.
JoJo Natson takes full advantage of the opportunity as KR/PR averaging 22 yds per return. @JHekker goes perfect as place kicker and @sonofbum's defense shutouts the #Cardinals! All three earn game balls! #LARams pic.twitter.com/BFIZoobCX7

— The Rams HQ (@TheRamsHQ) September 17, 2018
Not having a touchdown is not a terrible thing, especially given how kick returns have changed since the days of Josh Cribbs.
The key is getting positive returns on every punt and Natson has a career average of 7.7 yards.
He is also a much better option compared to the alternative of sticking Jarvis Landry back there and risking an injury to someone used to just playing receiver.
Positive returns are all the Browns need.
A touchdown or two would be an added bonus.
3. JoJo Natson's Smaller Stature
A Google search for Natson reveals he stands only 5-foot-7 and is listed at just over 150 pounds.
That is not a typical size for an NFL player, but it would be foolish to think this disqualifies him from being a successful player.
His smaller stature can actually be used to his advantage in the return game.
Natson is tough to tackle and his speed in the return game means the best defense against him is just impeding his path and slowing him down.
Too much speed 🔥🏃🏾‍♂️Former Akron Zip, Jojo Natson takes this punt return 60-yards down the sideline. #ZipsInThePros @Zips_United @ZipsFB_RECRUIT @ZipsFB pic.twitter.com/baoBSWFROe

— Nicholas Carillon (@Carillon_Nick) September 19, 2018
He will be able to win most one-on-one races with a defender.
The Browns have not had a true star returning kicks and punts since Cribbs left the team.
The NFL is phasing out a lot of potential excitement in the return game.
Yet Natson has carved out a nice career by being a special-teamer and it makes sense why the Browns went out and signed him.
Any sort of X-factor will help a Browns team that has struggled for so long in every facet of the game.