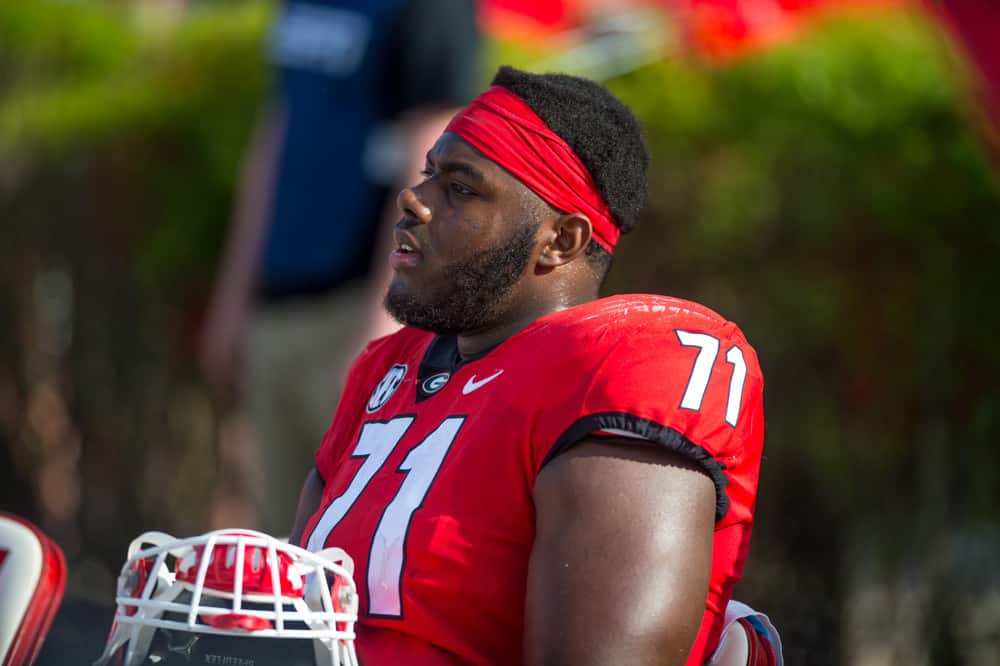 With the No. 10 overall pick, it seems that the Cleveland Browns have narrowed their sights on three possible picks.
One of those picks includes Georgia's offensive tackle, Andrew Thomas.
Thomas is a freak of nature at 6-foot-5 and 320 pounds.
In 2017, he started all 15 games at right tackle as a true freshman for the Bulldogs, who made the College Football National Championship Game.
In 2018, Thomas was an All-American, while in 2019, he paired a consecutive All-American status with the SEC's Jacob's Block Trophy.
The award is given to the best lineman in the conference.
@DawgCast @JameyGoodman More fun stats: (https://t.co/9HHwk9leHc)

Highest graded LSU OL: RG Damien Lewis — 71.2 overall grade, 73.1 pass-block grade, 71.6 run-block grade

Highest graded UGA OL: LT Andrew Thomas — 93.1 overall grade, 87.4 pass-block grade, 92.3 run-block grade

— Bruce Michael (@BruceMichael_Jr) November 26, 2019
As we get closer to the draft, it's understandable why the Browns want Thomas.
CBS analysts Ryan Wilson and Chris Trapasso have the Browns taking Thomas at No. 10.
It turns out that Thomas would love to be with the Browns organization.
A "Huge Honor"
When talking to Mary Kay Cabot of Cleveland.com, Thomas said "it would be an honor" to block for quarterback Baker Mayfield.
In 2017, when Mayfield won the Heisman Trophy, the Bulldogs defeated Oklahoma in the CFP.
Thomas went onto say that he would "embrace" the challenge of following in Joe Thomas' footsteps.
Check out left tackle Andrew Thomas matched up against 1st-round edge prospect K'Lavon Chaisson here. Absolutely dominating in pass sets:#NFLDraft pic.twitter.com/9GXpQlfR7C

— Anthony Rivardo (@Anthony_Rivardo) April 3, 2020
He also stated that the Browns are "on the rise" with offensive pieces in place, citing running backs Nick Chubb and Kareem Hunt, receivers Odell Beckham Jr, Jarvis Landry, and tight end Austin Hooper.
"The Browns are a team on the rise," Thomas said. "They have all the pieces they need and it's just a matter of time before they put it all together and compete for a Super Bowl."
Talking To The GM
Thomas recently talked to Browns GM Andrew Berry in an interview.
According to Cabot, Thomas claimed that Berry valued his athleticism and would have an easy transition to the Browns' scheme.
At Georgia, Thomas played in a wide zone scheme, which helped D'Andre Swift secure 6,436 all-purpose yards from scrimmage in three seasons.
His versatility also makes him a strong choice.
Thomas played both tackles positions at Georgia.
Andrew Thomas is the truest of LTs in the draft. So consistent. Has purpose to everything he does. The speed rush sometimes looks worrisome, but he always guides em right past the QB. 1st and last play most significant here. This is our guy #browns pic.twitter.com/MaKsaesQpi

— Outtatownbrowns (@OuttaTownBrowns) April 7, 2020
The Browns have a hole at left tackle after the departure of Greg Robinson.
In free agency, the Browns signed Jack Conklin to a three-year deal to play right tackle.
Overall, he liked what the GM had to say about him.
"Andrew said I had a lot of the intangibles that they're looking to add to their team, good character," Thomas said, via Cabot. "They feel that translates to playing on the field, so I feel that's something I have."