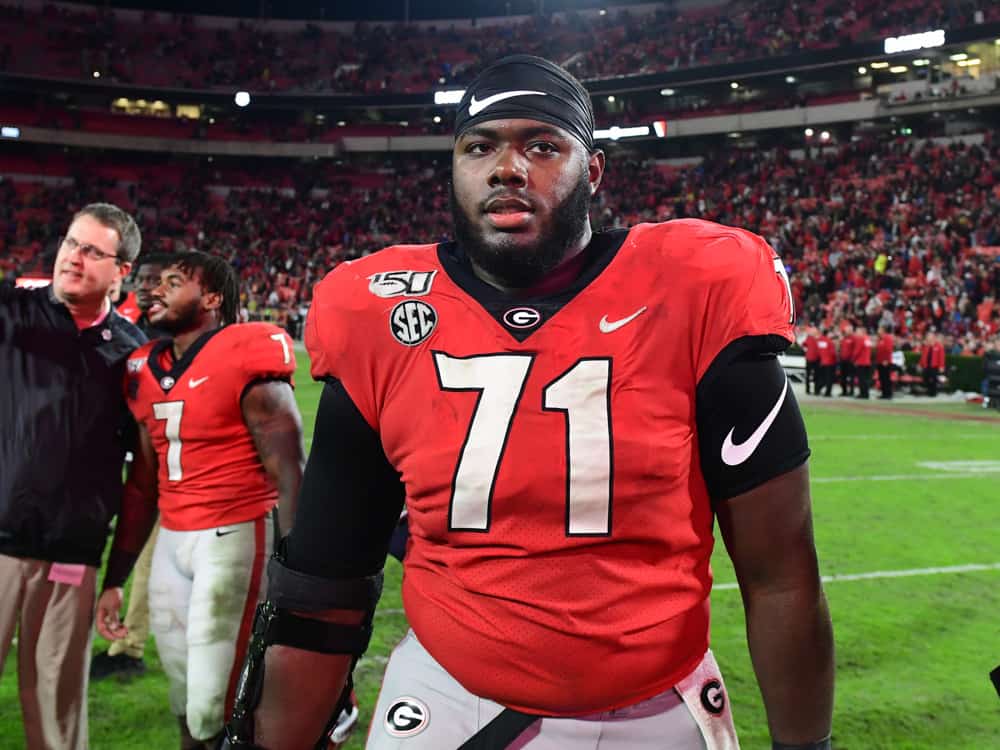 Heading into the 2020 NFL draft, the Cleveland Browns are armed with the No. 10 overall pick.
It's no secret that the Browns are in the hunt for a flashy offensive tackle.
Left tackle Greg Robinson left via free agency, and could never play in the NFL again after being caught with 157 pounds of marijuana.
Right tackle Chris Hubbard was responsible for eight penalties and six sacks in 2019 according to Pro Football Focus.
The Browns need to grab the best available tackle.
Here are the options.
1. Andrew Thomas, Georgia
ESPN's Mel Kiper sees Thomas as one of the best offensive linemen in the draft.
On his big board, Thomas is ranked as the No. 18 overall player in the entire draft.
At 6-foot-5 and 320 pounds, Thomas started all 15 games at right tackle in 2017 as a true freshman when the Bulldogs made the College Football National Championship Game.
In 2018 and 2019, Thomas was an All-American, and in 2019, Thomas won the SEC's Jacob's Blocking Trophy, given to the best lineman in the conference.
I really like Andrew Thomas as a fit for Cleveland at 10. https://t.co/wtNLK4VTRC

— Abel Filberto Cano (@AFCano03) March 28, 2020
2. Mehki Becton, Louisville
Last month, Becton was already connected as a target by the Browns.
Becton is the heaviest offensive lineman in the draft.
BIG MAN CAN MOVE! @UofLFootball's Mehki Becton is 6'7", 364lbs and still ran a 5.1 40-yd dash 🤯

(via @nfl)pic.twitter.com/FyhPjrtDcv

— FOX College Football (@CFBONFOX) February 28, 2020
That comes with a 35 3/8 inch reach too and a whole lot of confidence.
Becton told cleveland.com's Scott Patsko that he is the most "dominant" tackle in the draft.
"I feel I'm the most dominant tackle in this draft. You wouldn't go wrong picking me," he said. "The tape shows it. The tape shows that I finish almost every play. It's as simple as that."
3. Tristan Wirfs, Iowa
At 320 pounds, Wirfs had a vertical jump of 10 feet, 1 inch and a 36.5-inch vertical jump.
His vertical jump was higher than 20 wide receivers that weighed less than Wirfs.
His 40-yard dash time was also impressive, clocking in at 4.86 seconds.
Wirfs started 10 games at right tackle, but also three games at left tackle, which makes him versatile.
He was also a monster in helping block for the run game.
Y'all wanted Tristan Wirfs Film Study, well here you go!

Man is a bowling ball in the run game.

Link here: https://t.co/P4tHZXvYMi pic.twitter.com/sLroKyivKd

— RealBucsTalk (@RealBucsTalk) March 26, 2020
Who Should The Browns Draft?
The overwhelming answer is the kid from Iowa.
The Browns signed Jack Conklin, who is a former All-Pro at right tackle, but he has question marks surrounding a knee injury he sustained on Week 14.
Not to mention, the torn ACL he suffered in 2018.
Wirfs is big, athletic, fast, and can play multiple positions.
His stats at the NFL Combine led all offensive lineman.
The Browns could let Hubbard or Conklin start at right tackle, and use Wirfs at left tackle.
Hypothetically, the Browns could also slide Wirfs into the right tackle spot if necessary.
If the Browns want to keep the run game successful, drafting Wirfs would be the answer.