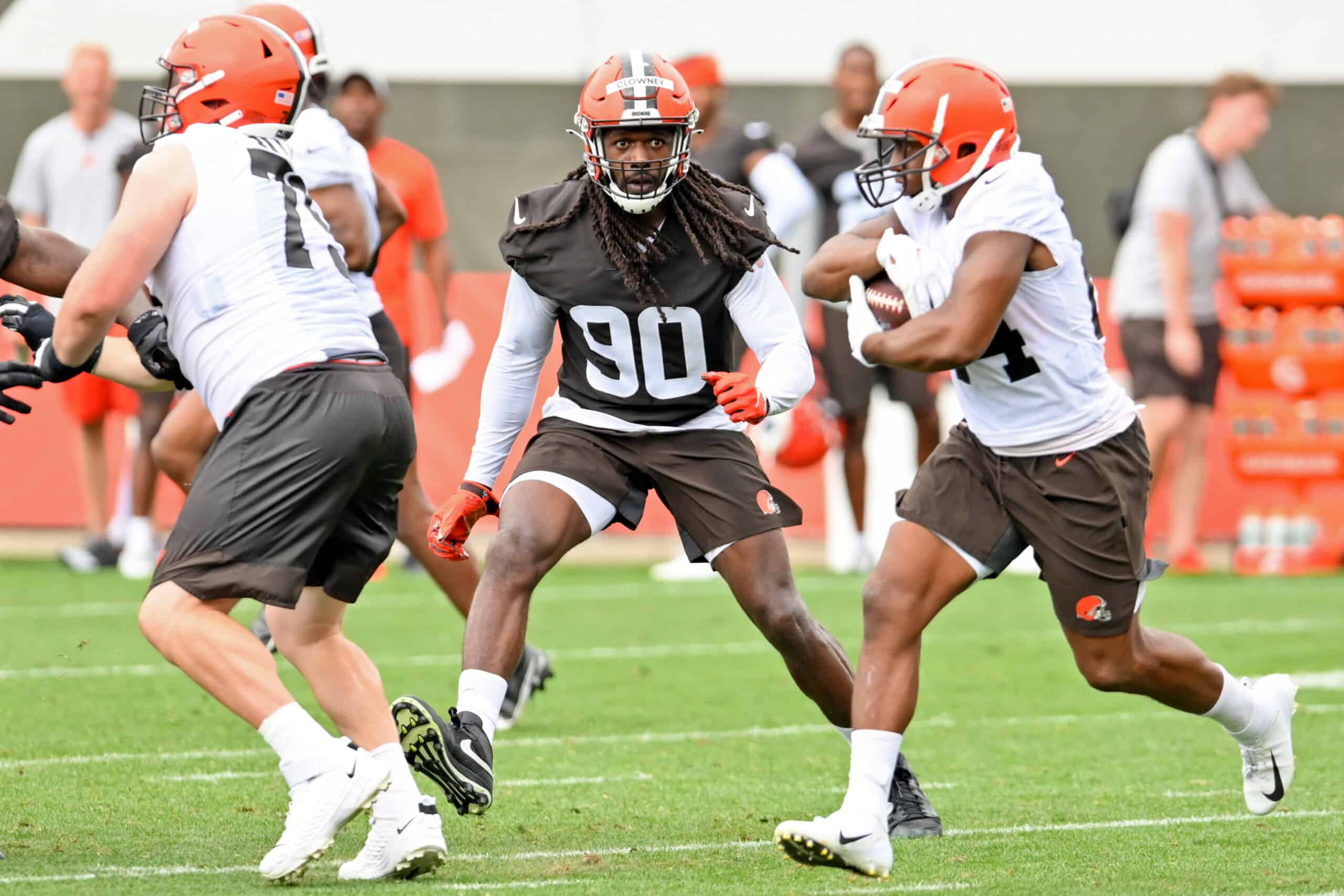 One of the high profile Cleveland Browns free agent signings in the offseason was defensive end Jadeveon Clowney.
The Browns reportedly had pursued Clowney for at least a year before signing him.
Clowney had a disappointing and injury-laden 2020 with the Titans.
Here are three reasons why Clowney can have a career year in 2021.
1. Clowney Is Healthy
Everybody knows that Clowney has been plagued with injuries throughout his career.
In his seven seasons, the 2014 first overall pick has endured multiple surgeries for a sports hernia, a torn meniscus, knee issues, and a core muscle injury.
Clowney entered the 2021 training camp healthy, and he admitted that being healthy makes playing the game a lot more fun.
"I think when you're healthy you have a lot of fun. When you've been playing for seven years—I've been dealing with injuries seven years—it's kind of not fun being out there, but when you're taking care of your body, you're in good health and you know what you love, I think it's fun and exciting to be out there moving around and feeling good. I don't think I've reached my potential yet…every time I get going I get hurt, something happens and I have to fall back or take something off but hopefully this year will just keep going up and keep getting better."
Jadeveon Clowney is looking SCARY GOOD at Browns training camp pic.twitter.com/cLl3QYLAHx

— Big Game Bengal (@BengalYouTube) August 1, 2021
2. He Is Happy To Be In Cleveland
I watched the Jadeveon Clowney media Q&A session and he seems genuinely happy to be in Cleveland. Hope it all works out for him.

— Sports is my thing (@Sports_Chic2) April 15, 2021
Clowney could have signed with Cleveland in 2020 and would have made more money.
Thankfully, it finally happened in 2021, and Clowney could not be happier to be part of this Browns team.
"The coaching staff was pretty laid back, and I felt like they knew what they were doing and know where they were going and where the organization is headed, and they knew how to get where they were trying to go. I want to be a part of something like that. That's how I ended up here."
3. He Has A Great Teammate In Myles Garrett
Garrett and Clowney complement each other in so many ways.
They are both competitive so they will push each other to be better.
More importantly, opposing offenses (and offensive coordinators) will have to figure out how to handle both Myles Garrett and Jadeveon Clowney.
They cannot overlook one to cover the other; both are formidable and have already proved challenging to their teammates during training camp practices.
All-Pro RT Jack Conklin on defending Myles Garrett and Jadeveon Clowney: "It's hard"https://t.co/rNY46BdXFE pic.twitter.com/siJfnr4M5g

— Anthony Poisal (@AnthonyPoisal) August 7, 2021
#Browns DE Jadeveon Clowney keeps eating up LT Jedrick Wills Jr. this training camp.

— Brad Stainbrook (@BrownsByBrad) August 6, 2021
Jake Trotter: "If the defensive players were allowed to hit the Qb, Jadeveon Clowney might have had 20 sacks today. He was in the backfield on like every play. pic.twitter.com/yocFnCliP9

— Nick Karns (@karnsies817) August 3, 2021
Clowney talked about Garrett's influence.
"Of course I'm watching him. I want to watch the guy that's one of the highest-paid players in the league. I think what stands out the most about Myles is he works hard, for one. And his bend, the way he bends and stays low the whole time — he's got some crazy bend moves. And I told him, you have two moves and you use them very, very well and it's basically unstoppable…So good luck for the tackles out there stopping that dude this year. I'm just happy to be on his team, playing beside him because I think it's going to help me out this year."