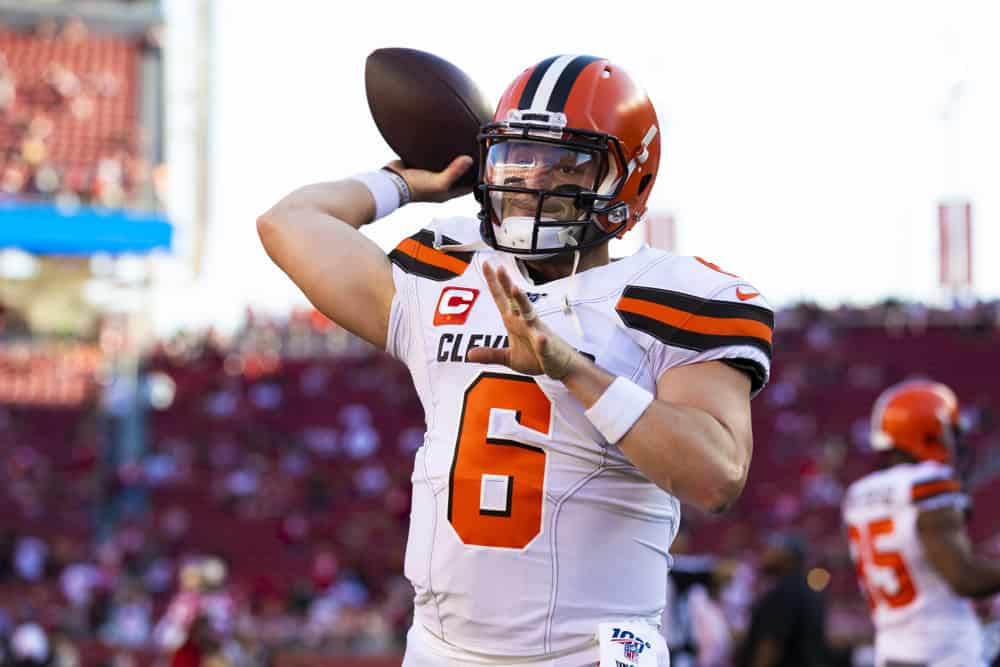 The Cleveland Browns are 9-4 in 2020.
No one really could have predicted this type of success from a franchise who has struggled in recent years, gone through 4 coaches in 3 years, and was trying to change its course in the middle of a COVID-19 pandemic.
While Coach Kevin Stefanski deserves a lot of credit for what this team has accomplished so far, there is also another person who deserves credit.
And that person is quarterback Baker Mayfield.
I can hear the naysayers now, but it's the truth.
Baker Mayfield is BALLING right now!! He also quietly has 23 TD's to only 8 INT's on the season. It's time to put some respect on his name! #DawgPound

— Emmanuel Acho (@EmmanuelAcho) December 15, 2020
If the Browns organization didn't yet figure out that Mayfield is growing into a franchise-level quarterback, then they are not as smart as we thought.
Consider the following:
1. Achieving A November Record
Baker Mayfield and Deshaun Watson were the only two NFL quarterbacks to play the month of November (4 games) without throwing an interception.
In Mayfield's case that was 96 attempted throws, 55 were completed, and 2 TD passes.
In fact, Mayfield went 5 straight games without throwing an interception.
Prior to the interception against Baltimore in Monday Night Football, the last one he threw was on October 25 against Cincinnati, also known as the play where OBJ got hurt.
That spells accuracy for a QB who had issues with interceptions last year.
He threw 21.
That also shows his judgement and maturity.
He is not forcing the ball in situations where he may have done so in the past.
2. Tying Otto Graham's Record on December 6.
QB @bakermayfield is our first QB since Otto Graham (December 2, 1951) to score 4 touchdowns in the first half. pic.twitter.com/ByzSSjtEIF

— Cleveland Browns (@Browns) December 6, 2020
Then, there is the fact that Mayfield tied Otto Graham's 1951 record in the game against the Tennessee Titans.
How did he do it?
Only by throwing 4 TD passes in the first half of the game, that's all.
No big deal.
3. Playing Lights-Out Football Against A Tough Ravens Team on December 13.
Baker Mayfield is finally playing QB the way he did at Oklahoma, moving with underrated athleticism, scrambling, throwing on the run AND working in big throws from the pocket, all the while doing so with a hotdoggy arrogance that is what fuels him.

— Skip Bayless (@RealSkipBayless) December 15, 2020
Of course, we come to the Ravens game.
Baker kept his head and heart focused.
He never looked panicked.
Mayfield was steadfast and led his team in every way he could.
The offense did not lose the game to the Ravens; Mayfield did his job plus some.
At the end of the game, he looked physically and mentally spent; he gave it everything.
He completed 28 out of 47 passes for a season high 343 yards and 2 passing TDs.
Mayfield also had a rushing TD, his first of the season.
He is doing and saying all of the right things that a franchise quarterback should which leads to the big question:
What Should the Browns Do Now?
The least the Browns could do is exercise the fifth year option of his rookie contract at the end of this season.
That 5th year option is an expensive one, $25 million all guaranteed money, for the 2022 season.
The idea is to reward him for what he has done and see how next season plays out with a stable, good coach like Stefanski who has thus far brought the best out in Mayfield.
Then, make the decision on a long-term deal.
Mayfield has played well enough to earn that level of consideration, compensation, and respect by the Browns organization and its fans.