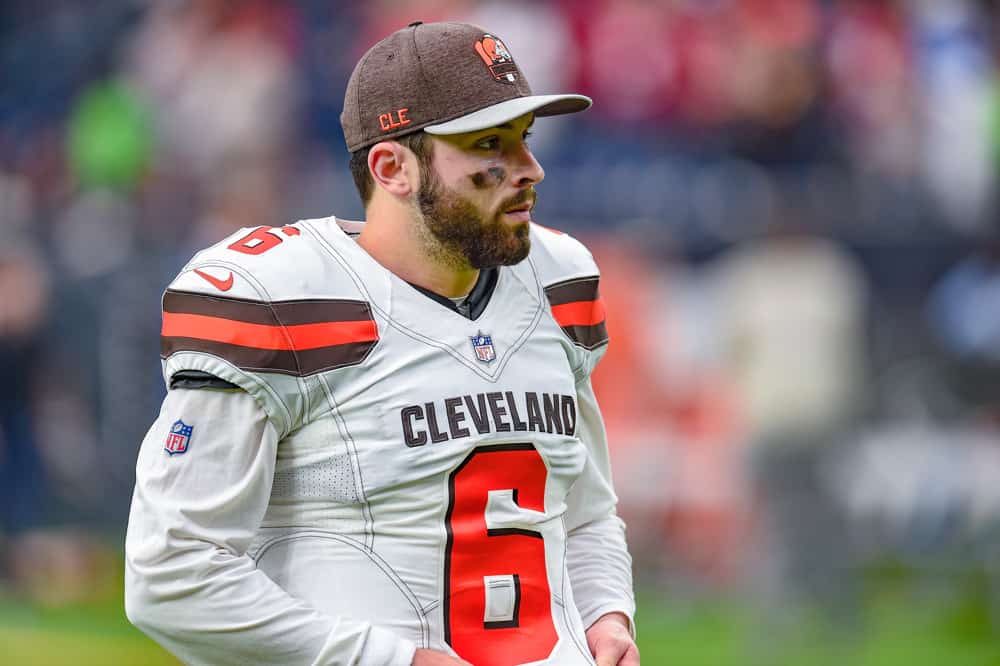 The Cleveland Browns have until May 3 deadline to decide whether or not to pick up the fifth-year options on their players.
Most notably, quarterback Baker Mayfield and defensive back Denzel Ward are eligible to have their contracts tendered.
It would be a no-brainer for the Browns to accept those options, but the front office hasn't confirmed anything yet.
#Browns Andrew Berry said he won't speak publicly on Baker Mayfield's fifth year option but they're looking forward to seeing him continue to grow under this offense in his second year working in it.

— Camryn Justice (@camijustice) March 3, 2021
Neither player is going to be cheap, but the Browns would be foolish to let either of them walk away.
On Wednesday, the salary cap was set, so Mayfield's tender for 2022 will be $18.858 million, and Ward's will be $13.294 million.
Extending Mayfield
At first glance, Mayfield's $18 million salary might seem like quite a lot of money, but it's really not considering what quarterbacks are making nowadays.
Players such as Patrick Mahomes ($45 million a year), Deshaun Watson ($39 million a year) and Dak Prescott ($40 million a year) are now making more than twice that much.
The Browns still have plenty of time to discuss an extension with Mayfield, but it's unlikely he gets anything near those other quarterbacks.
We've all seen what happened to the Rams and Eagles with their dead cap hits after trading their "franchise" quarterback they locked up long term.
QB Cap hits in 2021:

Carson Wentz (Eagles Dead Money): $33.82 million

Jared Goff (Lions): $28.15 million

Carson Wentz (Colts): $25.4 million

Jared Goff (Rams Dead Money): $22.2 million

Dak Prescott (Cowboys): $22.2 million

— Tom Downey (@WhatGoingDowney) March 9, 2021
Last season, Mayfield had an incredible bounce back year, but it's not enough to warrant $30 million per season.
The front office still needs to worry about extending Ward and Nick Chubb as well.
It's unlikely that they plan to give Mayfield a massive extension anytime soon.
Mayfield played extremely well during the second half of the 2020 season, but the front office is probably going to wait and see if he can do it again.
There is no reason to rush into an extension when they have Mayfield basically locked up for two more seasons.
Browns general manager Andrew Berry appears to be excited about the future with Mayfield under center.
"He's endured an enormous amount of adversity in his young career just quite honestly with the changes that he's gone through with the coaching staffs, front offices, offensive systems, and he's risen above it all. And so I think we all saw him grow from week to week to week last year and we expect him to continue that progress and have a fantastic 2021 season for us," said Berry.
That being said, it appears both Mayfield and Ward are cornerstone pieces to this organization.
However, the organization does not need to be in a hurry to hand out extensions to either player.
They have reasonable if not team-friendly fifth-year options, so the team can accept those deals for now.
After that, they can use the extra money they save and invest it into building a winning team around Mayfield and Ward.
There is no doubt that both players are deserving of long-term deals, but the front office wants to be smart.
No one wants to spend all their payroll on a handful of players and then you're unable to add talent around those guys going forward.
Browns fans need to trust that Berry and the front office have this under control.