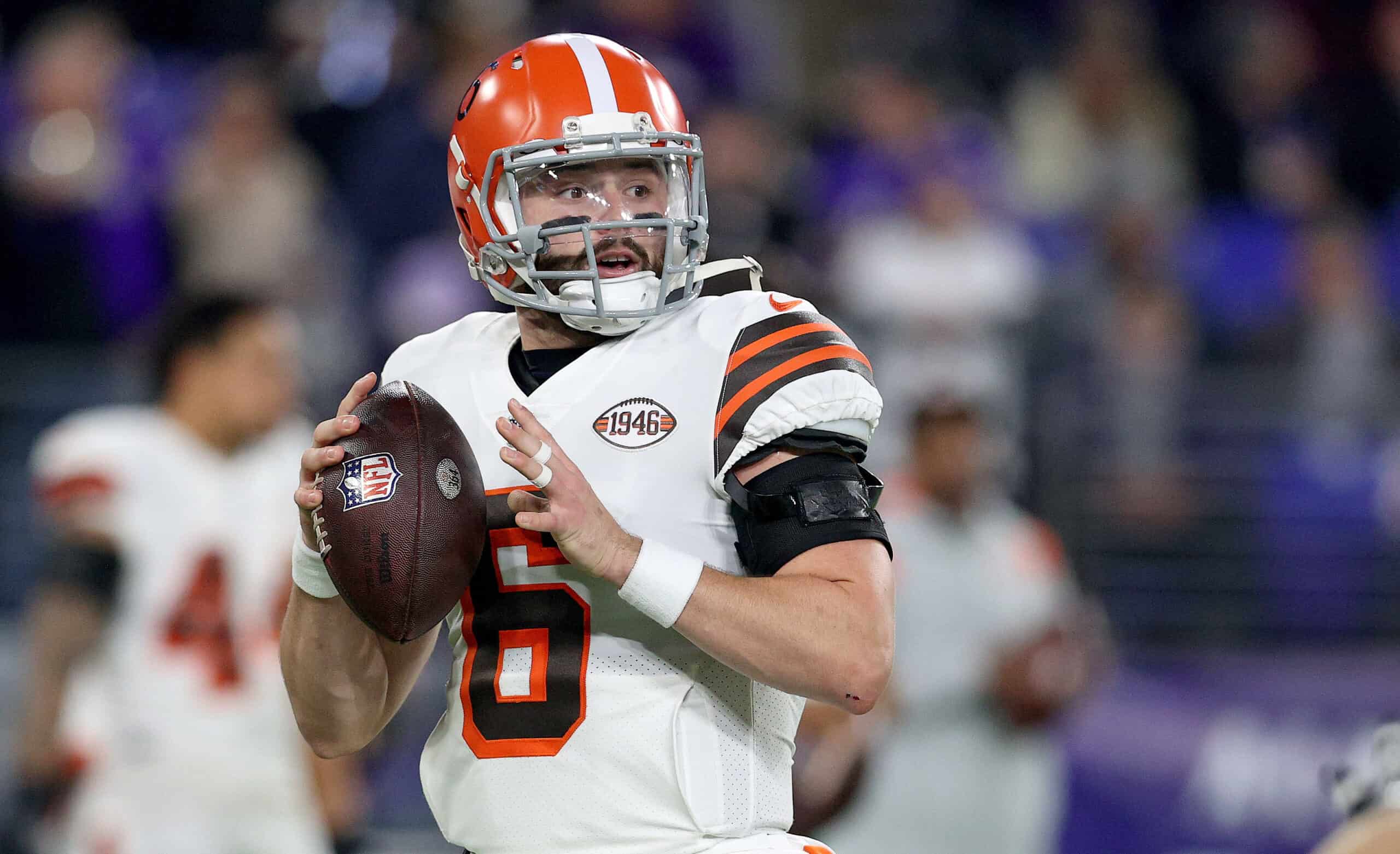 Baker Mayfield won over legions of fans with a record-setting rookie year and 2020's long-awaited playoff appearance.
But the Cleveland Browns quarterback also owns the season he "lost himself" and this year's disappointments.
Fans and analysts largely agree a first overall draft pick usually defines himself before the end of his fourth season.
.@MattFontana83 "With a 100% healthy @bakermayfield I think this team CAN win a Super Bowl."#Browns pic.twitter.com/geId5A0Kzw

— ESPN Cleveland (@ESPNCleveland) December 28, 2021
But there is an argument that excessive coaching turnover and injuries warrant the fifth year of evaluation.
To support their stands, fans and foes throw mostly-tainted statistical comparisons around social media.
There are "first four years" comparisons to past greats who sat out their rookie seasons.
#Browns Kevin Stefanski said, like the team, Baker Mayfield has played with inconsistency this season but they are all working to be consistent.

— Camryn Justice (@camijustice) December 30, 2021
And a popular "Best Browns QB Ever" uses Bernie Kosar's first 47 starts versus Baker's stats from his first 57 games.
It is more meaningful to compare Mayfield to modern peers rather than those from other eras of NFL history.
So, does a recent data analysis from the Athletics' Ben Baldwin warrant more respectful consideration?
Is Baker Mayfield The Worst Crunch-Time QB? 
Baldwin created a table of data to outline how every quarterback since 1999 performed in crunch time.
He defined "crunch time" as "tied or trailing by 16 points or less in the final 10 minutes of a game."
In other words, he wanted to see how a quarterback did when trailing by 2 scores or less in the final minutes.
Using an advanced data point called "successful drives over expected," Baldwin ranked 108 passers.
Baker Mayfield, per the data, is not the worst crunch-time quarterback currently in the NFL.
Here is a giant table with zero explanation that I made awhile ago and never bothered to do anything with

No shame in allowing a comeback to Nick Foles pic.twitter.com/aeZPQj14iX

— Computer Cowboy (@benbbaldwin) December 29, 2021
But he is pretty bad, ranking 101st, ahead of 4 other current starters, three of whom are injury replacements.
Using the "over expected" data eliminates unrealistic possessions, like trying to go 90 yards in 10 seconds.
Quarterbacks don't have to win the game to get credit for a successful drive, either.
Scoring to pull within a touchdown is a successful drive, even if the offense doesn't get a chance to tie.
Likewise, tying the game earns the QB a successful drive, even if his team subsequently loses.
How Baker's Latest Game Measures Up
Mayfield took a lot of heat for his 4 interceptions in the Christmas Day game
But Mayfield had 2 crunch-time possessions to redeem himself and that would qualify for Baldwin's graph.
Cleveland scored their last touchdown on a drive that started with 6:41 on the clock.
It doesn't matter if Kevin Stefanski was ready to settle for a field goal, running D'Ernest Johnson on 3rd and 10.
Johnson's 30-yard scamper set up Mayfield's 5-yard touchdown pass to Anthony Schwartz- a successful drive.
#Browns OC Alex Van Pelt on Baker Mayfield: It's tough when you throw four INTs, it's tough when you throw one. I guess you can asterisk it a little because 2 could've been PIs but can't turn ball over. He has to keep taking his shots. You can't let it shake you up as QB

— Scott Petrak ct (@ScottPetrak) December 31, 2021
Cleveland's defense held and delivered the ball back to Mayfield with just over 2 minutes to play.
75 yards in 2 minutes is not a given and might be considered an "over-expected" success if the Browns scored.
But with 3 timeouts and no other mitigating factors, expectations increase back to normal.
And since missed penalties are part of the game, that final interception probably cost Mayfield in Baldwin's rankings.
As per Baldwin's data, Case Keenum doesn't offer a much better option, coming in at 99 on his list.
What Does It Mean For the Browns?
Andrew Berry has a tough decision to make at quarterback after the season.
In a game geared toward parity, Cleveland's passer has to be able to deliver in crunch time.
But he also has to get the team in a position to be in crunch time.
#Browns coach Kevin Stefanski stressed the offense, not just Baker Mayfield, has failed in five chances this season to produce go-ahead score in crunch time

— Nate Ulrich (@ByNateUlrich) December 30, 2021
If the team is always ahead in the fourth quarter, nobody cares if the quarterback can bring a team back.
But crunch time includes holding a lead, running out a clock effectively, and building a lead.
And that opens the door for a quarterback-versus-offensive play-caller debate.
There are other data to support a deficit in Mayfield's crunch-time game.
#Browns Alex Van Pelt said the shoulder harness has handcuffed Baker Mayfield and his natural throwing motions. Said that his mechanics should come back quickly next year when he can lose the harness.

— Camryn Justice (@camijustice) December 31, 2021
He is 0-5 in comeback chances this season (2-14 career) and sports one of the NFL's lowest 4th-quarter QBRs.
And while injuries might take a toll, Mayfield misfired on 2 crunch-time drives in the Week 1 loss at Kansas City.
When all is said and done, this is just one more data point for Berry to consider in 2022.