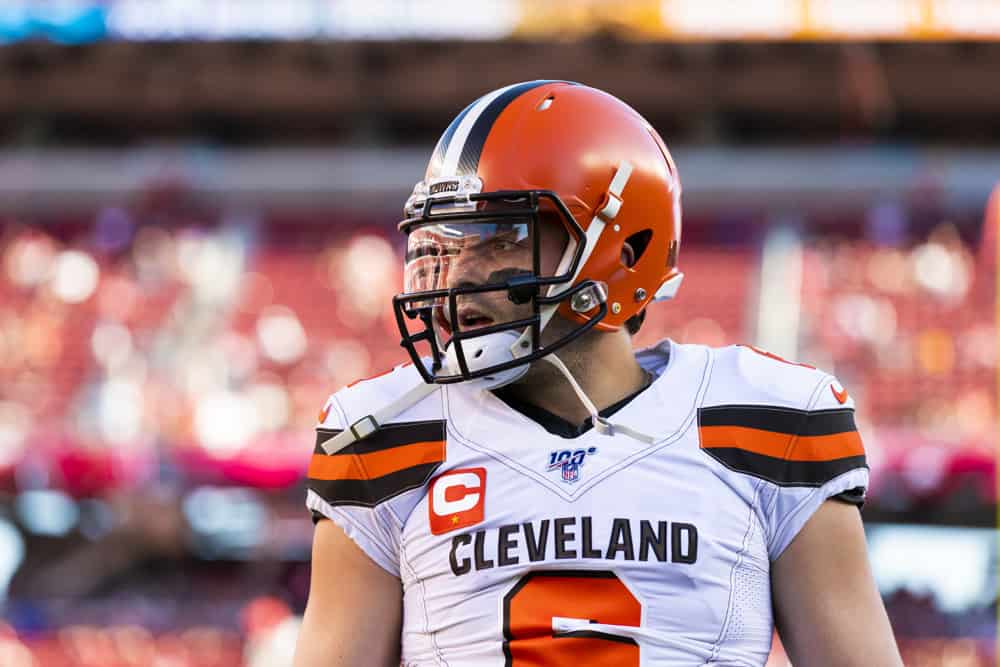 Cleveland Browns fans were excited that Baker Mayfield and company had back-to-back games at MetLife Stadium at the end of the 2020 season.
Mayfield and the rest of the Browns did not disappoint in the easy Week 15 defeat of the New York Giants.
The third-year quarterback put on such a strong performance that Pro Football Focus ranked him as the best man under center during the week:
Highest-graded QBs in Week 15 prior to MNF:
1. Baker Mayfield – 92.2
2. Deshaun Watson – 90.1
3. Tom Brady – 87.7
4. Josh Allen – 87.4 pic.twitter.com/sWVJUuxx8X

— PFF (@PFF) December 21, 2020
Then on Monday night, Ben Roethlisberger and Ryan Finley combined for just 259 passing yards in the divisional battle.
In comparison, Mayfield finished with 297 yards in Sunday's 20-6 victory over the Giants.
Here are the rest of his statistics from the impressive performance:
27 completions on 32 passing attempts
His season-best 84.4 completion percentage
2 touchdowns and 0 turnovers
126.2 quarterback rating
This is what Browns nation was hoping to see from Mayfield, as his performance has been top-notch for more than half of the 2020 season:
On the Podcast last night @PFF_George said that, since W7 (can't think why he chose that week 😉 ), Baker Mayfield was the 2nd highest graded QB in the NFL … Not that I doubted him but I ran the numbers anyway : pic.twitter.com/WHS5IvZit1

— Neil Hornsby (@PFF_Neil) December 21, 2020
How Has Mayfield Improved His Performance?
Mayfield's improvement on play action is an important reason for him rising the quarterback ranks in 2020.
Here are his play action statistics and how he is vastly better this year:
#Browns Baker Mayfield on play action:

2019: 102.5 passer rating (20th)
PA on 28.7% of passing plays (11th most)

2020: 121.3 passer rating (3rd)
PA on 34.1% of passing plays (6th most) pic.twitter.com/XjDCFeSC6H

— PFF CLE Browns (@PFF_Browns) December 22, 2020
A significant reason for the strong play action numbers is the Nick Chubb and Kareem Hunt tandem at running back.
Cleveland ranks in the top three in rushing yards.
The Browns also rank in the top 10 in rushing touchdowns and rushing yards per attempt.
The passing offense has been efficient as well, as Mayfield has been completing long passes.
His 11.9 yards per completion rank sixth in the NFL in 2020.
Additionally, Mayfield has decreased his number of turnovers.
While Roethlisberger has at least one interception in each of the last five weeks, Mayfield is limiting his.
Only five NFL teams have fewer interceptions than the Browns this season.
Since Week 8, Mayfield has just one interception.
In Mayfield's zero-interception games this season, the Browns are 7-1.
That is a recipe for success, and Browns fans should be hoping that he continues this performance.
Who is Helping Mayfield This Year?
The Browns finished the 2019 season with PFF's 23rd ranked offensive line.
They then improved their offensive line in the draft and during the offseason.
However, not many people expected this type of improvement by offensive guard Wyatt Teller:
Wyatt Teller grade/rank among OL:
🔸 2019: 56.7 (143)
🔸 2020: 93.8 (1st)#ProBowl | #ProBowlSnub pic.twitter.com/chXzhvkrrP

— PFF (@PFF) December 22, 2020
Although Teller missed Week 15 and Weeks 6 through 9, he has been a tremendous asset to the 2020 Browns.
If he can get past this current ankle injury, he will be important to the Browns offensive line, especially with offensive guard Chris Hubbard out for a significant period of time.
Meanwhile, Jedrick Wills Jr. and Nick Harris looked strong in the Week 15 win against the Giants.
With one of the best offensive lines in the league, the Browns have been able to help Mayfield's sack percentage be the 10th-lowest this season.
In terms of the receiving game, Jarvis Landry has been a consistent weapon for Mayfield.
During Mayfield's four-game stretch of a combined 1,232 passing yards and 11 total touchdowns, Landry has been his favorite target.
Here are Landry's combined statistics during those contests:
29 receptions
3 touchdowns
11 yards per reception
Landry even completed a couple of passes for a total of 18 yards during that stretch.
There are a lot of positives about Mayfield, his offensive line, and his receivers.
Mayfield has been able to flourish even without Odell Beckham Jr.
With Kevin Stefanski at the helm, it seems that he and Mayfield are succeeding consistently down the stretch.
If Mayfield continues his strong play in Weeks 16 and 17, the Browns have a chance at taking the AFC North.