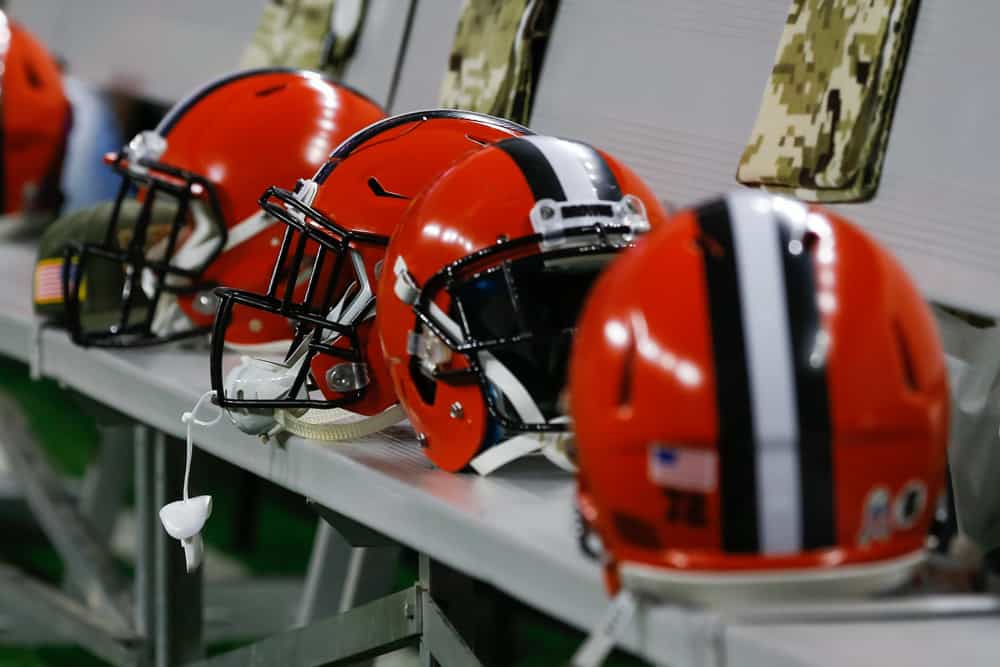 Multiple sources are reporting that a Cleveland Browns player has tested positive at offseason training activities (OTAs).
Browns OTAs opened today and are scheduled to run through May 27.
Two more sessions are planned.
Those are from June 1-3 and from June 7-10.
OTAs are voluntary, and NFLPA President (and Browns center) JC Tretter had previously encouraged all players to boycott them.
NFLPA President JC Tretter told players on a call today the union is pushing for an all-virtual offseason — and would urge players to boycott if teams conduct in-person OTAs this spring, per sources.

Said Tretter: "We've been telling them, it's voluntary and we're not gonna go."

— Tom Pelissero (@TomPelissero) April 9, 2021
What We Know
There are not a lot of details known about today's situation.
Lindsay Jones of The Athletic was the first to report this.
Several #Browns players were sent home today from the facility after a player tested positive for COVID-19 per @bylindsayhjones of @TheAthletic

— Cleveland Sports Talk (@CLEsportsTalk) May 25, 2021
It is believed that the players sent home were close contacts who were either between vaccinations or unvaccinated.
Jones also reported that the positive result was from a rapid PCR test.
One of the updates to protocols this spring is that players/staff take a rapid PCR tests, with results in about an hour. It's made the testing process take longer on the front end, but they'll know of positives sooner.

— Lindsay Jones (@bylindsayhjones) May 25, 2021
OTAs
There has been much discussion in the offseason about OTAs.
Tretter encouraged players to boycott for several reasons; one of which is COVID-19.
Though the NFL is doing its best to ensure player safety, nationwide vaccination is still an ongoing process making close contact at OTAs a potential risk.
While many veteran players skip OTAs, younger players and those with workout incentives in their contracts are more apt to go.
Player risk for COVID-19 could be considered higher at OTAs, but the other issue is that if a player gets injured at OTAs, he is covered by the NFL.
That's not the case if a player gets hurt working out away from the facility.
Ja'Waun James, formerly of the Denver Broncos, tore his Achilles recently while working out away from the Broncos facility.
The Broncos responded by cutting him.
The Broncos have released OT Ja'Waun James, who recently suffered a torn Achilles.

— Field Yates (@FieldYates) May 14, 2021
Most of the Tampa Bay Bucs are not at the team OTAs but are working out nearby.
Brady and Co. are literally working out across the street from the Bucs' facility instead of with the team at OTAs. If one of them gets injured, the Bucs could withhold salary a la Ja'Waun James https://t.co/PlHxcF2fm0

— Ben Volin (@BenVolin) May 24, 2021
What happens if one of these players gets hurt?
What's Next On The Schedule
The Browns held a successful rookie minicamp from May 14-16.
It was a smaller group than usual with 18 players in attendance; fewer tryout players were invited because of COVID-19.
Following the three OTA sessions, mandatory minicamp is scheduled for June 15-17.
That would be the first large group gathering since the end of last season.
Stay tuned for more details as they become available.