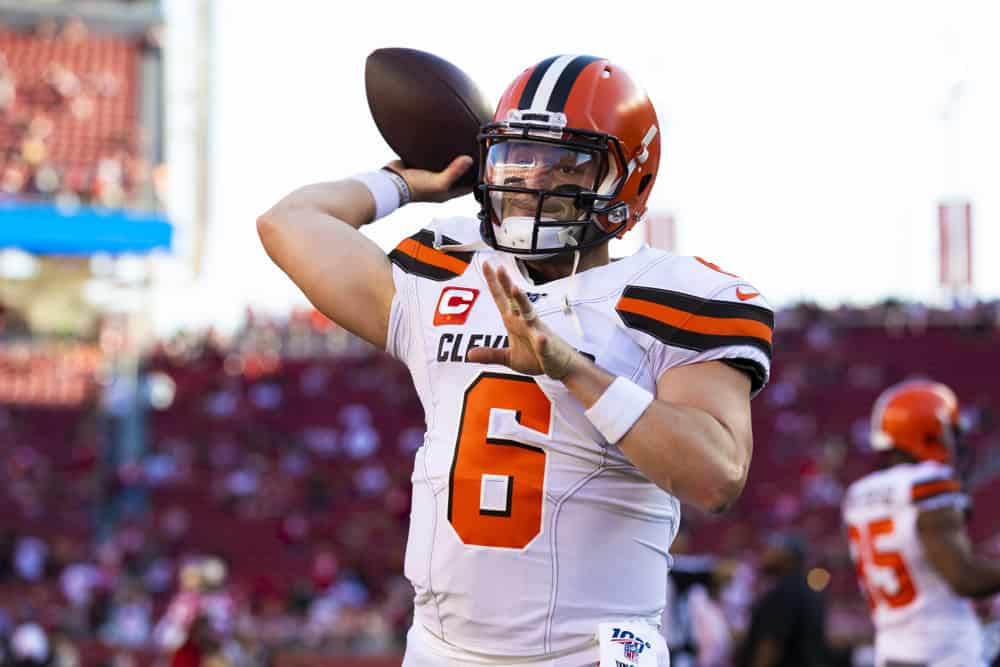 Cleveland Browns quarterback Baker Mayfield had his first press conference of the 2021 season.
As usual, he had a lively and interesting take on a variety of topics, but many were interested in his initial reaction to the fifth-year option.
Last week, the Browns exercised his fifth-year option for the 2022 season well in advance of the NFL-imposed deadline to do so.
#Browns have picked up Baker Mayfield's fifth-year option, per @MaryKayCabot

Mayfield: 85.7 PFF Grade in 2020 (8th) pic.twitter.com/NlCFvNXn1Y

— PFF (@PFF) April 23, 2021
Baker's Take
Mayfield is not (and should not) be drawn into discussions of whether he deserves a long-term extension versus the fifth-year option.
He has the right mindset about the situation; it is outside of his control.
"That's one of those things that's not in my control, but I'm truly thankful and grateful for them taking the chance — Andrew [Berry] and the Haslam family — for picking up that fifth-year option and making it one more year in Cleveland and extending this journey that we started three years ago today. Just saw something on that, so I've been kind of thinking about that all day. So I'm very happy about that."
He was pressed about if he is thinking about a long-term deal.
Mayfield indicated it is on the back burner for him, and he is focusing on building on the successes of the 2020 season in 2021.
.@bakermayfield is more focused on winning games than contract extension

📰 » https://t.co/hDpLmcN6v6 pic.twitter.com/ChxUkbH6DJ

— Cleveland Browns (@Browns) April 26, 2021
When asked about it again, he added:
"We win games, and everything will happen how it should…That's my mentality, and I truly do believe that."
His 2018 QB Peers
Of course, he was asked about the extension possibilities for his 2018 fellow first-round draft picks: Baltimore Ravens quarterback Lamar Jackson and Buffalo Bills quarterback Josh Allen.
All three won playoff games in 2020 and have the same rookie contract with fifth-year option.
"I hope the best for them. Whatever happens, happens, but it really is out of my control."
Baker Mayfield 2021
Mayfield is correct in focusing on the present.
GM Andrew Berry has added a lot of key pieces on defense so that side of the ball can match the excellence and success that the Browns' offense did in 2020.
Whereas the Browns flew largely under the radar in a pandemic-stricken 2020 with a rookie coach, they enter the 2021 season with the weight of expectations on their collective shoulders.
If Mayfield matches or exceeds his 2020 performance, he will get the long-term deal with perhaps bigger dollars assigned to it than if he and the Browns started negotiating now.
The Browns do not need to act quickly with Baker because of the fifth-year option.
Though probably not ideal, they could even apply the franchise tag to him in 2023 (similar to what the Cowboys did with Dak Prescott) if necessary.
Keeping the rest of the offense humming means that Nick Chubb and Wyatt Teller's contracts need to be addressed; both could be free agents after the 2021 season.
Those issues will have to wait until at least next month.
It is a big week for the city of Cleveland and the Cleveland Browns as final draft preparations are being made to the city's landmarks for the event.
The 2021 NFL Draft begins Thursday night, April 29, 2021 at 8 pm EDT.