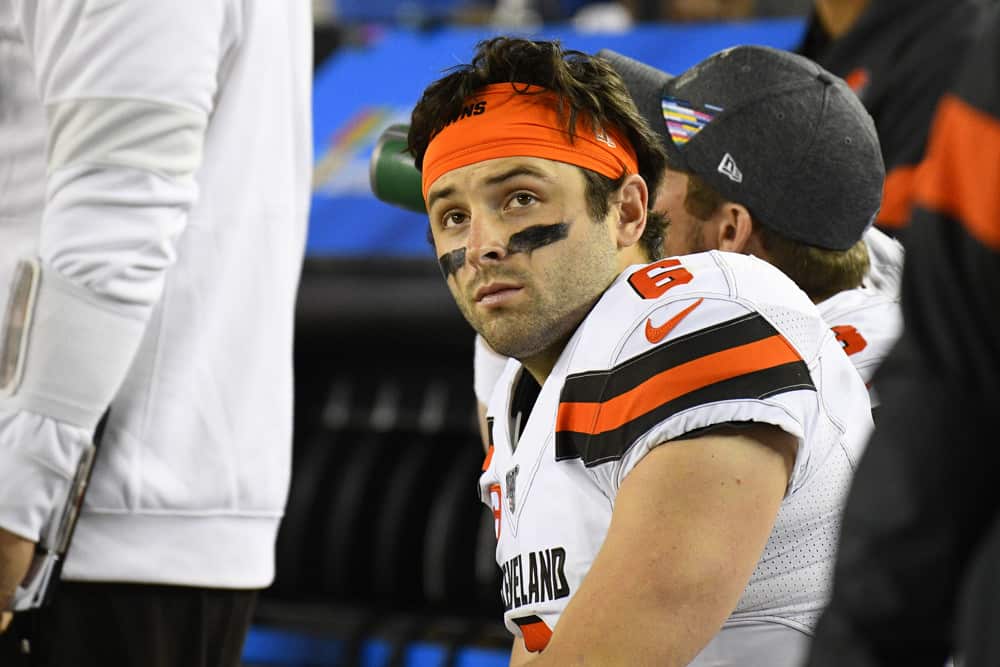 The Cleveland Browns were happy and relieved to squeak out a win against the Jacksonville Jaguars in Week 12; final score was 27-25.
QB Baker Mayfield continues to entertain and amuse in the victorious postgame press conferences.
He shows his pop culture acumen, transitioning from rap lyrics to cult TV favorites.
Yesterday, Baker channeled the character of Ron Swanson of "Parks and Recreation" fame.
Origin of Skim Milk Quote
"There's only one thing I hate more than lying: skim milk. Which is water that is lying about being milk."
What Is Baker Mayfield Talking About?
Mayfield was trying to create some levity surrounding his missed throws.
Though he played a good game overall, what separated his good game from a great game were missed throws in the red zone.
Baker Mayfield just missed the easiest TD in NFL history. #Browns pic.twitter.com/bFopAvSLwU

— Alex Kozora (@Alex_Kozora) November 29, 2020
Despite being 1st and goal, the Browns could not make their way into the end zone.
Instead of scoring a touchdown, they had to settle for a field goal.
Baker Did Get Serious Later.
Mayfield may have joked about it in the press conference, but the missed throws definitely bothered him.
I know I can be better… and I will be. Job isn't finished, lot of ball left. We're 8-3 and not satisfied. That's the best part about this team.

— Baker Mayfield (@bakermayfield) November 29, 2020
The cold hard reality is that he's right.
He can get away (barely) with the missed opportunities against the 1-9 Jaguars.
But the Browns have tough opponents in the final five games of the season.
Most notably, next week's opponent, the Tennessee Titans.
And rematches to avenge two of their three losses this season with the Baltimore Ravens and Pittsburgh Steelers.
He does have to be better to lead his team to victories in these games especially if the defense is forced to forge ahead without its key players including Myles Garrett and Denzel Ward.
Baker's offense will need more points to win in the coming weeks.
Though Cody Parkey has been great, 7 points will be vital against those opponents; 3 will not suffice.