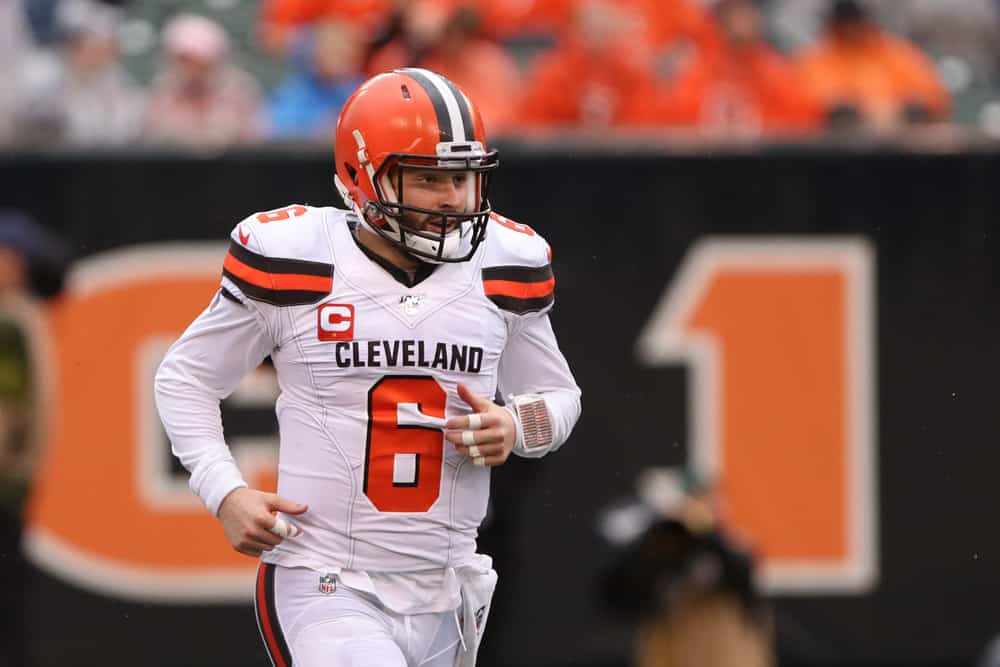 Move over Myles Garrett, Jadeveon Clowney, and Odell Beckham Jr., Cleveland Browns quarterback Baker Mayfield has dropped his own offseason workout video.
His physical fitness was significantly improved in the 2020 season, and it appears that Mayfield continues to push himself.
We witness weight work (both barbells and kettle bells), resistance bands, and overall agility training.
View this post on Instagram
Mayfield in 2021
He shoulders the pressure well, but he knows it is there.
Mayfield enters his fourth year with the best overall roster that the Browns have assembled in decades.
.@BaldyNFL on @BullandFox on #Browns: "Offensive line is as good as any in football. It's an elite group. Backs are an elite group. I think you're going to see a really good Baker Mayfield. If they step it up on D, we're looking at a team that can compete with anybody in the AFC"

— Keith Britton (@KeithBritton86) May 25, 2021
The expectations of a city and franchise who were pleasantly surprised last season that the Browns excelled as much as they did with a rookie coach, injuries, and a pandemic to manage.
Now, the Browns are in the limelight, and Mayfield's future in Cleveland is riding on his performance in 2021.
The team exercised his fifth-year option for the 2022 season, but everyone knows a successful season in the playoffs and possibly the Super Bowl could seal the deal for Mayfield's long-term future in Cleveland.
Week 1 Is A Hard Test
Which Week 1 matchup are you most excited for?

"How about the @browns vs. @chiefs? This is going to be a good one." 🍿@gmfb | @nateburleson pic.twitter.com/hHElfAwsV6

— NFL Network (@nflnetwork) May 12, 2021
There is no easing into the 2021 season either.
Week 1 at Arrowhead against the Chiefs who narrowly won the divisional playoff game in January is a tough opponent.
Mayfield needs to be at his best.
If the Browns lose, it has to be close.
There cannot be a repeat of Week 1 in 2020 when the Ravens completely dominated the Browns.
A Quieter Mayfield
It is no coincidence that Mayfield has been quieter since the 2020 offseason.
He has been going about his business to get football ready without being splashy and in our faces.
Mayfield still gives us the energy and charisma as well as a laugh or two especially when he shared that he saw a UFO during the offseason.
#Browns Baker Mayfield doubles down on seeing the UFO: "I'm a firm believer in UFOs and Sasquatch" pic.twitter.com/QqG6MQ4Z7E

— Mary Kay Cabot (@MaryKayCabot) April 26, 2021
However, his maturity and leadership are more prominent these days.
The Browns need a fit Mayfield, both mind and body, to be at his best to achieve the team's 2021 expectations.
Let's hope his offseason regime is the perfect preparation for what lies ahead.