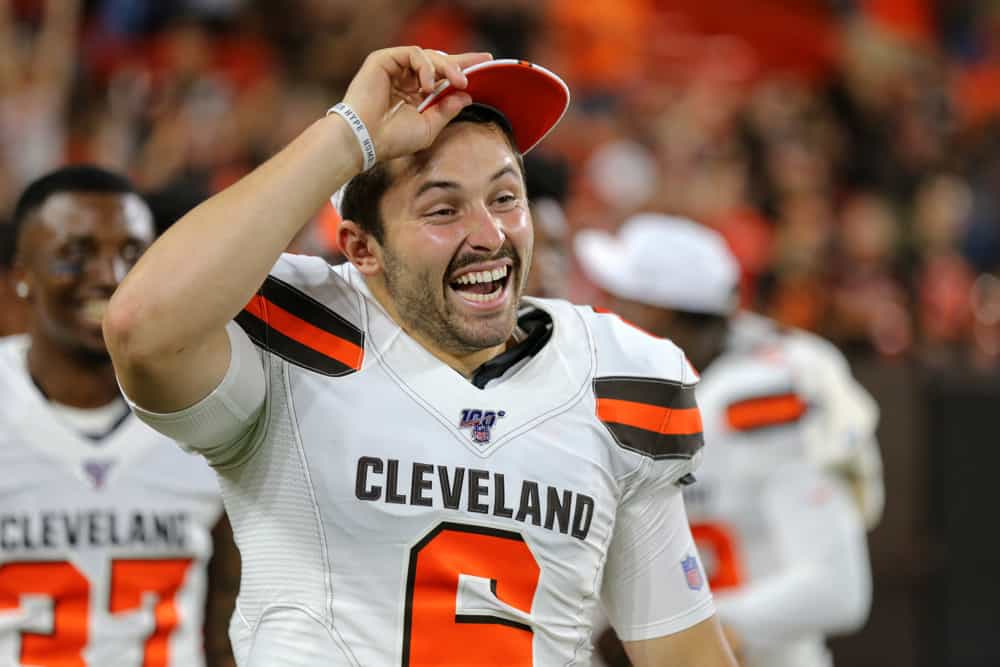 This was probably considered a 'Hail Mary' that actually worked.
An avid Cleveland Browns fan named Kyle Pringle took to social media to say his wife would allow their baby to be named Baker on one condition.
That is that Baker Mayfield himself would respond to the Tweet.
The wife probably thought she was in the clear because two days passed until Mayfield himself responded.
Here's how the exchange went.
Pringle was wise to call out both Baker and Emily Mayfield to improve his chances of success.
Hopefully I'm not too late on this…

— Baker Mayfield (@bakermayfield) March 23, 2021
No word on when the baby is due to be born, if Baker was too late, or if there is already another new little Baker walking around.
If Mayfield keeps playing like he did in 2020, the Cleveland area can expect a baby boom of little boys named Baker.
Offseason Baker Mayfield
Twitter Reacts to Baker Mayfield Chugging a Beer Stone Cold Steve Austin Style at Indians Game (Vid-Tweets) https://t.co/7g5YGlPv5d pic.twitter.com/QCHNCGiXuD

— Robert Littal BSO (@BSO) August 4, 2019
Baker Mayfield in the offseason used to be the guy chugging beers at the Indians game.
He has come a long way from those crazy days.
Fans appreciated the new and more mature Mayfield who spent the 2020 pandemic working out in his garage.
Killing these garage workouts. 🔥💪🏼 @bakermayfield pic.twitter.com/ot7HQNP6RA

— Emily (Wilkinson) Mayfield (@emilywmayfield6) March 27, 2020
In the 2021 offseason, Baker had a UFO encounter.
"Almost 100%, Em and I just saw a UFO drop straight out of the sky on our way home from dinner… we stopped and looked at each other and asked if either of us saw it… Very bright ball of light going straight down out of the sky towards Lake Travis. Anybody else witness this?"
Baker Is Connecting With New Players
At least three of the latest free agents signed mentioned Baker Mayfield in their press conferences.
S John Johnson III said that he and Baker share a mutual friend.
Both defensive end Takk McKinley and linebacker Anthony Walker said that Baker Mayfield was the first Browns player to reach out and welcome them to the team.
#Browns DE Takk McKinley said Baker Mayfield was the first to reach out and welcome him to the team after signing with Cleveland.

"For him to send me a text message, that right there means a lot."

— Camryn Justice (@camijustice) March 19, 2021
#Browns LB Anthony Walker said Baker Mayfield texted him right after the news of his signing broke.

"It's always nice to get that welcome."

— Camryn Justice (@camijustice) March 22, 2021
Baker Mayfield is assuming a leadership role with the Browns, another great sign of maturity.
Mayfield's 5th Year Option
It is only a matter of time before the Browns pick up Mayfield's 5th-year option.
The deadline is May 3; the dollar value of the option will be $18.85 million.
Given the dubious precedent of teams who negotiated extensions with their franchise quarterbacks, it is certain the Browns will exercise the option.
Those quarterbacks include Deshaun Watson, Jared Goff, and Carson Wentz.
Their teams exercised the fifth-year option but within a matter of months (and before kickoff of the season) negotiated the extension which essentially nullified the fifth-year option.
Those teams do not have GM Andrew Berry who may decide to let Baker play football with the fifth-year option dollar tag before making a more long-term decision or commitment.