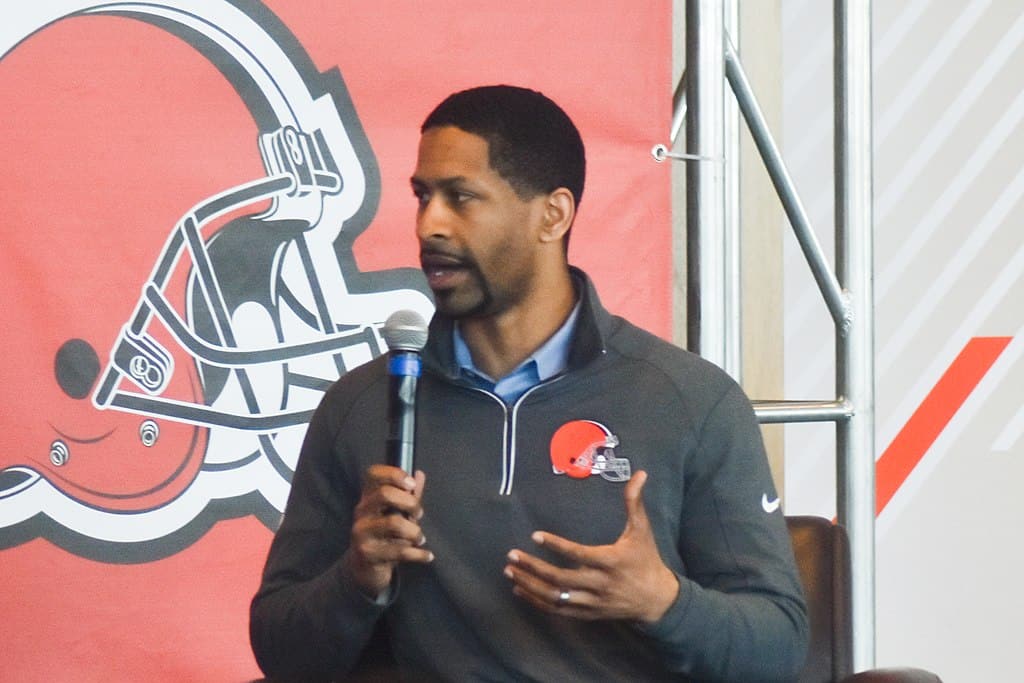 At 32 years old Andrew Berry became the youngest general manager in history.
That being said, his hiring came with a lot of expectations.
The Cleveland Browns were not in the best shape and needed significant changes.
The organization trusted Berry and gave him the final say over roster decisions.
In a short period of time, Berry overhauled the roster and helped the Browns get into the postseason in 2020.
Berry's First Offseason
Last offseason was Berry's first as general manager of the organization.
He quickly put everyone on notice and made a splash in free agency.
Cleveland landed two major free agents, which was rare for a team like the Browns.
However, Berry has changed that and made it a place that superstar players want to go.
Last year, Berry landed tackle Jack Conklin and tight end Austin Hooper in free agency.
The Browns made Hooper the highest-paid tight end in the league at the time of his signing.
The Browns have signed TE Austin Hooper to a 4 year $44 Million contract. pic.twitter.com/nJ3xVhPTxf

— Everything Cleveland (@everythingcle_) March 16, 2020
Hooper's first year in Cleveland wasn't perfect, but there is tremendous upside.
The fun doesn't stop there as Berry had a successful draft to go along with his free agent moves.
Cleveland selected Alabama tackle Jedrick Wills with the No. 10 overall pick.
A move that has looked good for the Browns as Wills might be a cornerstone piece on the offensive lines for years to come.
Jedrick Wills getting up and through the alley on DART like he's running the rock. Young man is so athletic.

Also, Wyatt Teller peeling here late to pick up 57's blitz saves this 3rd down. Teller has put together two very impressive starts to begin 2020. #Browns pic.twitter.com/yMpoKrZ4Mf

— OBR Film Breakdown (@TheOBRFilmBDN) September 19, 2020
That is not all, Berry might've also found the biggest steal of the entire draft class.
In the fourth round, the Browns selected Florida Atlantic tight end Harrison Bryant.
He didn't put up incredible numbers during his rookie season, but played a limited role.
However, there is a strong possibility that Bryant is going to be starting alongside Hooper in 2021.
Bryant might not be a Pro Bowl caliber player, but there is plenty of upside in his game.
It is always nice when you can find a potential starter in the middle or late rounds of a draft.
In Berry We Trust
The first year for Berry seemingly went perfect as Cleveland made the postseason for the first time in what feels like a century.
They also won a playoff game and knocked out their division rival Pittsburgh Steelers in the first round.
Although, his work isn't done as the Browns still haven't achieved their goal of winning the Super Bowl.
The organization has continued to be aggressive this offseason with multiple significant additions.
Cleveland has gone defense heavy in free agency, which is not a bad idea.
They signed safety John Johnson III, which could end up being the biggest steal of free agency.
The young safety took less money to sign with Cleveland and compete for a championship.
How things have changed in Cleveland: John Johnson says he had bigger offers in free agency but took less to sign with the #Browns. "It was the opportunity of a lifetime coming to a situation where things are moving in the right direction. That's rare." pic.twitter.com/Uc8pxoKl9z

— NFL Update (@MySportsUpdate) March 19, 2021
The Browns also brought in a handful of other players such as Takk McKinley, Anthony Walker, and Troy Hill.
Honestly, the overhaul on defense was much-needed as the Browns had a tough time stopping anyone last season.
Berry has certainly put this team in a fantastic position for the 2021 season and beyond.
The hiring of head coach Kevin Stefanski has proven to be an incredible decision.
The two of them might be able to bring a championship to Cleveland in the near future.