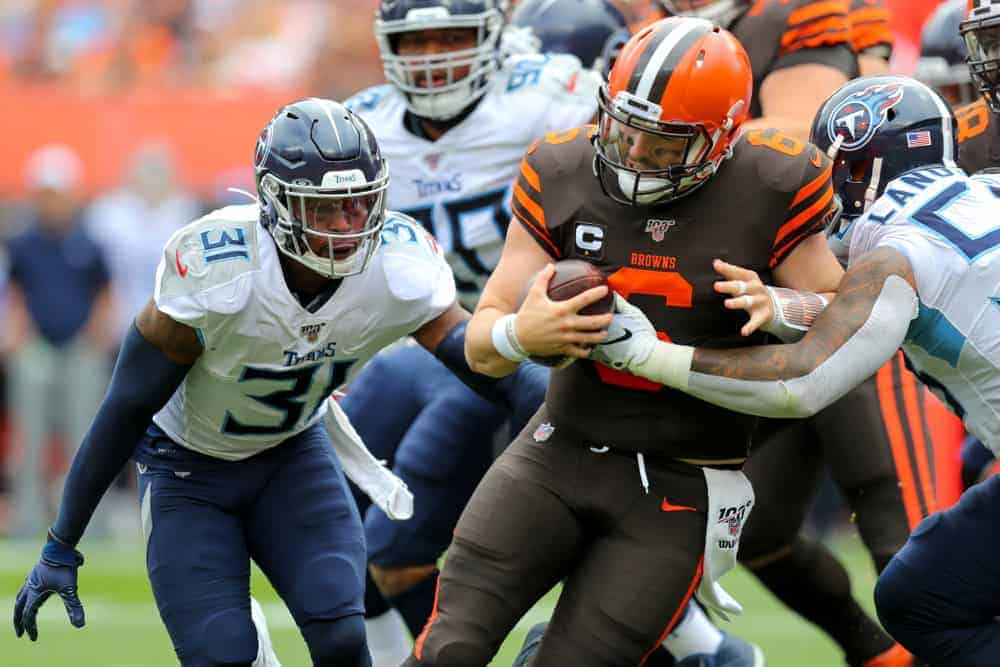 Few would argue Baker Mayfield's 2019 season was a significant disappointment.
You can count Baker Mayfield among them.
#Browns QB Baker Mayfield: "The past couple years have been a roller coaster of emotions, not having as much success…I lost myself in that." Says he wasn't able to be who he needed to be for teammates and he's found himself, again

— Keith Britton (@KeithBritton86) August 14, 2020
The Cleveland Browns quarterback held his first media session via Zoom this week.
During the question and answer event, Mayfield admitted he was lost at times in 2019.
"… going and having success all through high school and college and having that standard so high…the past couple of years have been a rollercoaster of emotions," he said, "and not nearly as much success as I'm used to, so I would say I lost myself by not having that success, not finding out what was working."
In further explaining his situation, Mayfield alluded to a lack of support or encouragement around him.
"You've got to find that confidence in yourself. That's what I based my whole story on my whole career on is confidence in myself and taking those chances. There were times – and these guys know – everybody has their moments, but you can't just hold on to yourself. You've got to have people to lean on and we have those guys here."
Mayfield has always counted on himself more than others.
But his statement plays into one of the knocks on former head coach Freddie Kitchens and his staff.
Baker Mayfield on Freddie Kitchens: "Guy's an idiot." 🤣🤣 https://t.co/ormKBYm1mH

— Footballism™ (@FootbaIIism) January 3, 2020
While Baker Mayfield played a role in putting Kitchens in his position, he either failed to seek help or was not offered support from the coaching staff.
That plays into the coach's sentiments that players should know how to play.
None of that completely exonerates Mayfield from his responsibility as an NFL quarterback.
He admits he gained weight as the season went on and his play on the field reflected that.
Kevin Stefanski Cures All Ills?
Mayfield went on to say he is in a far better place heading into 2020.
After an unflattering photo of him made the rounds early in the offseason, Mayfield started working.
"I'm in a much better place mentally. I put in the work. I'm just ready to roll, get back, attack get back to where I need to be for this team, this franchise," he said. "The reason I've gotten here is I've been myself. I've been able to attack each and every day with 100 percent effort.
He went on to credit the new coaching staff for their role in improving his outlook.
"Being able to do that and having the open communication with coach (Kevin) Stefanski, (offensive coordinator) Alex Van Pelt and the rest of the staff, we know what we're attacking each and every day."
Head coach Kevin Stefanski appears to be the anti-Kitchens so far.
He mentioned early in his hiring process that he wanted teachers as coaches, people with good hands-on methods.
Early in camp, Mayfield is already displaying one new twist introduced by Stefanski and offensive coordinator, Alex Van Pelt.
Baker Mayfield ➡️ Jarvis Landry.

Just the beginning.

Video Courtesy of the Cleveland #Browns. pic.twitter.com/THeZH28Ee6

— Camryn Justice (@camijustice) August 15, 2020
Both coaches mentioned Mayfield's footwork before they even met him.
Fans will notice their quarterback starting off on the opposite foot from his natural technique.
Stefanski made no secret the Browns' playbook is tailored to match Mayfield's strengths.
There might be a heavy amount of running in the game plan.
But that sets up Mayfield for plenty of play-action and the designed rollouts in which he excels.
And the quarterback's new physique- with less fat and 4 added pounds of muscle- will only help him find success.
Can Mayfield Avoid Another Funk?
Mayfield's admission plays into another concern in 2020.
What happens if the team experiences some diversity early on?
If Mayfield struggles out of the gait, can he recover?
@bakermayfield is it a post game loss ritual to shave a little bit of your face at a time??? pic.twitter.com/DMiXwStXsE

— The Jandalorian (@marsh4ll24) November 5, 2019
Cleveland opens against division-favorite Baltimore before facing two beatable opponents.
But they play Cincinnati on a Thursday night when weird things happen.
After facing Washington in Week 3, Dallas, Indianapolis, and Pittsburgh are up.
What will success look like to Mayfield and what if he falls short?
Target practice 🎯#BrownsCamp | @bakermayfield pic.twitter.com/PRQcIXb012

— Cleveland Browns (@Browns) August 13, 2020
Stefanski and Van Pelt are impressed with their quarterback's effort and mindset so far.
But they are better prepared to respond to any slip during the season.
Whether that means public and locker-room support or a spot start for Case Keenum.
At least one teammate believes in Mayfield's renewed persona.
Wide receiver Jarvis Landry told Mary Kay Cabot of Cleveland.com,
"He's the leader of the team. His attitude toward this season is at a heightened level. And it's fun to see him out here, smile on his face, making plays already."
That heightened effort and attitude are reflected among other players and coaches, too.
Perhaps the best thing Mayfield has going for him is the support and encouragement he felt he lacked last year.