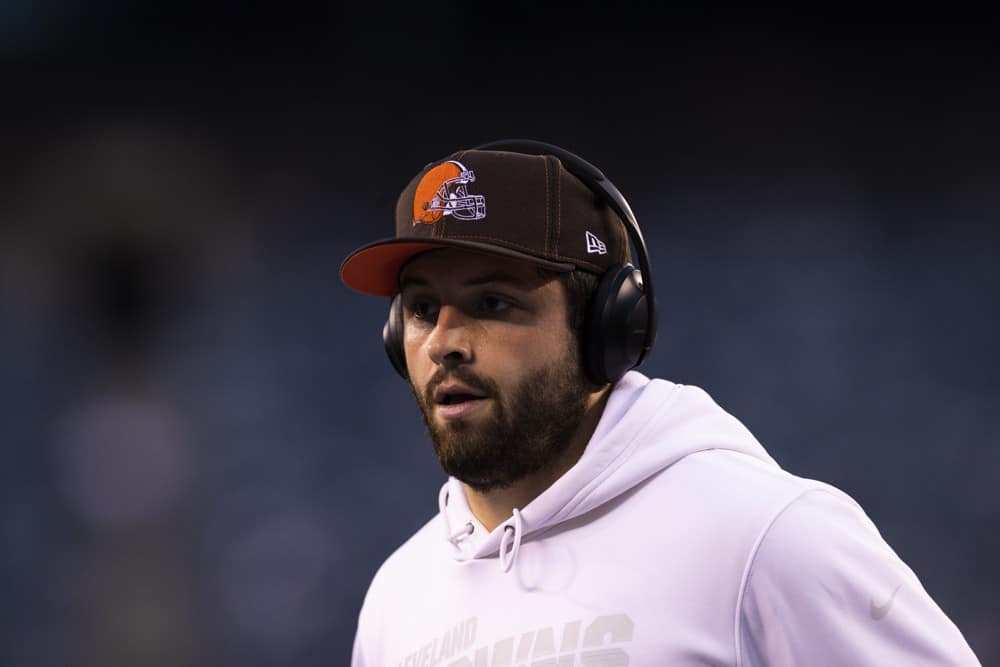 Leave it to the charismatic Baker Mayfield to put a smile on your face in even the most troubling of times.
The COVID-19 pandemic, racial injustice, and violent looting have more or less ruined 2020 up to this point.
Tensions are high, people are struggling, and things are just in rough shape.
So, many people tend to find some distraction or coping mechanism to help relieve some stress.
One guy that seems to be doing a solid job so far is Mayfield.
Per TMZ, Mayfield was in South Carolina to attend his cousin's wedding.
They also refer to his dance moves as "cutting rug" which has just gone way over this non-dancing writer's head.
Regardless, this show of fun energy in the form of dance should come as no surprise to fans of Mayfield, whether from Oklahoma or in Cleveland.
Boomer Sooner
The world was first turned onto Mayfield's dancing ability as a Sooner in Oklahoma.
Similar to the wedding, all eyes were on Mayfield in the middle of a dance circle.
This better be Baker Mayfield's first touchdown dance pic.twitter.com/udY96zuZKh

— Jemele Hill (@jemelehill) September 21, 2018
Little did we know, this was not the first time we'd see Baker go viral from a dance.
Rookie Year
Let's take it back to a photo and video shoot for EA Sports' "Madden NFL 19" prior to Mayfield's rookie season in Cleveland.
Along with some of the other more charismatic stars across the NFL, Baker once again got the hips moving,
Browns fans getting ready for next season like… @bakermayfield (via @EAMaddenNFL) pic.twitter.com/EwTP4DDoAm

— The Checkdown (@thecheckdown) February 6, 2019
Why is Baker Mayfield's dance lowkey hype😂😂 @bakermayfield pic.twitter.com/WypKhvtLKU

— Cameron Francum (@Cameron_Francum) August 13, 2018
A separate photo shoot for Fanatics saw Mayfield imitating some dances from the video game "Fortnite" as well.
On the Field
Of course, Mayfield's dancing ability has not been limited to just off the football field.
We've seen him bring it to the gridiron on plenty of occasions, both in training camp and before regular-season games.
The most famous, of course, is the imitation of the drums on Phil Collins' "In The Air Tonight".
Baker Mayfield and the drum solo from "In The Air Tonight": A Love Story 😂 @bakermayfield @Browns pic.twitter.com/OPvlIqJRKx

— The Checkdown (@thecheckdown) April 14, 2020
We've seen him dive a little deeper into his bag of tricks as well.
Feelin' it. pic.twitter.com/vNR6Pf6fFB

— Cleveland Browns (@Browns) December 16, 2018
Unfortunately, one of the consequences of expressing yourself like this as an NFL star is having fans throw it right back in your face when things do not go as planned.
Read some of the replies under any of the tweets from earlier.
Every single one of them features comments that essentially are telling Baker to focus on throwing touchdowns and winning games before dancing.
I find it incredibly hard to believe that imitating a three-second drum solo has ruined games for Mayfield in the past.
Quite frankly, it's better to have players acting a little goofy before (and sometimes during) games.
It lets them stay loose and temporarily escape the pressure of tens of thousands of people yelling and screaming at you.
Did Mayfield have a bad second season?
I would say so.
Did him dancing before games have anything to do with that?
Absolutely not.
Let the man live and have a little fun.
Plus, let's be honest.
He isn't the worst person we've ever seen on a dance floor.