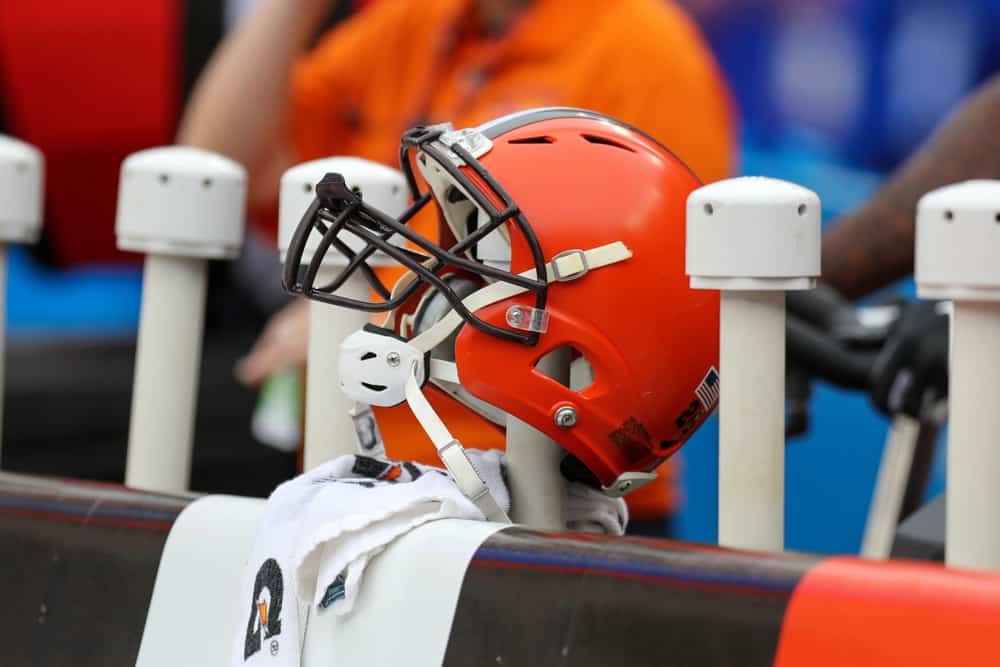 Cleveland Browns players joined others in reacting to the death of George Floyd and subsequent events.
Millions watched the video of a Minneapolis Police veteran kneeling on Floyd's neck as the 46-year old died.
The slow-motion response to the incident by law enforcement in Minnesota perpetuated the anger.
Protests and some violence broke out across the country and close to home.
Cleveland has shown up for George Floyd. pic.twitter.com/uliddDoglH

— Sam Allard (@SceneSallard) May 30, 2020
What started as a peaceful march in Cleveland Saturday led to some damage and multiple arrests.
In the middle of it all, many prominent Cleveland figures spoke out for peace and justice.
Several members of the Cleveland Browns joined them in making statements across social media.
Here are some of the players´ public reactions.
Jarvis Landry- Be Upset, Vote 
Jarvis Landry posted on Twitter.
We need a end goal!!
We have stories that go on for thousands of years about the police brutality, racism, death!!! The protesters that's out now are putting themselves in further danger and not without reason but what are we trying to accomplish??

— Jarvis Juice Landry (@God_Son80) May 30, 2020
Landry acknowledged the troubling history of racism but wondered if protesters had a plan.
He followed up with two more tweets.
One appealed to his followers to fight the matter at the polls.
PLEASE VOTE

— Jarvis Juice Landry (@God_Son80) May 30, 2020
Jarvis´ third tweet reflected the frustration of many.
His emotion came through with the use of words we can´t repost.
But basically, the Browns leading receiver said if we are not bothered by this weekend´s events, please unfollow.
Odell Beckham Jr- Violence Not the Answer, Pray 
Odell Beckham Jr also took to social media to express his thoughts in a series of eight posts.
He started off lamenting his loss for words that adequately say how he feels.
Beckham followed that up by saying "Violence is not the answer" before posting a prayer-like entry.
God …. I'm praying that u can place your healin hand of grace upon this world . We NEED u right now more than ever. This has gotta end. Enough is enough. It's that time

— Odell Beckham Jr (@obj) May 30, 2020
As can be expected, thousands of people responded to Beckham´s post.
But the reactions reflected the spectrum of issues and opinions on police brutality, racism, and rioting.
Beckham finished his initial run of posts with a simple thought.
I want better for us. Everyone

— Odell Beckham Jr (@obj) May 30, 2020
But just a few hours later, he posted a two-panel statement saying he would sign off on Twitter.
The blistering pace and rage of responses were too disheartening.
Beckham´s last entry is a retweet of Adam Schefter´s link to rapper and activist Killer Mike´s eloquent speech in Atlanta. 
Baker Mayfield, Larry Ogunjobi, Karl Joseph
Baker Mayfield reportedly hit Instagram to post this sentiment.
"Let's ALL be part of the change – NOW!"
View this post on Instagram

Browns' defensive tackle Larry Ogunjobi also weighed in, posting a photo of Chauvin kneeling on Floyd's neck on Instagram with the caption,
"This is what wrong looks like, & what's wrong is WRONG! Period."
One of the newest Browns weighed in with a lengthier statement.
Karl Joseph wondered aloud if he could have stood by as George Floyd died.
Joseph worked through the scenario of what if Floyd was a family member or friend.
Would he risk his life and leaving his daughter fatherless to intervene?
The free-agent signee acknowledged the good police and white persons he knows.
But he said "what is wrong, is wrong" before ending with this:
"Racism &Hate are taught, we aren't born that way. We have to make this country and world better for our kids and next generations. And that starts within. Stand up for what's RIGHT!''
JC Tretter- Challenge Prejudice and Racism
JC Tretter is the current president of the NFL Players Association.
He issued a lengthy statement in lieu of his usual column regarding the organization and players.
Tretter acknowledged some things are bigger than football, even if he never experienced them himself.
"As a white man, I will never fully understand the daily experiences and fears that people of color in this country live with. Sports have provided me an opportunity to form friendships with people from different backgrounds, races, religions, and beliefs. These friendships have helped broaden and shape my understanding of others' perspectives and struggles.
He offered that many people are hesitant or scared to articulate their thoughts on racism.
But he urged them to try and speak out because the issue is too important to let personal fear sideline anyone.
He ended the statement with this appeal to NFL fans and his membership:
"Racism is something that we all must take responsibility to end. As human beings, we need to identify and challenge prejudice, rather than deny it.
"Silence in the face of injustice only works to protect and perpetuate that injustice. People of color have long tried to communicate what racism in America feels like for them. We can all be better listeners, validators, and friends. Our work will never be finished until every American feels safe, free and accepted in our country."
The NFL Weighs in 
Roger Goodell signed the official NFL statement on the George Floyd murder.
— NFL (@NFL) May 30, 2020
The statement drew some ire, with many comments about the treatment of Colin Kaepernick.
Kaepernick´s career all but ended after he started taking a knee during the National Anthem.
His action was to draw attention to the matter of police brutality, especially against people of color.
As the NFL struggles to return to normalcy in preparation of an anticipated 2020 season, it will be interesting to see how many players opt to defy rules about on-field protests.