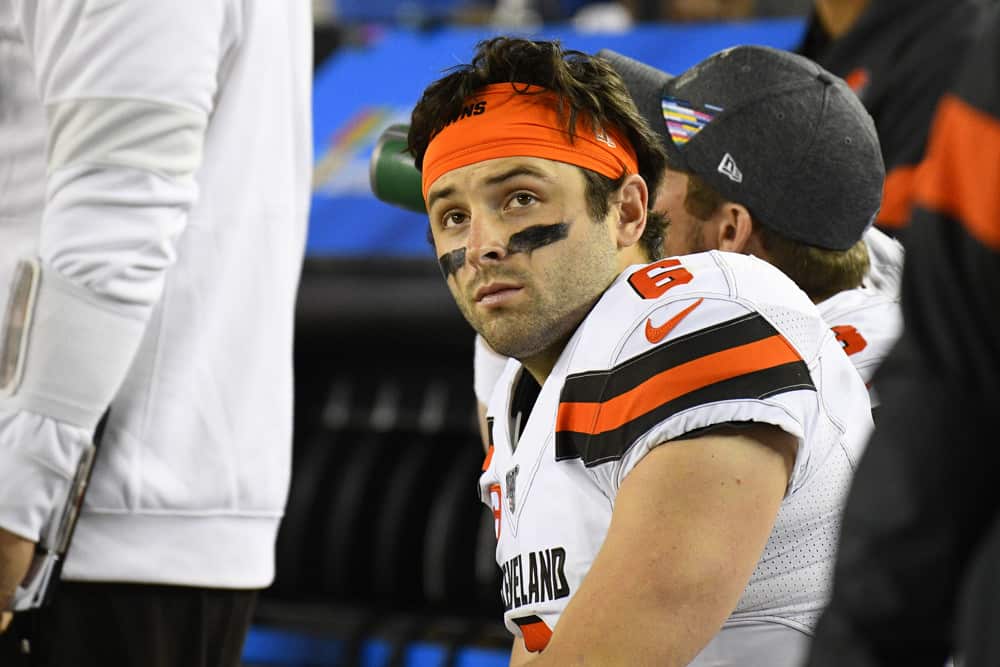 File this topic under the ever-growing list of weird things happening in 2020.
Cleveland Browns QB Baker Mayfield posted – and then deleted – a slide show on his Instagram of doctors alleging that the anti-malaria drug known as hydroxychloroquine is a COVID-19 cure.
Damnit Baker. pic.twitter.com/3pBFAKWZO6

— Cory (@realcorykinnan) July 30, 2020

Videos of these slides have been making the rounds before being removed from social media sites due to their inaccuracies.
Various sources have questioned the qualifications of the doctors appearing in the videos as well as their statements.
To provide context, the African American female doctor appearing on these slides and related videos is Dr. Stella Immanuel.
She has some rather interesting (and hair-raising) views on other issues like infertility which she has alleged is caused by demons.
Whelp @bakermayfield is a Dr. Immanuel "truther". There goes my respect

— Giuseppe Stromboli (@Riley_is_amazin) July 30, 2020

Sadly, there is so much fake news seeping into our society that it is often hard to figure out what is true and what isn't.
And there are no shortage of experts who want to influence us.
Austin Texas
Mayfield lives in Austin so he has been living in the heart of the worst and most rampid spread of COVID-19 in recent weeks.
Besides that, he is now jumping into NFL training camp, playing a contact sport like football, in the midst of a pandemic so he is understandably anxious.
Baker Mayfield, in great shape and ready for training camp.

Video Courtesy of the Cleveland #Browns. pic.twitter.com/CrQe3mGAk6

— Camryn Justice (@camijustice) July 31, 2020
The Browns are trying to safeguard the players.
We know that the Browns have gone above and beyond to try to keep the players safe.
Also, they have extensive contingency plans in place if players get infected.
Besides testing, Coach Stefanski outlined several procedures happening in training camp including:
Players are wearing contact bracelets around the facility to make contact tracing easy if necessary.
The full squad is broken up into two practice teams to keep the numbers down.
Masks are worn everywhere including during walkthroughs.
A weight room has been converted into a second locker room.
Conclusion
Baker Mayfield needs to focus on the task at hand at training camp and let the experts flesh out the specifics on COVID-19 remedies.
#Browns quarterbacks and rookies are in the strength and conditioning phase of training camp. Photo of Baker Mayfield courtesy of the Cleveland Browns. pic.twitter.com/DA2dHoQHLT

— Nate Ulrich (@ByNateUlrich) July 30, 2020
He must know by now that people will model what he says, does, or posts so he has to be careful where he wants to hitch his wagon.
All Browns really want him to focus on is staying safe, healthy, and getting football ready.