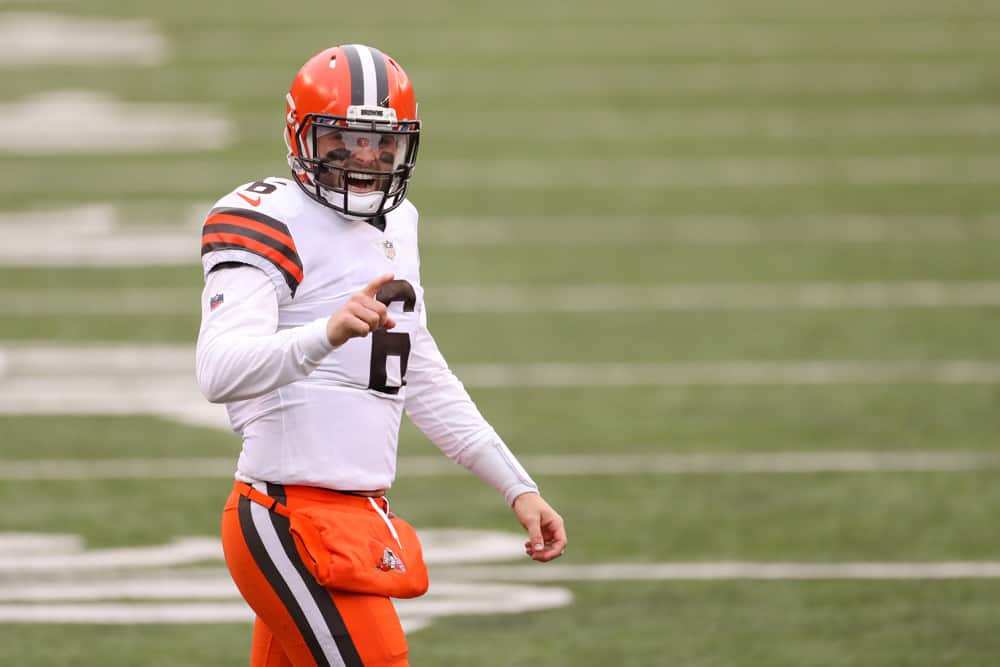 Cleveland Browns QB Baker Mayfield has had his share of ups and downs during the 2020 season.
Those peaks and valleys of his performance happened in the span of one game yesterday.
Against the Cincinnati Bengals, he started the game 0-5 with a costly INT.
That interception resulted in injuries to WR Odell Beckham Jr. and C JC Tretter.
So it's not surprising after being nearly perfect after that slow start, Baker let loose in the locker room.
The Dancing Video
#Browns More from Ronnie Harrison's live: pic.twitter.com/dg2Hv3pOlA

— Brad Stainbrook (BrownsWave) (@BrownsByBrad) October 25, 2020
Let's face it, most Browns fans were doing their own celebrating after yesterday's big win coming nearly at the end of regulation on this clutch TD pass and catch.
Donovan Peoples-Jones caught the game-winning TD for the Browns. @Detroit_CTFB | @UMichFootball pic.twitter.com/TErI8Rzpky

— Brad Galli (@BradGalli) October 25, 2020
@bakermayfield Phenomenal performance!!! Congrats on the W and game winning TD pass #Browns

— LeBron James (@KingJames) October 25, 2020
Baker Mayfield's celebration just happened to be caught on video.
2020 Pressure
The pressure has been on Mayfield since the end of a miserable 2019 season.
He worked very hard on his conditioning during COVID-19 quarantine.
His wife took pictures of his garage workouts.
Killing these garage workouts. 🔥💪🏼 @bakermayfield pic.twitter.com/ot7HQNP6RA

— Emily (Wilkinson) Mayfield (@emilywmayfield6) March 27, 2020
He was quiet and intense in the offseason with a laser focus on improving.
In a third season with a third coach and offense, he needs to perform to ensure he is part of the Browns future.
Light Hearted Baker
The postgame dance moves are a little reminiscent of the fun loving pre-2020 Baker.
Fans like to see it especially when it accompanies a big win.
And the weight of the organization is temporarily removed from his shoulders…until next week.
We don't need to regress the whole way back to the Baker who was a spectator at the Indians game in 2019.
#Browns quarterback Baker Mayfield shotgunned a beer at the Cleveland Indians' game, endearing himself to many but also making him a target for critics. What did you think when you saw it? https://t.co/LSV0BtOYVR
(via @Indians)pic.twitter.com/YRZBZEvHkx

— Tylt Sports (@tyltsports) August 5, 2019
But a little victory dance is more than fine.
Hope Baker is dancing his way to victory against the Raiders next week too.