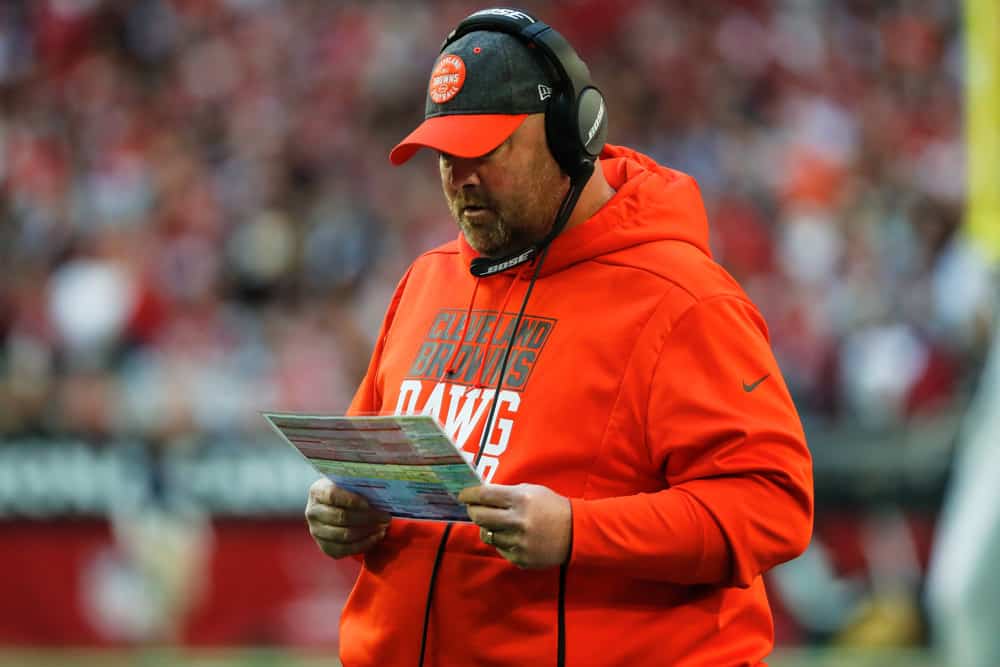 For most students who attend University of Alabama, the Crimson Tide football team is a significant part of their college experience.
Such was not initially the case with Ginger Van Oder.
Other than playing flag football with her sorority sisters, Ginger had little interest in football.
She grew up in McLean, Virginia, where football is not the obsession that it is in Alabama.
Ginger's connection with football changed when she was sitting in a computer class at the University of Alabama one summer and a boy sat down next to her and started talking to her.
The boy was Alabama quarterback Freddie Kitchens, although Ginger did not realize that she was having a conversation with a Crimson Tide football star.
"I wasn't into football and I think he liked that.  He liked that I wasn't a cleat-chaser, you know.  I had my own opinion about things – things other than football."
Freddie and Ginger did not start dating for two years after they first met.
Ginger had a serious boyfriend, and Freddie was dating other people.
In addition, Freddie was not used to dating someone who had an independent personality.
"I was probably the first person who ever put him in his place.  I went where I wanted to go, and he could either go with me or I'd see him later."
Yet, over time, the attraction between Freddie and Ginger grew.
Ginger ultimately dumped her boyfriend and started dating Freddie.
After she started dating him, Ginger would meet Freddie when he left the locker room after a game.
However, she would not actually watch the game.
"[Freddie] liked that . . . I wasn't into his business and he didn't have to talk to me about football so we could just have normal conversations."
Freddie got permission from Ginger's father to marry Ginger.
After graduation from Alabama, Ginger worked in Tuscaloosa, Alabama as a teacher, while Freddie was a car salesman.
However, Freddie soon moved on to coaching, getting his first job at Glenville State College.
Between Freddie's first coaching job at Glenville State College and his second coaching job under Nick Saban at LSU, Freddie and Ginger got married in year 2000.
Freddie and Ginger have two daughters, Bennett (now 17) and Camden (now 15).
It was at LSU that Ginger first started to regularly attend Freddie's football games, going to LSU games with other coaches' wives.
"They taught me a lot and made it real nice.  But we still don't talk football when Freddie comes home from practice.  His mood doesn't change with the wins or losses, and I don't have to be careful what I say.  Our life is nothing like that.  At work, he wants to win, and if they don't it bothers him.  But home is nothing like that and it's been real nice."
When Ginger went to the games, she did not listen to the comments of others.
"Everyone is entitled to their own opinion and I don't pay any attention to what they are saying.  I just have fun with the other wives."
Ginger has provided crucial support to Freddie throughout their marriage.
In 2013, after Freddie had emergency surgery to repair an aortic dissection, Ginger spent six weeks helping Freddie's recovery and rehabilitation.
Freddie stated
:
"She spent that whole summer taking care of me.  We just sat around together.  Once you have kids you lose those times.  That's one thing I am thankful for from that incident."
In addition, Ginger has supported Freddie as he has moved though his various coaching positions.
After LSU, Freddie was in the college ranks at North Texas University from 2001 through 2003 (when Ginger taught the third grade) and at Mississippi State in 2004 and 2005.
In 2006, Freddie moved to the NFL, coaching for the Dallas Cowboys.
After Dallas, Freddie coached with the Arizona Cardinals from 2007 through 2017 before moving to the Cleveland Browns in 2018.
The Browns promoted Freddie to his first head coaching position in 2019.
At his introductory press conference upon being hired as head coach of the Browns, Freddie recognized the critical role of Ginger in his life:
"I want to thank the most important person in my life, with devotion to me and for my calls, and just always understanding me and not understanding what I say, sometimes – sometimes, she will kick me in the what, you know?  But anyways, my wife Ginger, I would not be here without her."
#Browns Freddie Kitchens thanks "the most important person in my life" my wife Ginger. "I wouldn't be here without her''

— Mary Kay Cabot (@MaryKayCabot) January 14, 2019
Currently, Freddie is tight ends coach for the New York Giants.
There is no doubt that after more than 20 years around Freddie Kitchens, football is much more important in the life of Ginger Kitchens than she could have ever imagined when she arrived at University of Alabama.