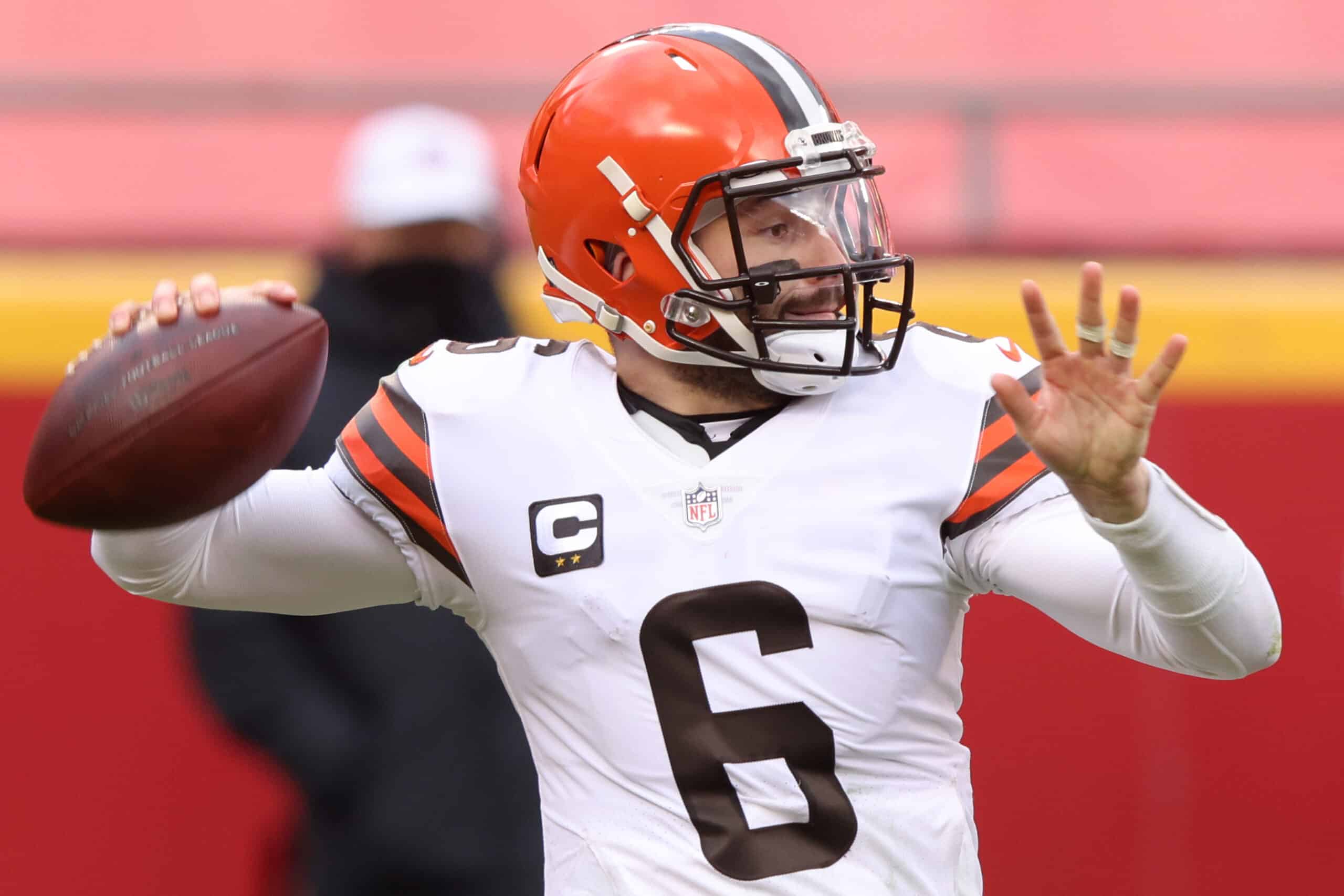 Could a big money payday be on the horizon for Browns quarterback Baker Mayfield?
On Wednesday, Mayfield's agent, Jack Mills, told TheLandOnDemand.com's Tony Grossi that he believed a long-term extension could happen this summer.
"We're not going to be dragging it out," Mills told Grossi. "I think there's been enough contracts done for quarterbacks lately that give us a pretty good idea of what the market is. And, of course, we know that the [salary] cap isn't going up this year but it's going up next year and next.  We pretty much know what's coming on down the road and what's been done. We don't have any particular reluctance about doing a deal. … But I think something will be done this summer. As far as trying to get a deal done, I don't know if it'll get done. It's something that would be pretty much in the team's control."
Baker Mayfield's agent on contract extension: "I think something will be done this summer"https://t.co/IFt1LElmsj pic.twitter.com/CiQ8kIcAm2

— Around The NFL (@AroundTheNFL) June 23, 2021
Nothing is certain, of course, and Cleveland could just as easily wait and see what Mayfield does in 2021 before deciding his next contract.
However, there is reason to believe that Mills may be correct in his assumption.
Comparison, Average, Projection
It is common sense that NFL agents are constantly looking out for their clients.
Their job is to consistently watch, examine, and forecast their client's performance and project how that performance stacks up to fellow athletes of their position.
An agent at all times calculates (among other intangibles) their client's net worth based on play on the field, how their client's play translates to wins for their franchise, and how the team would do without their client's play.
Next, an agent will compare his or her client to other performers at the position using many of the same metrics.
Typically, the agent will more closely look at the top four or five players in the NFL at the position.
Then, he or she will ask a hard question, "Does my client compare equally (or close to equal) in performance as these other players?"
If so, said agent will find the average of the yearly salary of the top players at the position to find a number that could reasonably be considered a starting point for a new salary.
The agent will enter into negotiations with their client's team armed with their starting number as well as projections of how their client will perform in the future.
If the team agrees with the projections and the number, a deal will (eventually) get done.
Pro Football Focus wrote an article last summer that included using a fairly straightforward calculation in projecting a player's worth.
The calculation performs essentially the same function as mentioned in the paragraph above.
In short, take the average per year of the top five players at the position and add them together.
Then, find the average of those five numbers.
After finding the average, you should conceivably have a number of reference to begin negotiations.
It goes without saying that this idea is nice and tidy.
As every football fan knows, contract negotiations are usually messy.
Various negotiations in the past have tended to leave both parties feeling hurt and led to defections or promised defections from certain players.
However, let's proceed with a little analysis to see if we might come up with a reasonable number for Mayfield's future contract.
Who are the Top Five?
Just for the fun of it, I started my research by looking to see how much Baker is worth now.
I stumbled across the site "Celebrity Net Worth" that stated his net worth at $12 million.
It appeared the site took into consideration Mayfield's contract amount plus his endorsements.
That's not bad.
But I believe that number will be a lot higher very soon.
It didn't take long to find the top five earners at the quarterback position in the NFL.
Using spotrac.com, at the top spot is Chiefs QB Patrick Mahomes.
Last July, Mahomes signed a monster contract for 10 years and $503 million.
He also received $477 million in guaranteed money.
That puts Mahomes' average per year (APY) at $45 million.
The money makes sense as Kansas City has reached the Super Bowl twice during Mahomes' tenure, winning it all two years ago.
No. 1 pick Garrett has the highest average annual value for a defensive player

No. 8 pick CMC has the highest average annual value for a RB

No. 10 pick Mahomes has the largest contract ever in sports pic.twitter.com/ztZj99ZEM4

— B/R Gridiron (@brgridiron) July 14, 2020
Next up is the Cowboys Dak Prescott.
After contentious negotiations, Prescott signed his new contract with Dallas this past March for four years, $160 million.  $126 million is guaranteed.
That puts Prescott's APY at $40 million.
The jury is out on how smart this contract is.
Prescott was setting the world on fire in 2020 before a gruesome ankle injury ended his season in Week Five.
Third on the money list is the Texans' Deshaun Watson.
Both Mahomes and Watson were drafted in 2017, one year before Mayfield.
Before last season, Watson re-upped with Houston for four years, $156 million, just under $111 million is guaranteed.
His APY is $39 million.
The Texans and Watson are mired in a dispute regarding Watson's desired departure.
Plus, at last count, there were no less than 22 active lawsuits against Watson for various forms of sexual misconduct.
Report: 'Settlement talks' in Deshaun Watson case #NFL #NFLTwitter #FantasyFootball Analysis: a step in the right direction for Watson's legal troubles. He still runs the risk of being suspended for a significant portion of 2021 pic.twitter.com/d3GdRQrtHu

— Belly Up Sports' MD's Fantasy Football Show (@bellyupmdffshow) May 15, 2021
The fourth QB on the list is Seattle's Russell Wilson.
Wilson signed a new deal with the Seahawks in 2019 for four years, $140 million.
$107 million is guaranteed.
That puts Wilson's APY at $35 million.
Despite all the speculation this past offseason about Wilson heading to a new team, he looks content (for the time being) to remain in Seattle.
Last on the Spotrac list is Green Bay's Aaron Rodgers.
Technically, Detroit's Jared Goff is making the same APY as Rodgers, but I'll just stick with the Pack's signal-caller.
Rodgers is currently playing on a four-year, $134 million contract with just under $99 million guaranteed.
His APY is $33,500,000.
Much like Wilson, this past offseason has seen trade rumors galore for Rodgers, who reportedly wants out of Wisconsin.
Furthermore…
Before moving on, let's do some more quick comparisons.
First, the ages for Mahomes, Prescott, Watson, Wilson, and Rodgers are, respectively, 25, 27, 25, 32, and 37.
Mayfield is 26.
I was also interested in the win/loss record for Mahomes, Prescott, and Watson before they received their new contracts to compare against Mayfield.
I didn't look at Wilson and Rodgers because their sample size is much larger and they are not playing on similar contracts as Mahomes, Prescott, and Watson.
From 2017-2019, Mahomes was 24-7.  He received his contract before the 2020 season.
Prescott was 42-27 from 2016-2020.
He signed his new deal a few months ago.
Watson was 24-13 before signing his deal before 2020.
Between 2018-2020, Mayfield's record was 23-22.
As mentioned, Mahomes has played in two Super Bowls.
Watson played in the postseason in the 2018 and 2019 seasons.
Prescott also played in the postseason twice (2016 and 2018).
This past year, Mayfield helped lead the Browns to their first postseason appearance since 2002.
He also led the team to an upset of division rival Pittsburgh in the Wild Card round and narrowly lost to Mahomes and the Chiefs in the Divisional Round.
Baker Mayfield's first career playoff start:

🔸21-34
🔸263 yards
🔸3 TDs pic.twitter.com/VbyWd6pDFN

— PFF (@PFF) January 11, 2021
Last, I was curious at how much each of the top five (plus Mayfield) will be paid in 2021 (or "Cap hit" as Spotrac calls it).
Mahomes will receive around $7.4 million, which jumps to $35 million in 2022.
Prescott will get $22.2 million this year.
Watson's cap hit is just north of $15.9 million.
Wilson will count $32 million and Rodgers just above $37.2 million.
Baker's cap hit in 2021 will be $10.5 million.
The Numbers
Using the formula from PFF, I added the APY for each of the top five QBs.
Then, I found the average of the five and got a total of $38.5 million (feel free to check my calculations).
If I take that total and multiply it by a four-year deal (which is what Prescott, Watson, Wilson, and Rodgers signed) I get $154 million.
If I multiply the total by a five-year deal, the number jumps to $192.5 million.
I seriously doubt the five-year deal would be under consideration.
However, the four-year deal looks better and would put Mayfield just behind Prescott's $160 million and Watson's $156 million deals.
Analysis
Is this feasible?
Is Mayfield worth $154 million?
I'm guessing a plethora of Browns fans would unequivocally give a resounding "Yes!"
After all, Baker showed what he is capable of in 2020.
He is surrounded by a very good team and one of the best coaching staffs in the business.
New episode of "The Browns Nation Station": https://t.co/lkS1yitAAa
🏈 Working out in Texas 🆚 at the Berea facility
🏈 Which players should the Browns prioritize signing to an extension among Mayfield, Chubb, Ward & Teller?
🎙: @opperman_pat, @kubitzawrites & @BrownsNationcom

— Mark Bergin (@mdbergin) June 16, 2021
Is he better than Prescott and Watson?
Both players are extremely talented and their respective organizations would not succeed without them.
However, Prescott is coming off a serious injury and Watson may not play again due to his legal troubles.
Without Mayfield, the Browns offense would be stuck in neutral.
Despite what some naysayers have said about him, Mayfield has shown an ability to improve and has thrived under Kevin Stefanski.
Baker is slightly older than Mahomes and Watson, but younger than Prescott.
Prescott and Watson have two postseasons under their belts to Mayfield's one.
However, there isn't a sensible prognosticator alive that is betting against the Browns making the playoffs again this year (and for years to come).
Both Wilson and Rodgers would make less than Mayfield, however, they are both older than Baker.
It could be said that Rodgers is nearing the end, although that end may be at least three to four years away.
There have been a few writers who have suggested that Mayfield won't get paid as much as Wilson or Rodgers.
In fact, they have speculated a new contract of around $30 million per year for Baker.
That does make sense.
However, the market now tells us that (in the minds of the Cowboys and Texans) Prescott and Watson project higher than Rodgers and Wilson.
Is that accurate?
Probably not, but you never know.
This is the point where talking heads have cautioned the Browns to wait and see what Mayfield does in 2021.
If he continues his ascension, he is worth every penny.
If not, Cleveland could be justified in paying him well under market value.
However, it may be smart to get a deal done now.
That way, the Browns get a contract more to their liking and they may end up with a bargain should Mayfield and the team achieve loftier heights this year.
Conservatively, I believe the Browns will offer Baker between $134-$140 million on a four-year deal IF they try and get a deal done before the upcoming season.
If they wait, and the Browns shake up the world in 2021, that number might just balloon close to, or exceed, Prescott's deal.
Or, Mills and Mayfield will wait to see what fellow 2018 draft picks Josh Allen and Lamar Jackson do.
If, as expected, they sign huge contracts, Mayfield could piggyback off their deals for something similar.
That may hamstring the Browns, however, when they look to sign their next wave of players.
Will Mayfield sacrifice more dollars to ensure Wyatt Teller will stay and continue to block for him?
We'll find out soon enough.