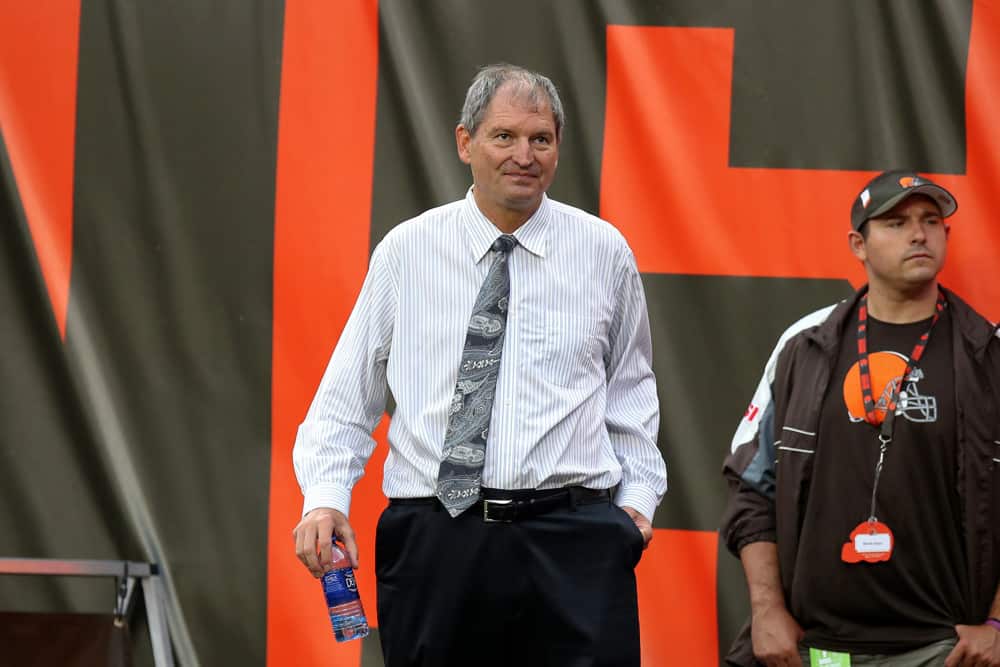 A Profile of Bernie Kosar
Bernie Kosar is a name that many Cleveland Brown fans still bring up when referring to their recent struggles to find a great quarterback.
Kosar may have been the last great quarterback to play for the team, and since he left in 1992, it is worth knowing what he brought to the squad during his playing years.
Bernie Kosar History
Bernie Kosar started his football career at the University of Miami, running a pass-oriented offense.
Under his skillful hand, his team went 11-1 in 1983 as he started all 12 games as a freshman.
His 31-30 win over Nebraska in the Orange Bowl saw him throw for 300 yards and two touchdowns and earned Miami its first national championship.
Kosar earned MVP honors for his performance.
Kosar graduated in 1985 with a double major in finance and economics and graduated early after taking 18 credit hours in the spring of the year.
And while his drafting into the NFL was a mess – a controversy that deserves a separate article – he was eventually selected by the Cleveland Browns.
Kosar had expressed interest in playing for the team as a native Ohioan, in spite of a 5-11 record the previous year.
Kosar was initially intended as a backup but became the permanent starter in the 1986 season.
Under his steady leadership, the Browns earned a 12-4 record and nearly another spot in the Super Bowl after a stunning 23-20 come-from-behind victory against the New York Jets, in which Kosar threw a record 489 yards.
Only "The Drive" by John Elway the next week kept the Browns out of the Super Bowl.
Unfortunately, injuries in the next two seasons kept Kosar out of the game for extended periods.
When he did play, though, he remained a consistent and compelling quarterback. He helped the team get to their third AFC Championship game in four years in 1989 but lost again to Denver.
Kosar was later released by last Browns head coach Bill Belichick.
Post-Football Career
Bernie Kosar had a very active post-football life that included hosting the Nestle/Berne Kosar Charity Classic in Ohio.
Kosar also purchased the Florida Panthers NHL team in 2001 with his partner Alan Cohen.
And Kosar brought Arena League Football to Cleveland after purchasing a minority share in the Las Vegas Gladiators and helping to move them to Cleveland in 2008.
Kosar has had many other business dealings, including working with the Browns as a consultant.
However, he has also become an ambassador for the effects of concussions on NFL players and has helped to draw awareness to this problem.
Kosar has experienced many adverse symptoms related to his concussions, including slurred speech, ringing noises in his head, and sporadic insomnia.
Kosar also struggled to manage alcohol addiction but has sobered up considerably.
In fact, Kosar has helped to raise awareness for a unique concussion treatment method over the last few years.
This treatment method has helped him regain many of his pre-football abilities and has minimized other concussion effects.
He has also spoken out against the NFL and the way that it ignored the dangers of concussions.
Other players have since joined him in this crusade and have helped to raise awareness of the risks of this problem.
Bernie Kosar Stats
Kosar started his career in Cleveland in 1985 and played 12 games during this season.
His completion percentage was solid: out of 248 throws, he connected on 124. He picked up a total of 1,578 yards to average 6.4 per completion.
This season also saw him score eight touchdowns as a passer.
In his first 16-game season in 1986, Kosar connected on 310 passes out of 531 for a completion rate of 58.5.
He gained 3,854 yards, a career-best, in this season for an average of 7.3 yards per pass.
Kosar also threw for 17 touchdowns, his third-best season at this metric.
Next year saw his completion rate rise to 62 percent as he gained 3,033 yards and scored 22 times, a career-best for Kosar.
Kosar's stats remained impressive throughout this period, as he routinely hit 60 percent or more of his passes and threw for 3,000+ yards in two more seasons.
Kosar's numbers started to decrease in 1982, though, as he was limited to just seven games.
He still threw for 1,160 yards and had a completion rating of 66.5 by hitting 103 of 155 passes and eight touchdowns.
The Browns eventually traded Kosar to the Dallas Cowboys in 1993, where he played four games.
He connected on 36 of 63 passes for a completion percentage of 57.1 percent and three touchdowns.
He was then traded to the Miami Dolphins the next year, where he played sporadically but successfully until he retired after the 1996 season.
When Kosar retired, he had completed 1,994 passes out of 3,365 for a completion percentage of 59.3.
His total yardage was 23,301, and he had scored 124 touchdowns as a passer.
His interception count was 87, meaning that he scored and connected much more often than he threw interceptions. His career quarterback ranking is 81.8.