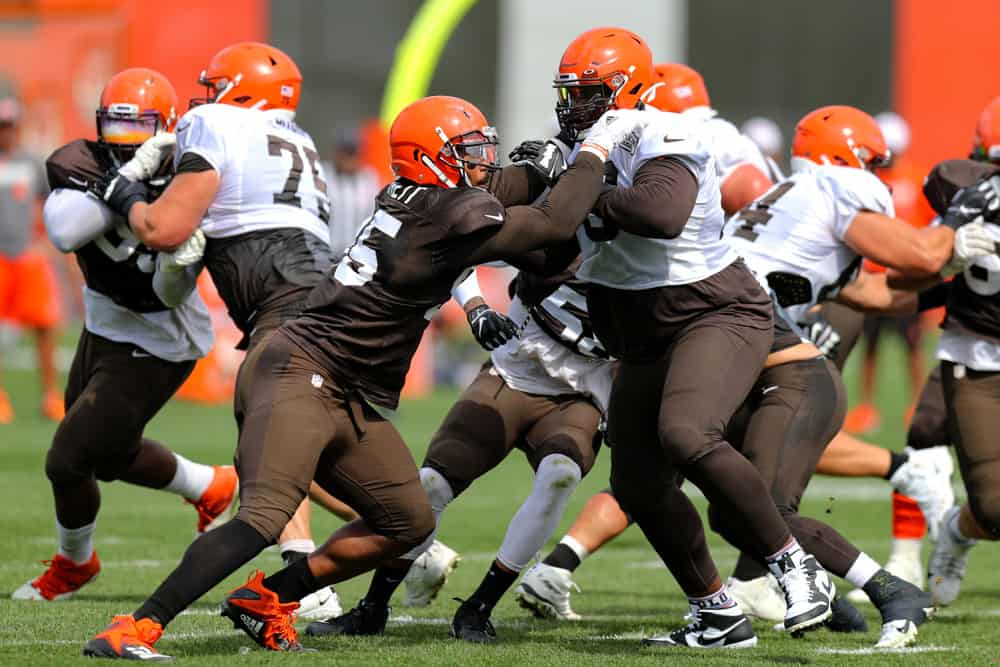 Cleveland Browns Training Camp
Every year, the Cleveland Browns travel to Berea, Ohio to start their annual training camp.
Many fans attend this camp and experience the chance to interact with their team in a fun and engaging way.
Fully understanding this camp can help fans know whether or not they want to attend or not.
Let's take a look at Cleveland Browns training camp and how to make the most of this experience.
Basic Training Camp Facts
Every Browns' training camp takes place at The Cleveland Browns Training and Administrative Complex in Berea.
This center located on the campus of Baldwin-Wallace College and is open from late July to late August before the season begins.
Admission is free, which means fans can come and go as they please.
However, event availability varies depending on attendance – first come, first serve.
However, fans cannot simply show up to events without getting tickets from the Browns mobile app or from the training camp website.
These tickets are free but help to control the influx of fan attendance and ensure that the facility doesn't get too crowded.
Fans can print these tickets from their computer or show the digital ticket on their phone before they enter the facility.
Free parking is available at the university, and a free shuttle helps to connect fans to the facility.
Inside the training complex are bleachers, wheelchair seating, food concession stands, a memorabilia shop, and a variety of fun activities.
These activities are what drawn Browns' fans to this event every year, and they are designed to both celebrate the team and engage with the fans.
How the Browns Engage With Fans at Camp
The Cleveland Browns take their training camp very seriously and focus heavily on using it to engage with fans and provide a fun and unique experience.
Just a few ways that they reach this goal include the following fun activities:
Autographs – Certain players sign autographs following each training camp session
Blood Drives – Every year, the Browns help support the area by hosting a blood drive during training camp
Browns Give Back – Fans get the chance to interact with players through unique volunteering opportunities for their community
Browns Puppy Pound – Local pet shelters bring pets to training camp and teach fans about the prevention of cruelty to animals
Browns Merchandise – Fans who want jerseys, pendants, or any other Browns gear have plenty of chances to buy some
Browns Play Football – Young fans get the chance to run football drills with real Browns players and receive photos of their experience
Bring the Dawgs Out – On specific training days, local youth and high school football teams get the chance to meet Browns player and coaches before practice
Other activities to expect include Jr. Browns Day, activities hosted by Discount Drug Mart, screenings and giveaways from University Hospitals, beverage options, a cooling station, military appreciation day, hot dogs, and more.
Availability to all events varies based on attendance.
Rules for Training Camp
Anyone who wants to attend the Cleveland Browns' training camp must follow specific rules.
While the team wants fans to have fun and enjoy themselves, they also want to make sure that everyone is safe and protected from injuries and other issues.
The rules below are just a few set up by the organization to ensure that fan, player, and coach safety is as high as possible:
No smoking anywhere in the training camp facility – fans must leave the camp to specified smoking areas
All weapons, including guns, knives, and any other potentially dangerous and lethal items are prohibited from the premises
Noisemakers – such as air horns – are not allowed, as these distract players and annoy fans trying to interact with players
Laser pointers and their use are strictly forbidden and may be confiscated if misused on the premises
Animals – except some therapy pets – are not allowed in the Browns' training camp, especially during live practices
Alcohol beverages or non-alcoholic beverages in cans or bottles are not allowed – plastic and boxed containers may be enjoyed
Soft-case coolers may be brought to camp, but hard-plastic coolers are not allowed
Cameras may be brought to the facility but cannot be used in a distracting way, and no photos can be used for commercial purposes – they may be reproduced for personal enjoyment, however
Items such as umbrellas, strollers, portable folding chairs, diaper bags, lawn chairs, fanny packs, backpacks, and other items are allowed but will be inspected for safety purposes
These few simple rules should be easy for most respectable and mature Browns fans to follow.
Training camp is not a game, where loud behavior and alcoholic drinks are tolerated.
It is a serious and professional experience for the players and a great time for fans to interact with their favorite Browns and get autographs, watch them practice, and more.