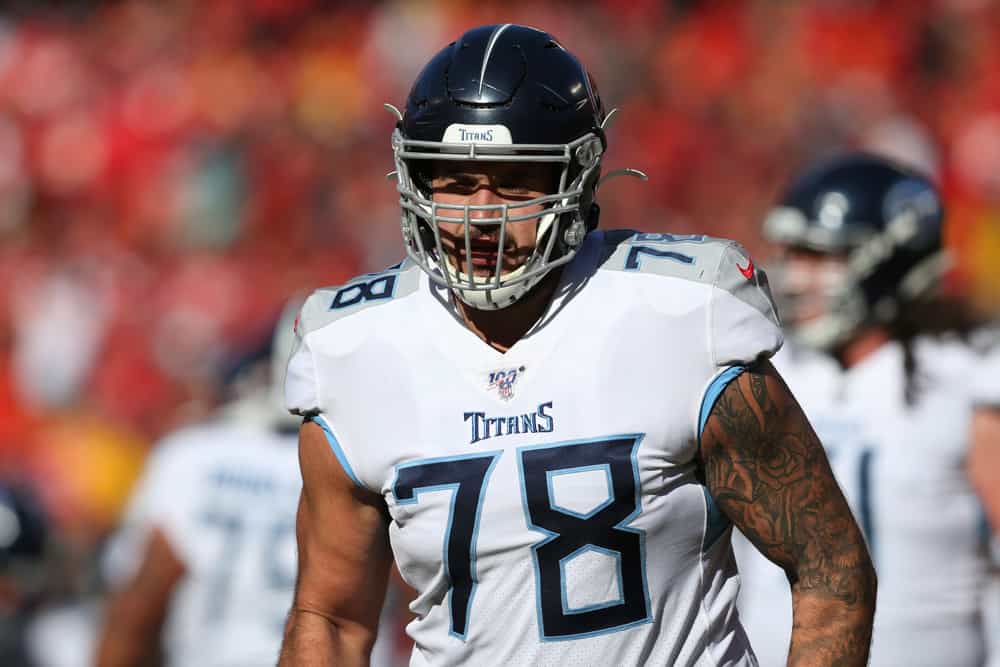 One major area the Cleveland Browns needed to focus on this offseason was upgrading the offensive line.
Finding reliable talent on the offensive line was a focal point for the organization this offseason.
#Browns sign Jack Conklin to a 3 year $42M deal, making him the 3rd highest paid RT per year, 2nd most fully guaranteed ($30M), and 5th highest paid in total value.

— The GOAT House (@GoatHouseNFL) March 16, 2020
The Browns wasted little time during free agency and locked up right tackle Jack Conklin.
The former first-round pick landed a massive contract, but is expected to play a big part on the Browns offensive line.
Newly hired offensive line coach Bill Callahan believes Conklin is a perfect fit for the Browns offense.
Why Does Callahan Like Conklin?
Callahan mentioned that he first saw Conklin at Michigan State and thought he was outstanding during college.
He goes on to say that Conklin had success with the Tennessee Titans, but unfortunately dealt with injuries at times.
Conklin played in all 16 games for three seasons with the Titans, but missed some time in 2018.
Despite a few injuries, Conklin has been a lockdown player at the right tackle spot for four seasons.
"You talk about a system fit, you could not get a more perfect tackle in free agency than Jack," says Callahan.
Offensive line coach Bill Callahan live: https://t.co/KD0zLOXpdf

— Cleveland Browns (@Browns) May 14, 2020
"I am really looking forward to digging down in the trenches with him and seeing how we can tweak some things and help his game," said Callahan.
Callahan believes that Conklin has the skill set, technique, and toolbox to be a fantastic option on the Browns offensive line going forward.
Conklin's Career
The Titans selected Conklin with the No. 8 overall pick during the 2016 NFL Draft.
He immediately made an impact on the team and earned first-time All-Pro during his rookie campaign.
However, knee issues plagued him during the 2017 playoffs and 2018 regular season.
Conklin returned healthy and put together a fantastic 16-game performance for the Titans in 2019.
His great efforts helped pave the way for running back Derrick Henry to run all over opposing defenses.
He is better known for his excellent run blocking, but Conklin can be trusted in pass protection as well.
The Titans decided to decline his fifth-year option, which is why he was a free agent in 2019.
The Browns are excited to have him as part of their offensive line going forward.
How Else Did the Brown Improve Their O-Line?
Bringing in a reliable option like Conklin was a good start, but the Browns weren't done there.
They selected Alabama offensive tackle Jedrick Wills Jr. with the No. 10 pick during the 2020 NFL Draft.
He was projected as one of the best tackles going into the draft, so Cleveland may have drafted a star in the making.
#Browns O-line coach Bill Callahan expects to plug and play Jedrick Wills immediately at left tackle.

— Scott Petrak ct (@ScottPetrak) May 14, 2020
Callahan believes that the rookie tackle can immediately slide into the starting left tackle spot in Cleveland.
Wills looked fantastic at Alabama, so there is a good chance that Callahan is right on that one.
The Browns still have some work to do on the offensive line, but this is a great start.
Both Conklin and Wills should be huge upgrades from the disastrous performances at the tackle spots last season.
The Browns appear to be in good shape on the offensive line heading into training camp.