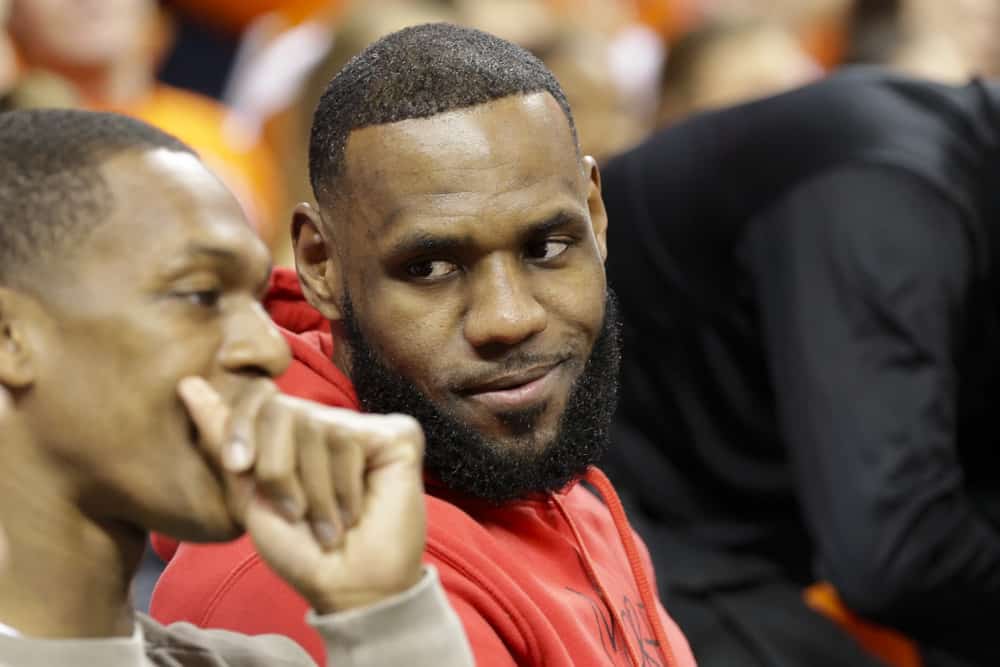 On Wednesday, Houston Rockets guard Austin Rivers had his father Doc Rivers on his podcast, Go Off with Austin Rivers.
The elder Rivers, a future Basketball Hall of Famer, has coached against LeBron for the majority of his NBA career.
He thinks that King James, who is one of the best NBA players of all-time, would also be the NFL's best player.
Austin Rivers & Doc Rivers agree on LeBron James being the greatest athlete of all-time

"I really believe if LeBron James had to play football, he may have been the greatest football player ever."

(🎥 @uninterrupted ) pic.twitter.com/T48KRneg0z

— NBA Central (@TheNBACentral) May 13, 2020
The three-time NBA champion could have played with some impressive college stars if he took the pigskin route instead of hitting the hardwood:
Imagine if LeBron James would have committed to USC in 2003 for football. Matt Leinart, Reggie Bush and LeBron James on the same team. Sheesh. pic.twitter.com/EVem6mDTI2

— ThrowbackHoops (@ThrowbackHoops) March 22, 2020
LeBron's Connection to Football
The three-time NBA champion and 16-time All-Star entered the league in 2003 after being selected No. 1 overall in the draft.
According to Rivers, LeBron could have been a first-round selection.
The Cleveland Browns maybe could have drafted him with the No. 13 overall draft pick in the 2006 NFL Draft.
LeBron could have played three years of college football anywhere in the country, but he does have a strong connection to Akron, Cleveland, and the rest of Ohio.
Therefore, he could have joined the Ohio State Buckeyes:
.@KingJames gifted the ⭕️hio State football team brand new headphones 🎧

(via @OhioStateFB) pic.twitter.com/wuvTLTgf0s

— ESPN (@espn) December 27, 2019
LeBron and new Lakers teammate Anthony Davis have shown their football skills on the court at Staples Center:
.@KingJames and @AntDavis23 playing a little football to warm up 😂 (via pablo024/Instagram) pic.twitter.com/w8rdxonqkE

— SportsCenter (@SportsCenter) October 28, 2019
LeBron and fellow NBA star Kevin Durant have had their fun on the football field, too:
Who remembers that time @KingJames + @KDTrey5 faced off on a football field? 👀 #tbt pic.twitter.com/hZthNb5S99

— NFL (@NFL) May 31, 2018
Could LeBron Have Made It as a Tight End?
Hall of Famers Tony Gonzalez and Shannon Sharpe as well as Antonio Gates and Jimmy Graham played college basketball and went on to be tremendous tight ends in the NFL.
Jason Witten, who is ranked second in receiving yards all-time among tight ends, played high school basketball.
Gonzalez owns the most receptions (1,325), receiving yards (15,127), and second-most receiving touchdowns (111) among tight ends all-time.
Gonzalez is sixth all-time among all NFL players in receiving yards.
Graham and Sharpe rank in the top 10 all-time in receptions, receiving yards, and receiving touchdowns among tight ends.
With the San Diego Chargers, Gates owns the record for most receiving touchdowns by a tight end in NFL history.
Gonzalez and Gates both rank in the top eight all-time among all NFL players in career touchdowns.
Gates' 116 touchdowns will certainly get him to the Pro Football Hall of Fame in Canton, Ohio.
Instead of eventually being enshrined in Springfield, Massachusetts, LeBron could have been inducted into a hall of fame in his home state.
If LeBron wanted to find a way to get the upper hand on Michael Jordan, an impressive stint in the NFL could have been the way.
According to Rivers, James would have been much better at football than Jordan was at baseball.
At 6′ 9″ and 250 pounds, James would have been able to outjump most of his competition and could have amassed more than 100 receiving touchdowns in his NFL career.
James may have also been able to bring the Browns to the next level and help them make the postseason multiple times.