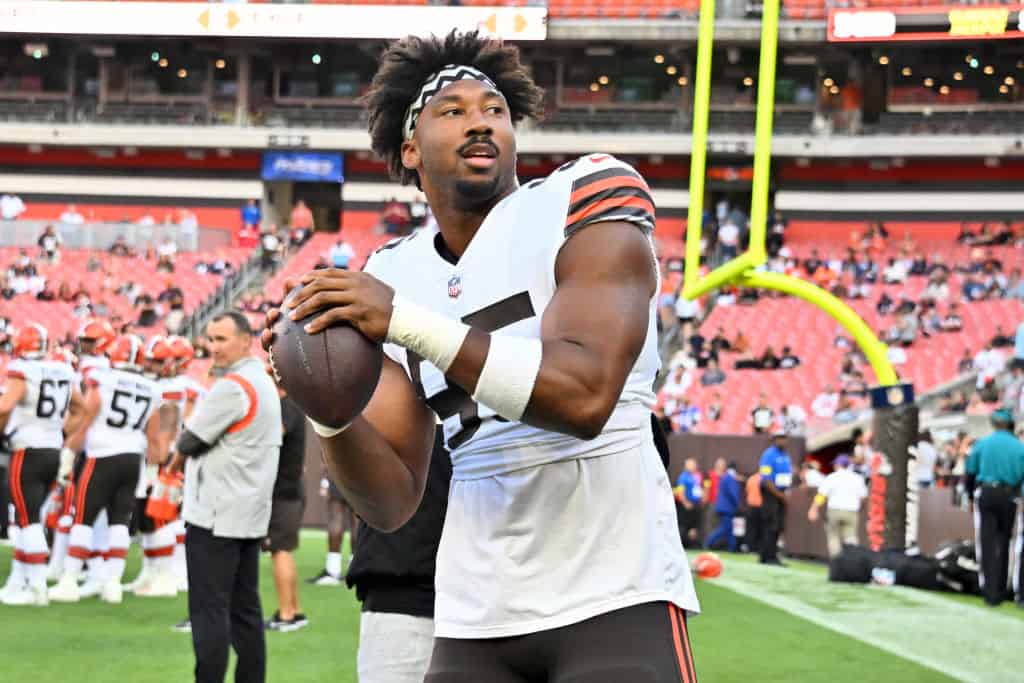 The Cleveland Browns had a disappointing season in 2022.
After finishing 7-10 and in last place in the AFC North, the Browns were far from what they set out to achieve.
Part of the reason for their poor season was that Deshaun Watson was suspended for 11 games.
Jacoby Brissett stepped in at quarterback and did an admirable job, but the offense lacked juice.
Some of the bright spots on the Browns this season were their Pro Bowl players.
That includes Nick Chubb, Joel Bitonio, Myles Garrett, and Wyatt Teller.
All of those players were in attendance for the new-look Pro Bowl games this past weekend.
The one thing every player hopes for is to get out of Pro Bowl weekend without getting injured.
But, in typical Browns fashion, that is exactly what happened.
Myles Garrett suffered a dislocated toe going through an obstacle course for one of the events.
So Myles Garrett dislocates a toe running an obstacle course at the Pro Bowl Olympics in Vegas?

That's the capper for the 2022 Browns' disappointing season.

Just 🤦‍♂️

— Al Pawlowski (@AlPawlowski) February 5, 2023
It appears that Garrett was the only player to suffer an injury this weekend.
Even though the injury is not a long-term problem, it is still quite unfortunate.
Other than the injury to Garrett, the Pro Bowl games seemed to be a success.
The players were able to compete in plenty of different events, and show their skills other than what they do on the field.
No player wants to subject themselves to extra hits, so the flag football format was a good idea.
Next season the Browns hope their players will be getting ready for the Super Bowl.
But, they have a long ways to go this offseason if they are hoping to contend with the AFC's top teams.