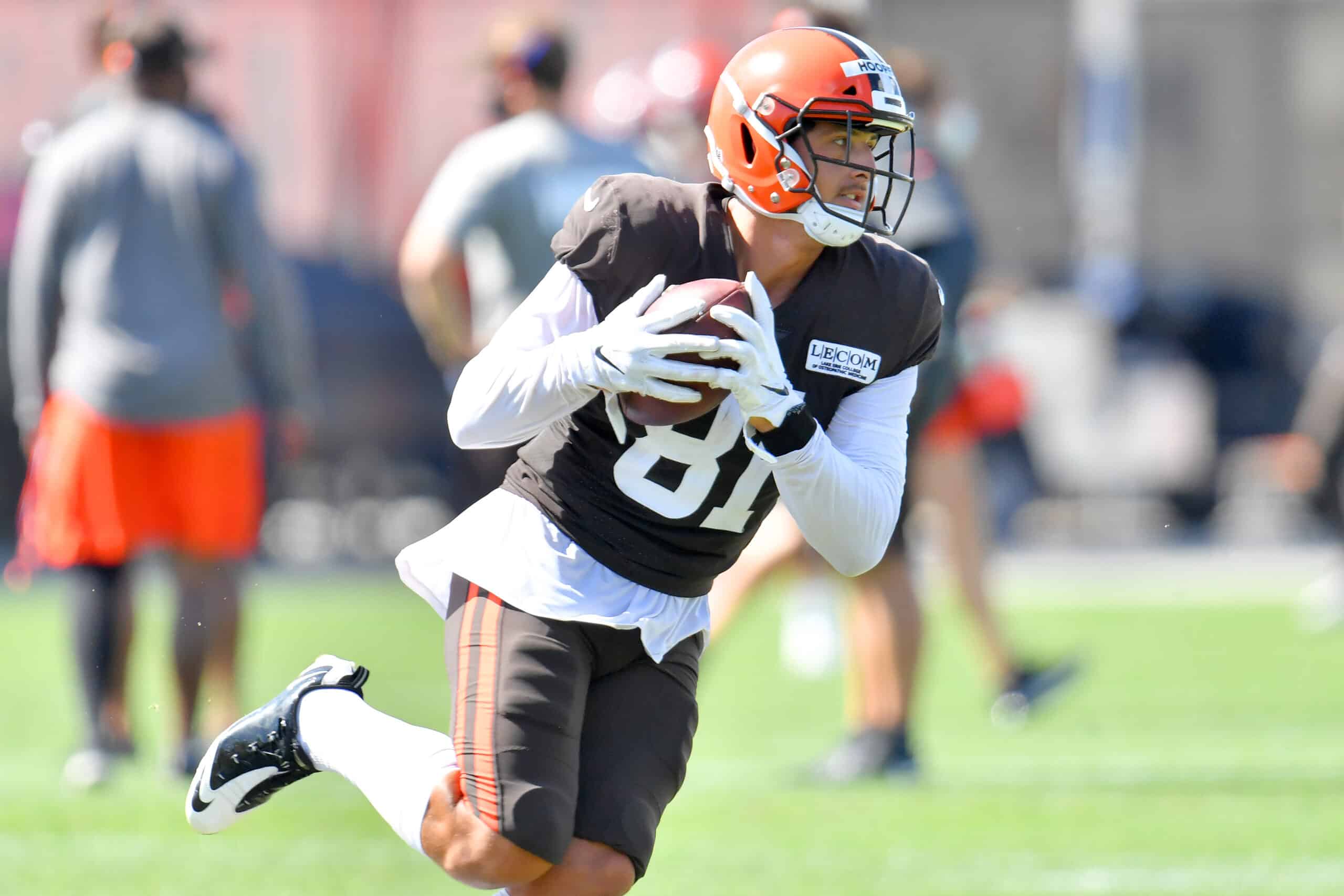 Whether fans like to admit it or not, NFL players like to have fun when they play.
The NFL is a business, but football is still a game.
It's important for teams to strike that balance between having some fun and getting serious.
Cleveland Browns tight end Austin Hooper seems to think this year's team will have that balance and will benefit from it.
TE Austin Hooper on the #Browns' evolving offense: "With no offseason…Stefanski had to keep it pretty vanilla until about halfway through the year when we really understood [the schemes]…After having the full year…we can have some more fun with it and add some wrinkles."

— Nick Talks Browns (@nicktalksbrowns) June 21, 2021
It hasn't been common for the Browns to head into a new season with the same main components from the year before since their return to Cleveland.
New general managers, coaches, and quarterbacks have come and gone with ease.
That isn't the case this year with Andrew Berry, Kevin Stefanski, Baker Mayfield, and more right back in Berea.
It's why Hooper knows this team has the luxury of getting a bit experimental this summer.
Hooper's word echoes a sentiment felt by every Browns fan.
Just how high is the ceiling for the Browns offense in 2021?
Hoop, There It Is!
Hooper, who is a team returnee in his own right, will be a part of the "wrinkles" in the offense he mentions.
Berry brought him in last season under a huge four-year deal worth $42 million.
His production tapered a bit from his final two seasons in Atlanta, tallying fewer receptions, yards, and touchdowns.
Hooper was still effective in the red zone, scoring all four of his touchdowns there.
He's still a savvy tight end who knows how to find the soft spot in a defense.
Giants leave Austin Hooper wide open for the TDpic.twitter.com/qu5YSmFSBO

— PFF (@PFF) December 21, 2020
His final four games were the most productive out of any four-game stretch in 2020 per Pro Football Reference.
Perhaps that points towards a growing comfort with quarterback Baker Mayfield.
Hooper discussed his relationship with his QB in an interview with Jim Rome.
"You've just got to keep working at it and keep understanding each other," Hooper told the CBS Sports Radio host. "Baker, being a guy who's my age, we're at similar points in our lives… it's been awesome. He's a young, hungry guy who wants to work."
Sprinkled With Wrinkles?
While keeping the offense fresh, Stefanski shouldn't be looking to overdo it with changes.
The identity of the offense resides primarily with running back Nick Chubb.
Nick Chubb transforms the Browns rushing offense.

In 5 games with Chubb, the Browns have scored 9 Rush TD while averaging 209.8 Rush YPG and 5.8 yards per rush.

In the 4 games without Chubb, the Browns scored 0 Rush TD while averaging 95.5 Rush YPG and 3.9 yards per rush. pic.twitter.com/RfLwmfKIBy

— ESPN Stats & Info (@ESPNStatsInfo) November 22, 2020
When Chubb excels, so does the Browns offense.
They can still move the ball without him, but it's so much easier with him.
With Kareem Hunt back as well, the running game should remain the focus.
Still, that doesn't mean Stefanski won't shake things up.
Last year, he implemented a plethora of zone and counter run schemes to play to his team's strengths.
His twists and changes to these schemes, such as using unconventional lead blockers, kept the offense unpredictable and opposing defenses off-balance.
As for the passing game, "additions" would be a better descriptor to use over "changes".
It was clear that Mayfield was figuring things out more and more as last season went on.
His chemistry with the receivers, even without Odell Beckham Jr., grew stronger.
Timing routes became easier to complete and downfield throws were opened up.
Now it comes down to whether the Browns offense can build off that success or not.
"It's been fun to learn new stuff," said Hooper per Browns.com. "When you think you have it all figured out it's like 'No, no no, we have some more stuff to add. It's been a lot of fun".