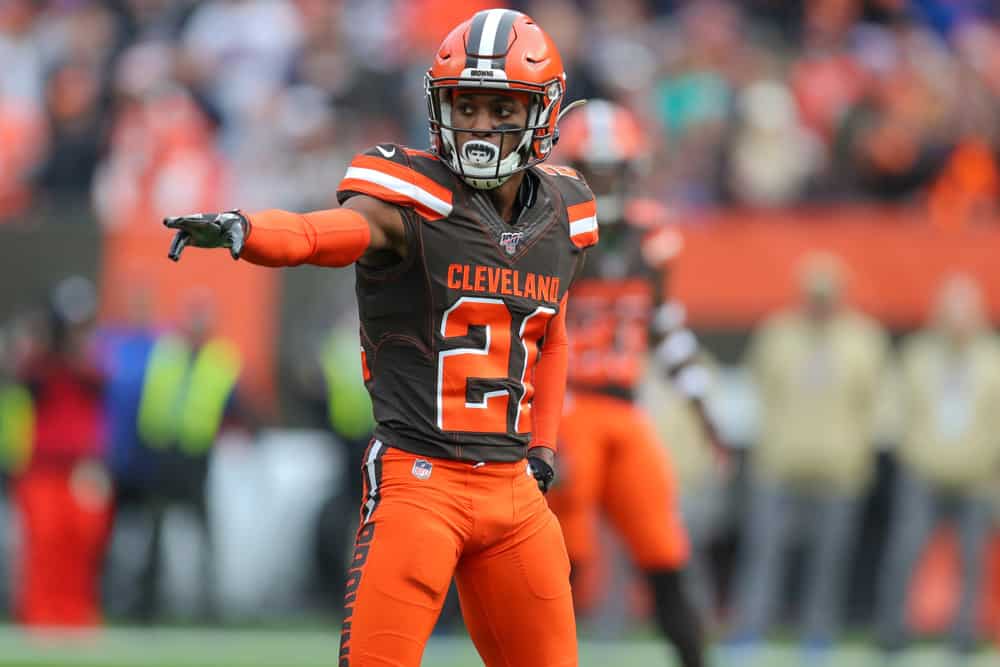 Cleveland Browns CB Denzel Ward played an excellent game on Sunday against the Philadelphia Eagles.
Coach Stefanski commented on Ward's performance in the postgame press conference.
"He is making plays on the ball. He is tackling well. He is doing a nice job."
On Monday morning, his calf was bothering him so he got an MRI.
This morning the findings of the MRI were released.
#Browns CB Denzel Ward expected to miss a few weeks with a calf strain, sources say. Tough one for the defense there.

— Mike Garafolo (@MikeGarafolo) November 24, 2020
Ward's Career Best Game Against Eagles
#Browns CB Denzel Ward today:

• 3 tackles
• 4 passes defended
• 1 QB hit resulting in a pick 6
• game sealing INT pic.twitter.com/TFJqrUliBy

— MoreForYouCleveland (@MoreForYou_CLE) November 22, 2020
What makes the news even harder to bear is that Denzel Ward played arguably the best game of his career on Sunday against the Eagles.
He was on the field for every defensive play.
Ward put the hit on QB Carson Wentz which created the Sione Takitaki Pick 6.
He also had an interception at the end of the game to secure the win.
Will Ward Go On IR?
The team has not made a decision on whether to put Denzel Ward on IR yet.
If he is placed on IR, he will miss at least three games.
Ward played through a groin injury earlier in the season, but obviously this is more significant if it causes him to miss playing time.
Teammate Reaction
LB B.J. Goodson expressed his shock over Ward's injury.
"Denzel is a warrior.  I get excited when he makes plays. I get pretty excited. I did not sense any type of injury from him. I guess we will just see how that goes and hope for the best."
Fan Reaction
The excitement of the Eagles win and the 7-3 has already worn off.
Yesterday's bad news was that Myles Garrett would not be available for Sunday's game against Jacksonville.
And today's news sidelines Ward.
Can there ever be good news that comes out mid week regarding the Browns???

— Jake Roth (@jakeroth13) November 24, 2020
Calf Strain
The Browns have reported that Ward has a calf strain.
There are three grades of severity of calf strains from the mildest at Grade 1 to the most severe at Grade 3.
Grade 1 strains require 2 to 4 weeks to make a full recovery; the calf may be painful to the touch.
Typical of Grade 1 strains is that the person does not experience pain until the day after the injury.
Between 5 and 8 weeks are needed for Grade 2 strains which present themselves with bruising or swelling.
Grade 3 strains present as visible bulges, and full recovery can take between 3 and 4 months and could require surgery.
Calf strains are often diagnosed via MRI.
It is likely that Ward has a Grade 1 calf strain, and the Browns are taking a watch and wait approach to see how quickly it heals.
This is the best of the bad news scenarios so hopefully, Denzel Ward heals quickly and is back on the field soon.